Anger at overdraft fees gets hotter, bigger and louder
By Kathy Chu USA TODAY 9/29/09
Controversial bank account fees, which have fattened banks' bottom lines at the expense of vulnerable consumers, are rapidly becoming a black eye for the industry.
<![if !supportEmptyParas]> <![endif]>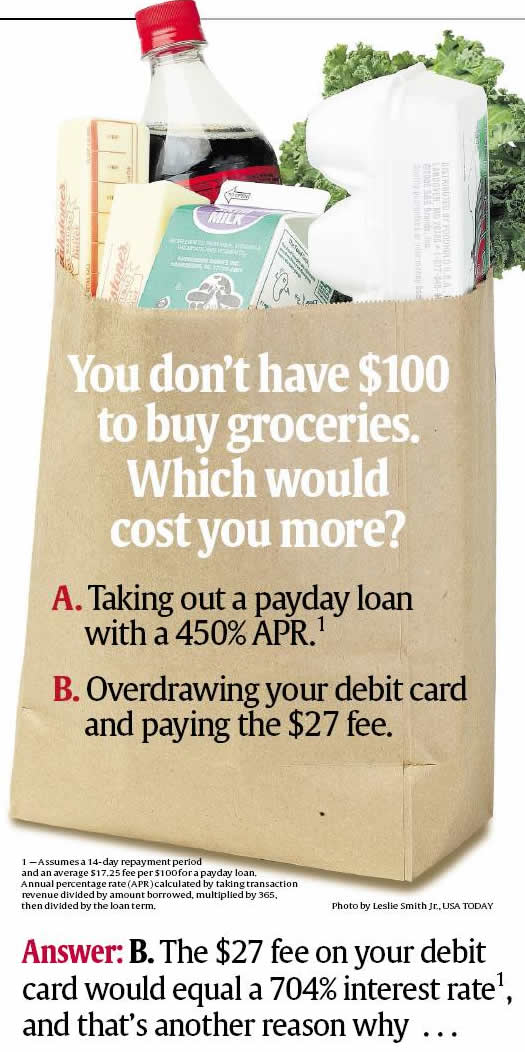 Under siege are the fees charged to consumers who spend more than they have in their accounts, whether by check, debit card or at the ATM. Last week, four of the nation's largest banks said they would scale back some of their overdraft policies. Their efforts, while meaningful, have failed to appease lawmakers, including powerful Senate Banking Committee Chair Chris Dodd, D-Conn., who is preparing legislation to crack down on what he calls a pattern of "abusive" practices. At first glance, banks' practices seem reasonable enough: Overdraw your account, and the bank will cover the transaction — for a fee. The problem is, most banks don't ask consumers if they want their transactions automatically paid. In recent years, as banks realized how lucrative these fees can be, they've made it easier for consumers to overdraw their accounts, to the tune of $36.7 billion in revenue last year, USA TODAY research has found.
<![if !supportEmptyParas]> <![endif]>
Banks have done this by covering debit card transactions as small as $1 and charging a fee as high as $35. Some also charge fees before consumers overdraw by deducting a purchase when it's made, instead of when it clears. And they've processed transactions from highest to lowest dollar amount — which empties consumers' accounts quicker and triggers more overdrafts.
<![if !supportEmptyParas]> <![endif]>
Ironically, the changes banks have made to their overdraft policies are only fueling calls to reform the entire industry. Overdraft coverage can be less regulated and cost more than other high-cost (and equally criticized) options, including payday loans, in an estimated $70 billion short-term credit market. On average, consumers will pay a fee of $26.68 ev- ery time they overdraw their account, according to data from Moebs Services, an economic research firm. That means that if consumers overdraw by $100, they'd pay an annual percentage rate (APR) of 696%, if the credit is paid back in two weeks, according to a USA TODAY analysis. This compares with an APR of 450% on a $100 payday loan with an average fee of $17.25.
<![if !supportEmptyParas]> <![endif]>
"When consumers (overdraw) recurrently, it is a credit product, and they're paying eye-popping rates," says Sheila Bair, Federal Deposit Insurance Corp. chair, who is pushing for banks to get consumers' permission before covering overdrafts, for a fee, and to disclose APRs. Banks have long said that customers appreciate automatic overdraft coverage and that this service helps consumers avoid the embarrassment of a declined transaction. But they're now acknowledging these fees can push consumers into distress.
<![if !supportEmptyParas]> <![endif]>
Starting next year, Chase won't pay debit card overdrafts and charge a fee without consumers' consent. Bank of America is reducing the maximum number of daily overdraft fees consumers could be hit with, from 10 to four, and letting customers opt out of this coverage. "We've seen that the overdraft fees have become a bigger problem for customers," says Brian Moynihan, president of BofA's consumer and small-business banking group.
<![if !supportEmptyParas]> <![endif]>
Tam Tran, 36, of Columbia, Md., has paid BofA more than $5,000 in overdraft fees in the past year. In 18 years with the bank, Tran says he's never had problems managing his money. But when his father went into the hospital, overdraft fees piled up for small-dollar debit card items. He repeatedly asked the bank not to approve transactions he didn't have money for and to stop clearing them from high to low dollar amount, but BofA kept doing so. The bank said it approved his transactions because he had been a "good customer," he says. Tran says the bank's recent changes are "just a little cork in a major hole." BofA has "set up a policy to capitalize to the point that the rapid accumulation of fees prevents a customer from ever rebounding," Tran says. "Charging that many fees in a matter of months . . . should be illegal." BofA says it has a "long history of helping customers manage their finances." After USA TODAY contacted BofA, it refunded Tran $1,260. Tran says he takes responsibility for his mistakes, but BofA needs to take responsibility for its "bad policies."
<![if !supportEmptyParas]> <![endif]>
'Trapped in debt'
<![if !supportEmptyParas]> <![endif]>
Through the years, banks' high overdraft fees have become marketing fodder for payday lenders. On its website, Advance America, one of the nation's largest payday lenders, says its loans — which carry a fee of $12.50 to $22 per $100 borrowed — can be cheaper than bank overdrafts. This marketing, coming from an industry that has long been criticized itself for steep fees that could push consumers into unmanageable debt, speaks to the challenge banks have in repairing their image. G. Michael Flores, founder of Bretton Woods consulting firm, says younger consumers with low to moderate income are the ones using both payday loans and bank overdraft coverage. "We've been saying it for a long time, that (with) virtually any comparison of the cost of what we do and the cost of a (bank automatic overdraft), the payday product is much cheaper," says Billy Webste, board chair of Advance America.
<![if !supportEmptyParas]> <![endif]>
The smaller the overdraft, the higher the APR. On a median debit card overdraft of $20, in which the lender charges a fee of $27, the APR translates to 3,520%, if the credit is paid back in two weeks, says a 2008 FDIC report. Payday loans, meanwhile, carry an APR of 391% to 449%, assuming a $15 to $17.25 fee per $100 borrowed. Yet, payday loans can cost more than overdraft fees on large-dollar transactions. For instance, if a consumer overdraws by $200, they'd pay the same $27 fee (a 348% APR), but if they borrowed the same amount from a payday lender, they'd have to pay an average $34.50 fee (a 450% APR), Moebs Services says. Michael Moebs, the founder of Moebs Services, cautions that "at the low end of any loan amount, we're going to see very high APRs." He also points out that payday loans and overdraft coverage can cost less than the alternative. Average bounced-check fees charged by the merchant and bank total $53.62, he says.
<![if !supportEmptyParas]> <![endif]>
Richard Hunt, president of the Consumer Bankers Association, says payday loans and overdrafts are a "day and night comparison." The first may cater to less creditworthy consumers, he says, while the other is a "service" to those who make a mistake. Research released in 2007 by Marc Fusaro, then an assistant economics professor at East Carolina University in Greenville, N.C., finds that 79% of consumers who overdraw bank accounts do so by mistake. The other 21% are overdrawing because they need credit. Advocates say consumers who need short-term credit should consider borrowing from family or finding cheaper alternatives, such as a line of credit. Those who use payday loans or overdraw risk getting mired in debt, they note.
<![if !supportEmptyParas]> <![endif]>
"Both industries are completely dependent on borrowers trapped in debt to generate most of their revenue," says Eric Halperin, director of the Center for Responsible Lending's Washington office. Many borrowers can't pay back the payday loan with a single paycheck, but lenders still debit their bank account for the total due, possibly triggering bounced checks or overdrafts, says Jean Ann Fox of the Consumer Federation of America.
<![if !supportEmptyParas]> <![endif]>
The FDIC is working to find affordable alternatives to payday loans and overdrafts. A small-dollar loan program launched in 2008 has shown that "banks can provide lower-cost loans in a way that is profitable and more responsible," Bair says. The problem is that banks may be reluctant to "cannibalize" on their overdraft fee income with lower-cost loans, Bair wrote in a 2005 report when she taught at the University of Massachusetts-Amherst. Probity Financial Services of Austin is offering an alternative to high overdraft fees: It's partnering with a small bank to offer a checking account that, for a $19.95 monthly fee, allows consumers to overdraw by as much as $500, but won't charge them a fee each time they do so.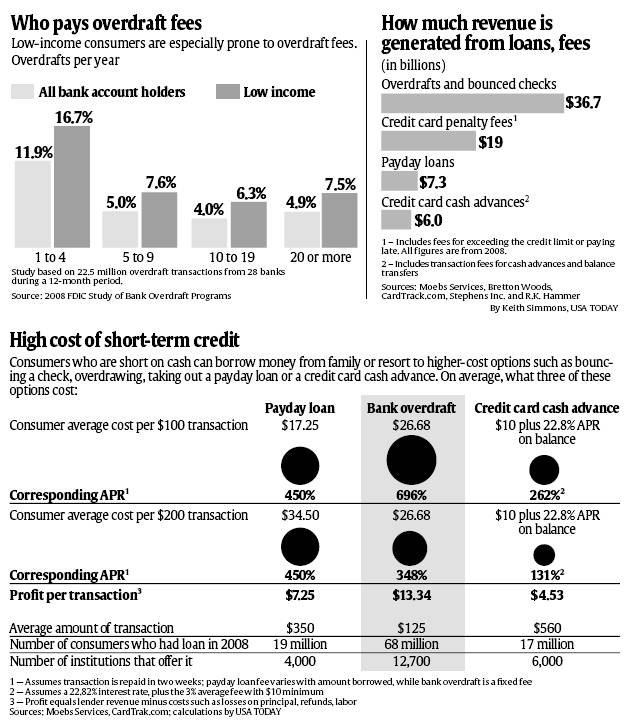 <![if !supportEmptyParas]> <![endif]>
Bank changes 'fall well short'
<![if !supportEmptyParas]> <![endif]>
Fusaro's research feeds a frenzied debate about whether overdraft coverage should be regulated as loans and subject to an APR, similar to what's imposed on payday loans. Even though banking regulators have acknowledged that overdraft coverage is a form of credit, Fusaro believes it would be "misguided" to regulate them as loans. Nevertheless, consumer advocates are clamoring for tighter restrictions on payday loans and overdrafts, such as a 36% interest rate cap. They also want banks to disclose APRs on overdraft products so consumers can compare their options. Halperin says that banks' recent changes to their overdraft policies, while an improvement, "fall well short of providing full protection for consumers."
<![if !supportEmptyParas]> <![endif]>
Rep. Carolyn Maloney, D-N.Y., sponsored a bill she believes will give all bank customers "strong and consistent protections from deceptive overdraft policies." It would require banks to get consumers' permission to pay an overdraft, and charge a fee, and clear transactions in chronological order. The Federal Reserve, which has been criticized for not curtailing banks' lending practices during the boom, is also under pressure to crack down on industry overdraft practices. The Fed has said it plans to issue a rule by the end of the year. If the Obama administration has its way, though, it would reform lending through the creation of a Consumer Financial Protection Agency, which would have the power to regulate credit products such as overdraft coverage and payday loans.
<![if !supportEmptyParas]> <![endif]>
This agency is needed, says Elizabeth Warren, a Harvard law professor, because with financial products, "where it's possible to change the agreements by including an extra piece of paper stuffed in a bill, the industry will constantly reshape the terms." "When Congress outlaws one practice, the industry just moves to a practice that accomplishes the same thing," adds Warren, who chairs the Congressional Oversight Panel, created by Congress last year to study how financial institutions' actions affect the economy. "It's like hammering fence posts in an open field: It's easy to get around them." Banks have already found ways to minimize the impact of credit card reform passed earlier this year by Congress. Even before the ink was dry on the law, banks raised rates for a broad spectrum of new and existing credit card borrowers. In the first two quarters of 2009, the lowest advertised credit card rates rose by 20%, even as banks' funding costs declined, Pew Charitable Trusts says.
<![if !supportEmptyParas]> <![endif]>
Tran feels it's not enough for banks to do "damage control" by changing some overdraft policies. Regulators, he says, have to address a systemic problem where banks will charge unsuspecting consumers as many overdraft fees as possible. Banks, he says, have "gone too far."
By H. Darr Beiser, USA TODAY
<![if !supportEmptyParas]> <![endif]>
<![if !supportEmptyParas]> <![endif]>