The next FFA meeting will be Tuesday Jan. 19th at 7 P.M. in the cafeteria and the Ag. challenge is the Marshmallow Stuffing contest.
Ag. Breakfast: This monthÕs Ag. Breakfast will be on Friday February 5th, and the location will be determined at the next meeting.
FFA Movie Night: This year the chapter has decided to hold a movie night for the chapter, during the winter months there arenÕt many activities that the chapter has. The leadership team thought that this might be a fun and enjoyable activity that the members may like. This event will be held on Jan. 15th at 3:30 P.M. The movie is yet to be determined, but it will be a PG movie. Members are asked to bring their own snacks and drinks.
Officer Books: Currently our chapter officers are preparing their officer books to be judged in February. Lexie Kougher is completing the SecretaryÕs book, which is consist of all the meeting notes, membersÕ attendance, chapter correspondence ect. Carlie Krile is completing the TreasurerÕs book, which contains all the receipts from throughout the year and disbursements that our chapter completes each the year. Mallory Seitz is completing the ReporterÕs scrapbook, which has pictures from the chapters various activities, newsletters, news releases, ect. Every book requires a large amount of effort and time, the chapter is looking forward to see how they did.
Proficiency Awards: There are some members who are currently filling out their State proficiency award applications. Proficiency awards are a way to further their SAE projects. To be eligible for this, members must be in their second year of their SAE project(s), first year graduates are also eligible for these awards.
Zoo Lights: On December 22nd those who met the requirements were able to attend the Columbus Zoo Lights. Members who went on this trip had to have sold at least 10 boxes/baskets of fruit and as reward they were able to spend the evening with their friends enjoying all of the lights as well as the educational aspect of the Columbus Zoo.
Ag. Issues: Recently the Ag. Issues team consisting of: Carlie Krile, Mallory Seitz, Sarah Streets and Josie Montoney went to the Ohio State University to get more research about Avian Influenza for this years Ag. Issues CDE, Avian Influenza is more commonly known as the ŌBird FluĶ. Along with the three members of the Ag. Issues team Emma Dearth and Josie Montoney were gathering information on the topicÕs for their public speaking CDE;s.
<![if !vml]>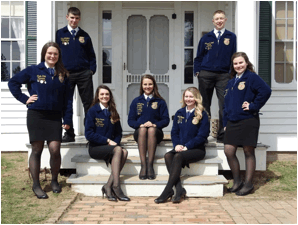 <![endif]>