Amanda-Clearcreek FFA
November News
By MattieGrace Hamilton, Reporter
---
"Don't judge each day by the harvest you reap but by the seeds that you plant"
-Robert Louis Stevenson
National Agricultural Issues Forum CDE: The Agricultural Issues Forum CDE Team from our chapter competed at the national level representing Ohio on October 19th and 20th in Indianapolis, Indiana at the National FFA Convention and Expo. This team will go down in our chapter's history as the first to make it to the semifinal round at the national level. This is only the second team in the state of Ohio to make it this far as well. The participants were: Bronowyn Cummings, Carlie Krile, Mallory Seitz, Sarah Streets, Lexie Kougher, and Austin J. Smith. In this competition, members research the pros and cons of an agricultural issue, and present their findings and theories to a panel of judges. The event helps students to develop critical thinking, problem solving and formal communication skills. Our chapter and state could not be more proud of all the hard work and dedication this team gave to make it this far. Congratulations Ag Issues Forum Team!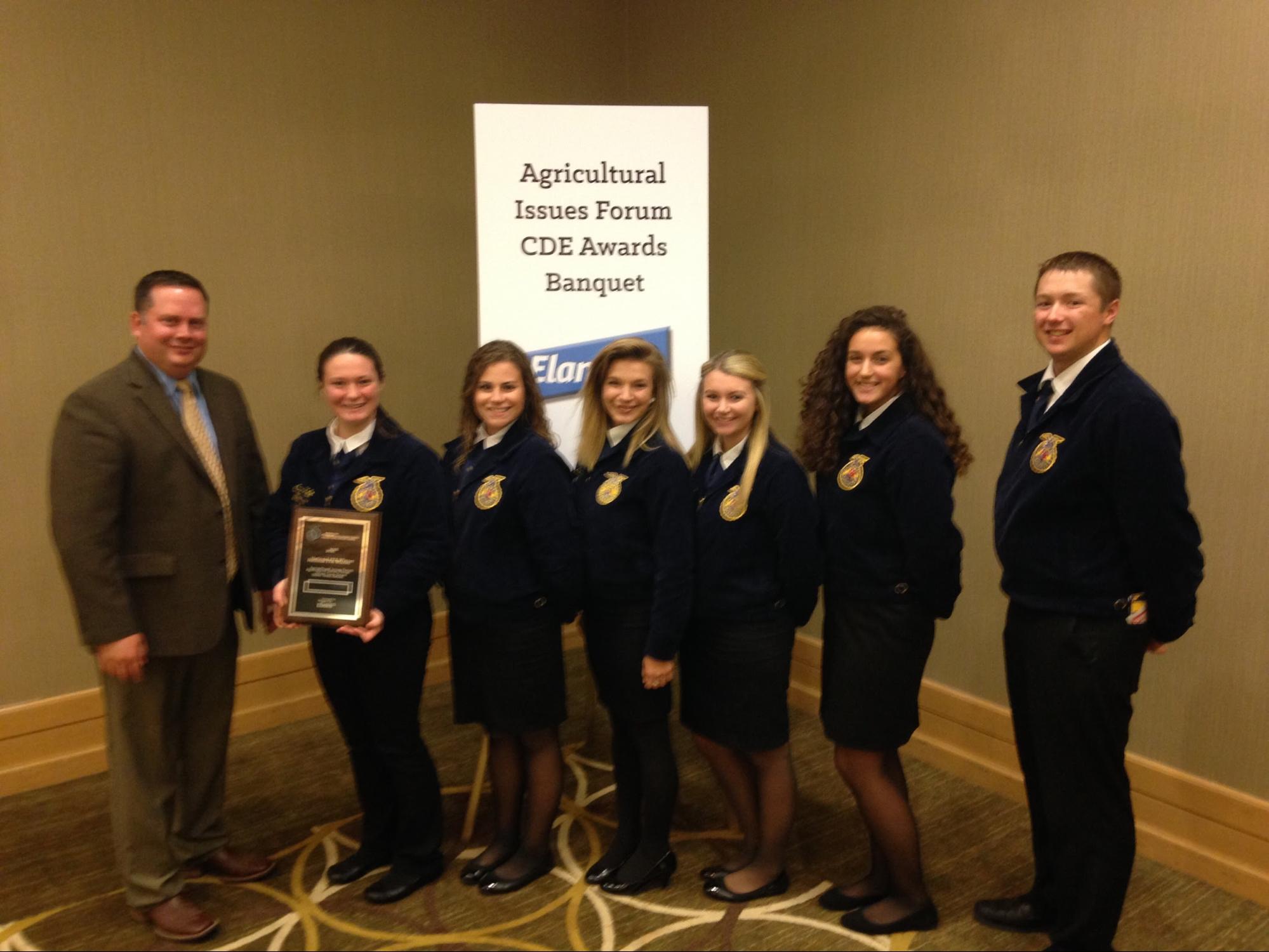 National FFA Convention: Our chapter took 34 members to Indianapolis, Indiana on October 19th through the 22nd to the 89th National FFA Convention and Expo. The members got to interact with many different people from chapters all over the country, listen to the National FFA Officers and keynote speakers and learn about the importance of leadership, self worth and service to others. The members toured various industries, such as Freshwater Farms in Urbana, Ohio where they learned about the production of rainbow trout in captivity and it's role in sustainable agriculture. They toured Not Just Popcorn which had over 400 different types of popcorn flavors made directly at the factory; an excellent example of a value added product. Falling Water Farms was a great learning experience about aquaponics. This urban farm used vertical farming techniques and aquaponics to raise thousands of tilapia and fresh greens to be sold on the wholesale market. The Exotic Feline Rescue Center was home to over 100 abandoned and confiscated big cats. Students learned about the rules and regulations of owning exotic animals as well as the many reasons these large cats don't make good pets. Lastly, the Garfield Park Conservatory was a tour of a greenhouse that raised many different types of tropical plants from around the world.
Carrie Stoneburner represented our chapter in being the recipient of her American FFA Degree. This is the highest degree a member can receive and we are all very proud of her accomplishment.
Josie Montoney competed in the National Prepared Public Speaking CDE at the National FFA Convention. She presented her speech on Avian Influenza and was ranked in the top 16 in the nation. This was her second trip to Nationals in the Public Speaking Contest. This has never been achieved by any other member in our chapter history and we're not sure any other Ohio FFA member has ever competed at two different National FFA Public Speaking CDEs.
Hog Roast : The hog roast will be held on November 2nd @ 7PM in the high school cafeteria. The hog roast is a great opportunity for members of the FFA and their families to come and enjoy a nice meal, mingle with other members and get more information about our chapter. We highly encourage all members and families to attend. This event is a potluck event so the members are asked to bring a specific type of item depending on their grade level.
Ag Breakfast : November Ag breakfast will be held at IHOP @ 6:15 AM in Lancaster on November 4th. Make sure to get to IHOP on time so that everyone can get their food and make it back to school in a timely manner.
Fruit Sale: Fruit sale orders are due on November 10th. Please work hard to help support our chapter in our most important fundraiser. If you are not a member and would like to order fruit/carnivore or our new snack pack, please contact an Ag Advisor or FFA member.
State Officer Leadership Night: State FFA officer leadership night will be held on November 16th @ 6PM at the school. We encourage all our members to attend this event. This is a great workshop that is put on by the State FFA Officers. Members will have a chance to get to know many of other chapter's students with a normal attendance of over 300, while learning how to incorporate leadership skills in their daily lives. This is by far the biggest leadership night in the state so make sure to attend.
FFA Meeting: The next FFA meeting will be held on November 21st @ 7 PM in the Ag Center. The Ag Challenge will be Peanut Butter Face. One male and one female from each grade level will be needed to smear peanut butter on the face of their teammate. Standing 8 feet away, the other teammate will throw marshmallows hoping they will stick! The team with the most marshmallows on the face wins.
Holiday Food Drive: The Holiday Food Drive bag drop off in Stoutsville and Amanda will be held on November 21st after school. The drop off is the start of the food drive. Grocery bags will be put on the doorsteps of local homes with an explanation of what we are collecting and why. The bags will be picked up on Tuesday, November 29th after school and sorted so that the community can provide food for those in need. Bags will also be sent home with the members of the chapter so that their families can take part as well.
Job Interview: The District 7 Job Interview CDE will be held at Clear Fork Valley HS on November 21st. In the Job Interview CDE the participants submit a resume, complete job, follow up letter, applications and participate in mock job interviews with a panel of possible employers. This CDE is a great competition that can prepare anyone for an upcoming job interview.
For any additional information
go to www.acffa.org
Students are reminded to work on their SAE projects throughout the year and keep track of their activities on AET. Records will be checked so it's important to keep them up to date! Members are required to have 20 AET entries for each month. This is always crucial for State FFA Degrees and Proficiency Awards.