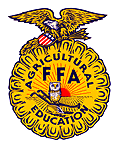 Amanda-Clearcreek FFA News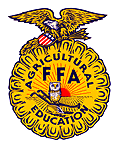 November of 2017
by Cole Kleinline, Reporter
Next FFA Meeting
The next A-C FFA meeting for this school year will take place on Tuesday, November 21st at 7:00 P.M. in the Ag Center. If you can not make this meeting, make sure to give a note to your Ag teacher the day after the meeting. The Ag Challenge for this meeting will be the Peanut Butter Face activity. One male and one female member from each class will be needed for this event. One member will smear peanut butter on the face of the other and then, standing approximately 8 feet away, throw handfuls of mini-marshmallows at the face of their partner. The member with the most marshmallows sticking to their face wins.
Upcoming Events
Ag Breakfast: The November Ag. Breakfast will take place on Friday, November 3rd at 6:15 A.M. at Frisch's in Lancaster.
Fruit and Snack Sale: The Amanda-Clearcreek FFA Chapter started their annual Fruit and Snack sale on October 16th. This year our Chapter has added four new items to the sale which includes; California Navel Oranges, Candied Peanut Box, Pecan Parcel, and Sunkist Fruit Gems Candy. All new items will count as a full box except the Sunkist Fruit Gems Candy which will count as half a box. All proceeds will go to the chapter to help pay for future activities. All orders are due by or on November 16th. If you want any fruit or snacks please get ahold of any FFA member or Mr. Tilley at jeff_tilley@amanda.k12.oh.us.
Members, please help out the chapter and sell fruit and snacks! You can access what we are selling online at: http://www.acffa.org/news_activities/activities/Fruit_Sale.html
Hog Roast: The Amanda-Clearcreek FFA Chapter Hog Roast is coming up on Wednesday, November 8th at 7:00 P.M. in the high school cafeteria. All members in attendance are required to bring a food item to the potluck. Freshmen, Sophomores, and Juniors are to bring a dinner item while seniors bring a dessert item. Everyone needs to bring table service. Community supporters and Amanda-Clearcreek FFA Alumni are also invited to attend and are asked to bring a covered dish or dessert. Our FFA Chapter will be providing the roasted hog, dinner rolls, and drinks. We hope to see everyone on the 8th! The A-C FFA Alumni will also be selling the final raffle tickets for the smoker and drawing the winner of the smoker that night.
State FFA Officer Leadership Night: The State Officer Leadership Night this year will be held on Wednesday, November 15th at 6:00 P.M. in our school cafeteria. Our chapter has held this Leadership Night for nearly years, we are the only host school in our district and in central Ohio. Last year, there were around 350 FFA members from over a dozen central Ohio schools in attendance. All members are encouraged to attend, as this is an excellent activity for members to meet our State FFA Officers, learn good leadership skills, and spend time with FFA members from other chapters from around the state.
Holiday Food Drive: On Tuesday, November 21st, our chapter will again be dropping off food bags at every house in Stoutsville and Amanda to collect nonperishable food items for local families in need this winter. On Tuesday, November 28th, the chapter will be returning to Stoutsville and Amanda to collect the food bags that were donated. All the bags will be brought back to the Ag. Center, where members will be sorting out all the food and then be packed into boxes. The boxes will then be taken to the Amanda Fire Department to be given out to families in the community. If interested in helping out, talk to Mr. Tilley and Mr. Sharp.
CDE's
Job Interview CDE: In the Job Interview CDE members are to submit a resume, complete job, follow up letter, applications, and participate in mock job interviews with a panel of possible employers. This Career Development Event allows members to learn how to prepare for an upcoming job interview. The County Job Interview CDE is on Thursday, November 9th with the District 7 Job Interview CDE following at Clear Fork Valley High School on Monday, November 20th.
Past Happenings
Ag Breakfast: The October Ag. Breakfast took place on Friday, October 6th at 6:15 A.M. at Frisch's.
Fair Booth: On October 6th, Mr. Tilley and Mr. Sharp had help after school to set up our booth at the fair. We were asked to move projects onto the display stairs carefully and help organize the Chapters projects. This took a bit of time to complete. Hopefully everyone who attended the fair got to see the new combined Fairfield County FFA Chapter booth in the Ed Sands Building.
Fair: October 9th through the 13th students from Amanda-Clearcreek were out of school. The fair was a week long event where students who have worked to prepare their respective projects were given the opportunity to exhibit them and compete against others in the county. The Amanda-Clearcreek FFA had a booth with the other county FFA Chapters, held in the Ed Sands Farm Bureau Building, exhibiting to the public some of the class projects members have worked on. This year Garrett Drake placed 3rd overall with his electricity project. Hunter Teagardner placed 2nd and Riley McClure placed 4th with their welding projects. Allie Poston placed 4th with her large wood working project. Lastly in Agricultural Communications: Vance Sharp placed 1st, Harrison Poor placed 2nd, Katelyn Camechis placed 3rd, Mikayla Hicks placed 4th, and Sarah Doner placed 5th. A-C FFA Members who also earned success at the fair were Ellie Sahr and Sarah Donor who earned first and second attendant in the Fairfield County Fair Queen competition. Also, FFA Members exhibiting their projects through 4-H who were also very successful were: Allie Poston who had the Grand Champion Market Lamb, Chris Tooill who exhibited the Grand Champion Market Duck and Olivia Hutchinson who exhibited the Grand Champion Market Hog this year. Congratulations to all our A-C FFA Members who were successful this year at the County Fair.
Fall Trap Shoot: On October 22nd, we held our annual Fall Trapshoot at the home of Lonnie & Barb Green. Members who went brought five dollars with them to pay for the clay pigeons and food that were used that day. Members and their parents were encouraged to come and shoot or watch. This event allowed members to get to know each other better and to learn firearm safety as well as have a good time. A HUGE thanks to Barb and Lonnie Green for hosting this event again this year. Also a big thanks to Andy Montoney who served as range safety officer and to Josh and Jennifer Locke who assisted with the throwing of pigeons and shooting instruction.
National FFA Convention: This year, the National FFA Convention was held in Indianapolis, Indiana from October 25th-28th. To attend this members needed to fill out an application that was found on our chapter website (acffa.org). During this trip, members were able to go to various sessions of the convention, the Buckeye Bash, and various educational tours set up by our Ag teachers. Such as the Bugle Elk Farm, Completely Nuts and Candy Company, Beasley Orchard, National FFA Center, Lincoln School of Technology and the Indiana State Museum.
We were also able to represent Ohio twice in national CDE competitions. Our chapter competed in the Ag Issues Forum CDE and the ENR (Environmental and Natural Resources) CDE. Our Ag Issues Forum team consisted of Emma Dearth, Paige Hinton, Harrison Poor, Jullian Scott, Aaron Sharp, and Noah Smith. This year our Ag Issues Forum team placed 4th in the nation, earning a gold rating, which is the highest any Ohio team has ever gone in this CDE area. Each team member also earned a $350 cash scholarship for their high placing. The ENR team consisted of Garrett Drake, Bryson L'Huillier, Michael Montoney, and Jesse Schooley. At National Convention our ENR team placed 16th in the nation earning a silver rating. This is the 3rd time our chapter has had a team at national's in this CDE area.
Our Chapter also had four graduate FFA members receive their American FFA Degree as well, the four past members include: Nelson Craycraft, Desirae Logsdon, Devon Mullen, and Adrian Wymer. The American Degree is the highest degree an FFA Member can earn in the organization. Only about half of one percent of the over 650,000 FFA Members in the country actually earn their American FFA Degree each year. Needless to say this is quite an honor for our four members. Congratulations again to Nelson, Desirae, Devon and Adrian for sticking with it and achieving this outstanding accomplishment.
The chapter would like to send a special thank you to Ms. Colby Saunders, our new High School Guidance Counselor for helping chaperone this trip.
Fall Flower Bulb Sale: The Amanda-Clearcreek FFA chapter has just ended their annual Fall Flower Bulb sale. There were 40 members who participated in this fundraiser, selling nearly 300 orders. Funds from this fundraiser help students reduce their costs for activities, the purchase of FFA jackets, etc.
CDE's
Forestry CDE: The Forestry CDE gives members the chance to learn how to identify different kinds of trees, forestry tools, how many board feet of lumber can be cut and used from a tree, how to use a compass, and how to identify the type of wood used in everyday products. This Career Development Event also consists of bark and leaf ID and an online test that takes place prior to the contest. Their County Forestry CDE took place on September 21st, followed by the District 7 contest where we placed 3rd. September 30th was the State contest at Hocking College where our team placed 5th in the State of Ohio, this has been the second highest placing we have ever gotten in state. Team members consisted of: Cassie Brewer, Curtis Butterbaugh, Bryson L'Huillier, Cade L'Huillier, Garrett Drake, Trevor Spence, Hunter Hughes, and Emmalee McGee. The members who competed at the state CDE were: Bryson who placed 11th overall, Cade, Garrett, Hunter (Team of Record), Curtis, Emmalee & Cassie.