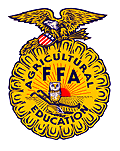 Amanda-Clearcreek FFA News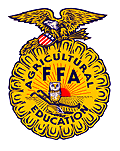 October of 2017
by Cole Kleinline, Reporter
Next FFA Meeting
The next FFA meeting of this school year will take place on Monday, October 16th at 7:00 P.M. in the Ag Center. If you can not make the meeting, make sure to give a note to your Ag teacher the day after the meeting. The challenge for this meeting will be the Team Pizza Eating Contest. In this event two males and two females from each class will be needed to completely eat a large pizza in the shortest time possible. The toppings on the pizza will be chosen by the chapter advisors.
Upcoming Events
Ag Breakfast: The October Ag. Breakfast will take place on Friday, October 6th at 6:15 A.M. at Frisch's.
Fair Booth: On October 6th, Mr. Tilley and Mr. Sharp will need help after school to set up our booth at the fair. You will be asked to move projects onto the display stairs carefully, so this will take a bit of time. If you can help, please see your advisor.
Fair: October 9th through the 13th students from Amanda-Clearcreek will be out of school. The fair is a week long event where students who signed up to take something to the fair will show it there that week. The Amanda-Clearcreek FFA will have a booth with the other county FFA chapters, held in the Farm Bureau Building, to show the public some of the class projects members have worked on.
Fall Trap Shoot: On October 22nd, we will be holding our annual trapshoot at the Green's house. Make sure to bring five dollars with you to pay for the clay pigeons and food that will be used that day. Members and their parents are encouraged to come and shoot or watch. This event will allow members to know each other better and to learn firearm safety.
National FFA Convention: This year, the National FFA Convention will be held in Indianapolis, Indiana from October 25th-28th. To attend this members needed to fill out an application that was found on our chapter website. Make sure all your school fees are paid and that you have good grades so you can attend. During this trip, members will be able to go to various sessions of the conference, the Buckeye Bash, and various educational tours set up by our Ag teachers. As soon as Mr. Tilley knows who is all going and who can attend, he will give out a tentative schedule to all members who are going.
Fruit and Snack Sale: The Amanda-Clearcreek FFA chapter will be starting their annual Fruit and Snack sale October 16th. Mr. Tilley and Mr. Sharp will explain to the members how this works and that the proceeds will go to the chapter to help pay for future activities. If interested in any fruit or snack packs contact any FFA members or Mr.Tilley at the school.
Fall Flower Ball Sale: The Amanda-Clearcreek FFA chapter has just started their annual Fall Flower Ball sale. Orders are due October 6th, these sales help members earn FFA Buxx.
Save The Date: Mark your calendars, the Amanda-Clearcreek Hog Roast is coming up on November 8th.
CDE's
Forestry CDE: The Forestry CDE gives members the chance to learn how to identify different kinds of trees, forestry tools, how many board feet of lumber can be cut and used from a tree, how to use a compass, and how to identify the type of wood used in everyday products. This Career Development Event also consists of bark and leaf ID and an online test that takes place on September 20th. There has already been a County Forestry CDE contest and on September 21st there was the District 7 contest where we placed 3rd. September 30th is the State contest at Hocking College where they placed 5th, this has been the second highest placing we have ever gotten in state. Team members consisted of: Cassie Brewer, Curtis Butterbaugh, Bryson L'Huillier, Cade L'Huillier, Garrett Drake, Trevor Spence, Hunter Hughes, and Emmalee McGee. The four members who competed at state were: Bryson who placed 11th overall, Cade, Garrett, and Hunter.
Past Happenings
Ag Breakfast: The September Ag. Breakfast took place on Friday, September 1st at 6:15 A.M. at Frisch's.
Farm Bureau Field Trip: On September 8th, the Amanda-Clearcreek FFA Chapter sent 51 members to the Ohio Farm Bureau Conservation field trip. Here these students were able to go to two demonstration farms to learn about the ways farmers are bettering their farming practices. Members were informed on the new conservation methods that these farmers are now practicing in order to slow or prevent nutrient runoff and learn about the input side of communication technology has advanced through the years. The Amanda-Clearcreek would like to thank the Farm Bureau and Brandon Kern for providing us a charter bus and food for that day.
Community Service Opportunity: On September 28th, the Amanda-Clearcreek FFA Chapter was asked to help out the PTO with their Mum Sale. The following members helped with this event: Sara Hayes, Savannah Schoenberger, Brandon Stanley, James Bailey, and Dorothea West.
Farm Science Review: Each year, there is a three day expo held for agricultural equipment and products near London, OH at OSU's Molly Caren Center. This year, our chapter attended the expo on September 20th. At this expo, members had the opportunity to learn about the newest agricultural technology that are used in the agricultural industry. Members who attended this met at the school at 6:45 A.M and did not return back to school till 5:00 P.M. unless in sports or in band; those members returned by 2:45 P.M. We had 93 FFA members attend this trip.