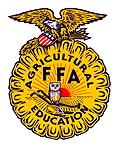 Amanda-Clearcreek FFA News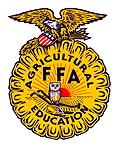 April of 2017
By Cole Kleinline, Reporter
Next FFA Meeting
The next FFA meeting will take place on Tuesday, April 18th at 7:00 P.M. in the cafetorium. The Ag Challenge following the meeting will be Volleyball. Three male and three female members will be chosen from each grade level; members can rotate in and out of the game. Freshman will go against Sophomores and Juniors will against Seniors. The last grade level standing will be the winner!
Upcoming Events
Ag Breakfast: The April Ag. Breakfast will take place on Friday, April 7th at 6:15 A.M. at at a Frisches. All members are welcome to attend and enjoy good fellowship and a good meal.
Mulch and Flower Bulb Sale: The spring mulch and flower bulb sale has started for the chapter. All members are encouraged to participate, as the money raised by this will allow the chapter to go on all the trips and activities that we do all year. It also helps the chapter pay for incidental costs such as bus fuel and award pins, to name a few. In addition, the top 15 mulch sellers and top 2 flower bulb sellers are eligible to go on the Top Spring Fundraiser's Trip May 23rd through the 25th. This year's trip will be to the Red River Gorge area of Kentucky.
State FFA Convention: The State FFA Convention will be held on May 4th and 5th. At the convention, our chapter will be recognized as a Gold Chapter this year! Nelson Craycraft, Sarah Doner, Cole Kleinline, Carlie Krile, Desirae Logsdon, and Kayla Luft will all be receiving their State FFA Degrees. Sarah Doner will be recognized for placing in the Top 4 in the proficiency award area of Organic Agriculture. We will likely have a few CDE teams get recognized for their top placing. Lastly Josie Montoney will be retiring as a State Secretary. It will be a busy State FFA Convention for our chapter and members are encouraged to attend. Forms and information will be available during the first week of April.
Working Together: Mr. Sharp and some senior students have now been working with our track program. The seniors have made a new pole vault pit pan for the Track program and are working on a few other projects for them. The FFA also had members help with the Alumni Basketball Tournament games and will have members help with the PTO Carnival.
Upcoming CDEs
District 7 Outdoor Power CDE

: This contest has members identifying various items pertaining to outdoor power tools and machines. This team consists of

Garret Smith

,

Katy Camechis

and

Mason Lindsey

. They will compete on April 6th.
State Veterinary Science CDE:

Sarah Doner

is the only member we had qualify for the State Veterinary Science CDE. She will compete at the Ohio Expo Center on April 12th.
State Animal Management CDE:

Billy L'Huillier, Bryson L'Huillier

and

Bailey Knox

are the members who qualified for the State Animal Management CDE. Though it take 4 members to comprise a team score, they will go to the State contest on April 12th and compete for individual rankings.

Laurie Travis

, A-C FFA Alumni member, has been working with this team.
Environmental & Natural Resources CDE:

With our top team placing in both Wildlife Management and Nature Interpretation, our chapter is eligible to participate in this CDE. Mr. Tilley has sent out messages looking for team members and there will be a chapter runoff to determine the four team members during the first week in April. The State CDE is on April 21st.
Meats CDE:

Allie Poston, Paige Hinton, Isaiah McQuade, Trent Palombo

and

Sarah Doner

comprise this year's Meats CDE team. This is the first year we have had a team in many years. They will be competing at OSU on April 29th.

Mr. Rod Francis

is serving as this year's coach and has been working diligently with this young team.
Agricultural Issues Forum:

This CDE is one the chapter has had much success in over the years. Essentially, the team members take and agriculturally relevant topic and debate the pros and cons of the issue. They will compete at the state level on April 29th at OSU. This year's team consists of:

Noah Smith, Jullian Scott, Emma Dearth, Paige Hinton, Billy L'Huillier

and

Aaron Sharp

. Mr. Sharp is working very hard with this team. We wish them good luck!
Envirothon:

The Envirothon is not an FFA specific competition but rather is open to high school Agriculture and Science course members from around Ohio. Teams consist of 5 individuals who work as a team on indentification and evaluation of various wildlife and environmental issues. The area competition will be held on April 25th. We are currently putting teams together. Last year, we had two teams which placed 1st and 3rd respectively in Area 5 competition. Mrs. Montoney is the coach for these teams.
Past Happenings
Ag Breakfast: The March Ag. Breakfast took place on Thursday, March 2nd at 6:15 A.M. at Frisch's. All members were welcomed to attend to receive extra credit and food.
District 7 Officer Training: The new officers and the bulk of the new assistant officers attended the District 7 Officer Training session held at Fairfield Union on March 8th. It was an informative session and a good activity for all who attended.
Past Contests
Equine Management CDE

: Testing your knowledge of the equine industry, this contest consist of an online test, judging of a class of horses, identification of different types of poisonous weeds and judging hay. This team consisted of

Cassie Brewer, Peyton Euliss, Joce Palombo, Harley Poling, and Audra Reid.

In this State Preliminary CDE the team placed 13th at state. These results won't be finalized until April 3rd. A big thanks to Gail Ellinger for serving as the team coach.
Agronomy CDE

: Testing your knowledge and understanding of the crop industry members have to be able to ID crops and weeds by their seeds, leaves, or whole plant, ID insect pests, and take a multiple choice test. This year's team consists of:

Austin J. Smith, Emmalee McGee, Garrett Dearth, Alison Eveland, Tanner Bennett, Riley McClure and Kristian Lobo.

This team placed seventh overall at state. These results won't be finalized until April 3rd. A BIG THANKS to team coaches Auggie Smith and Bob McClure!
Poultry CDE

: For this contest members are tested on their understanding of the poultry industry. This contest consists of a test, candling eggs, identification of meat cuts, judging live birds, judging processed patties, and judging carcasses. This team consists of

Nate Arni, Colton Cope, Mason Lindsey, and Killian Lott.

In this State Preliminary CDE, the team placed 11th overall. The top 10 teams advance to the final. These results won't be finalized until April 3rd. We'd like to thank Jeff Sweeney for helping with this CDE.
General Livestock CDE

: Members in this contest judge four common meat animals: beef cattle, swine, sheep, and goats. Participants are split into different groups and will rank the animals from best specimen to the poorest. There is also a online test that will questions members about animal diseases and their history. This year the team consisted of

Karlee McFarland, Cole Kleinline, Carlie Krile, and Allie Poston.

In this State Preliminary CDE the team placed 48th at state. These results won't be finalized until April 3rd. We would like to thank A-C FFA Alumni member Christian Hoffman for coaching the team again this year.
Nature Interpretation CDE

: This CDE tests participants on identification of equipment, mammal (pelts, skulls, tracks) reptiles, amphibians, songbirds, and non-woody plants in the form of a written test, pictures, and actual items. There are also three practicums that the participants have to do as well. The team this year consists of

Katey Camechis, Bronowyn Cummings, Blair Farmer, Ruth McKnight, Michael Montoney

and

Billy L'Huillier.

This team

placed

first at state

with

Bronowyn Cummings

placing second,

Billy L'Huillier

placing third,

Ruth Mcknight

placing fourth, and

Blair Farmer

placing ninth overall. If these results are verified (not final until April 3rd), this will be only the 3rd time our chapter has won this CDE. Congratulations to these members on this outstanding accomplishment! This team was coached by Mr. Tilley
Wildlife Management CDE

: In this contest, members will have to be able to identify game birds, fish, plants, equipment, mammal pelts, and skulls. This team consists of

Jesse Schooley, Trevor Spence, Jake Shamblin, Bryson L'Huillier and Jordan Meade.

This team

placed first at state

with

Jesse Schooley

placing first

,

Trevor Spence

placing fifth, and

Jake Shamblin

placing tenth. These results won't be finalized until April 3rd, but if they hold, this is just the 4th time our chapter has won this CDE. It is quite an accomplishment as this contest was redone last year and expanded greatly. Even more impressive is the fact this is only Jesse's second year in this CDE and Trevor and Jake's first year. Congratulations on this truly top notch accomplishment!!! Mrs. Montoney coached this year's team. This is the first time ever that A-C has ever won Nature and Wildlife in the same year and has only been done once by an FFA Chapter from a career center teaching environmental classes.
District 7 Ag Mechanics CDE:

This contest has three members demonstrating multiple mechanical tasks that pertain to welding, brazing, and wiring. G

arret Smith, Katy Camechis

and

Michael Montoney

comprised this year's team which placed 5th.
State Ag Sales CDE

: This CDE consist of four members who have ten minutes to prepare to sell a product to a judge and also have to participate in a practicum. The team includes

Garrett Drake, Emma Dearth, Lexie Kougher, and Carlie Krile.

The team placed 7th in the State again this year. This is only the 3rd time we have had an Ag Sales CDE team place in the top 10 in the state. A big thanks goes out to

Ms. Snider

, our student-teacher from OSU for coaching this CDE team.
State Public Speaking CDE

: On March 4th, our A-C FFA members travelled to the Marysville High School where they competed in the State Public Speaking CDE.

The top two contestants from each of the ten districts compete at the state level in their respective category, this means there will be twenty contestants in each category. The state semi-final round is broken into two heats of ten 10 each and the top 2 in each room come back to compete for the final 4 spots in each category.

Ellie Sahr

placed second in the State Semi-final round and placed

3rd in the state

of Ohio for Advanced Creed!

Emma Dearth

placed second in the the State Semi-final round and

placed 4th in the state

in the Senior Prepared Speaking category.

Allie Poston

placed 4th in her State Semi-final room for Beginning Creed and

Jalynn Fausnaugh

placed 5th in her State Semi-final room for Beginning Prepared, placing them both in the top ten in the state in each of their categories. Aaron was unable to attend due to prior a commitment.Congratulations to these outstanding Amanda-Clearcreek FFA public speakers!
Please put the Amanda-Clearcreek FFA Awards Banquet on your calendar! We hope to see you on April 13th at 4 PM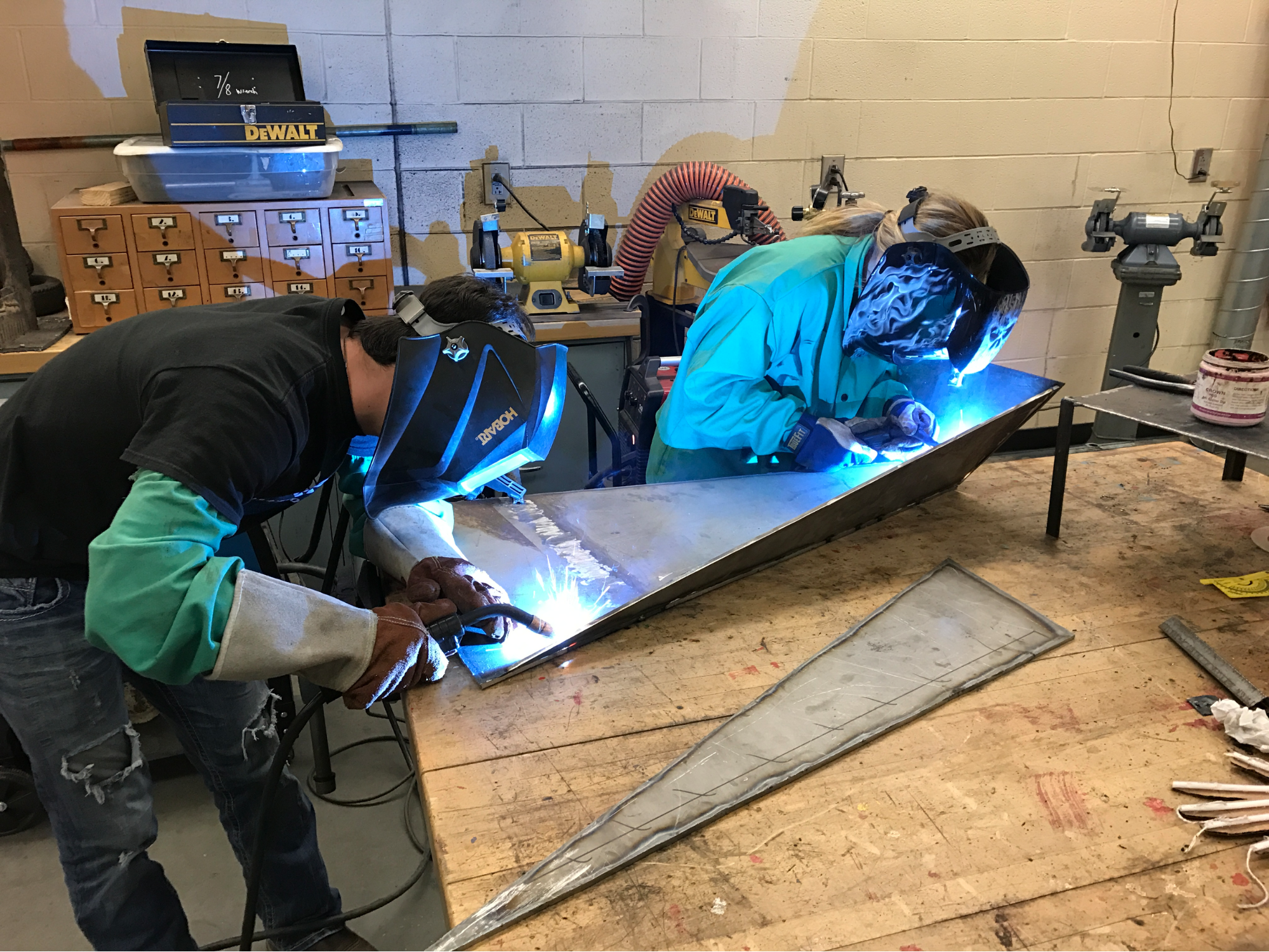 Pictured are seniors Joey Drake and Lexie Kougher welding the pole vault pit for the Track program.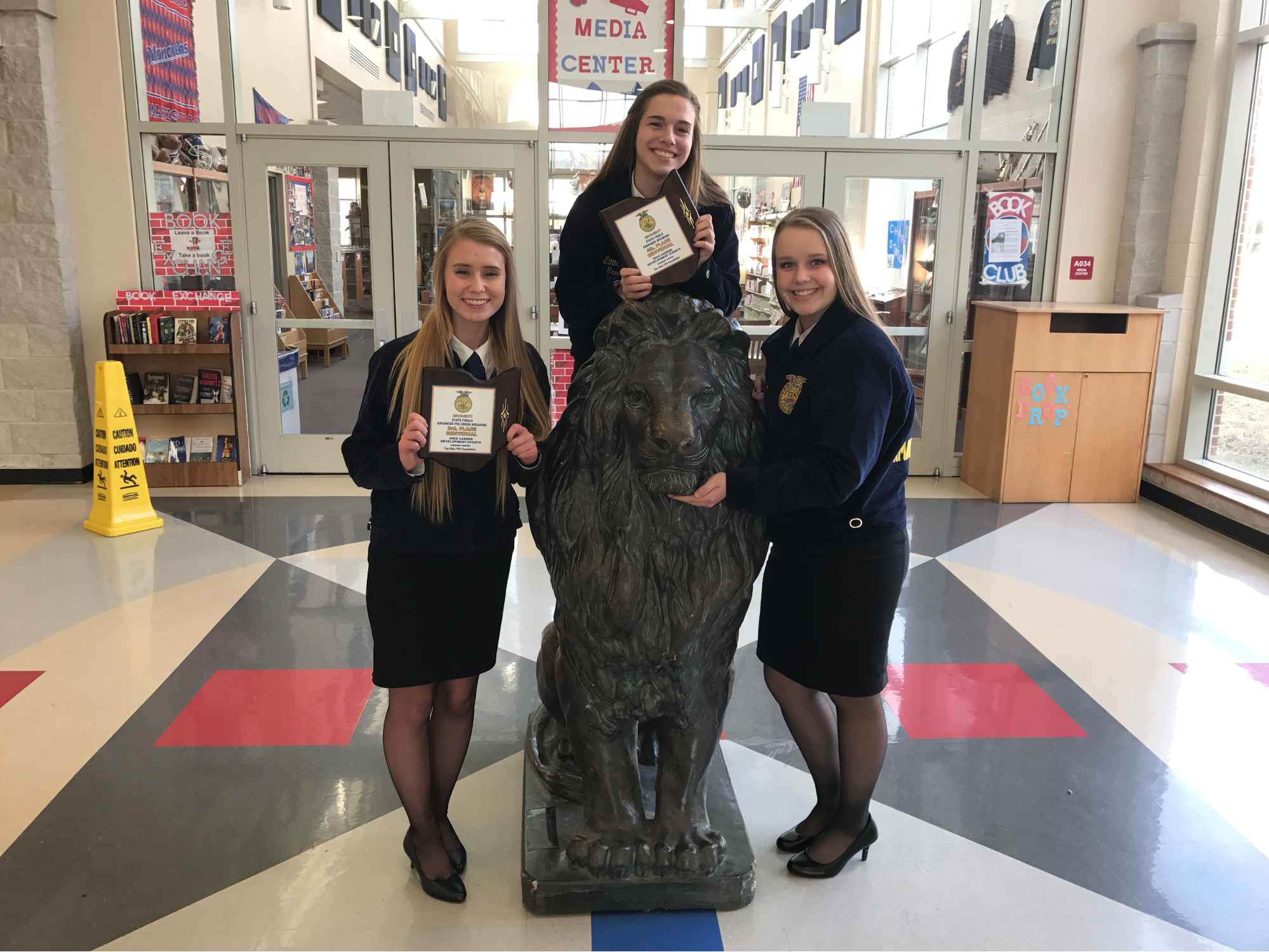 Ellie Sahr, Emma Dearth & Allie Poston at State Public Speaking.