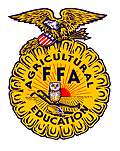 Amanda-Clearcreek FFA News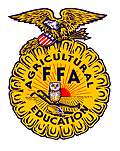 March of 2017
By Cole Kleinline, Reporter
Next FFA Meeting
The next FFA meeting will take place on Monday, March 20th at 7:00 P.M. in the Ag Center. The Ag Challenge following the meeting will be "Tug of War". Five male and five female members will be chosen from each grade level. Freshman will go against Sophomores and Juniors will against seniors. The last grade level standing will be the winner!
Upcoming Events
Ag Breakfast: The April Ag. Breakfast will take place on Friday, April 7th at 6:15 A.M. at at a location to be decided at the March meeting. All members are welcomed to attend enjoy good fellowship and a good meal.
Upcoming Contests:
Equine Management CDE

: Testing your knowledge of the equine industry, this contest consist of an online test, judging of a class of horses, iding different types of poisonous weeds and judging hay. This team consists of

Cassie Brewer, Peyton Euliss, Kilynn Guiler, Rachel Hizey, Joce Palombo, and Audra Reid.

This team will compete in the State Preliminary contest on March 25th. Good Luck to these participants!

General Livestock CDE

: Members in this contest judge four common meat animals: beef cattle, swine, sheep, and goats. Participants are split into different groups and will rank the animals from best specimen to the poorest. There is also a online test that will question you on animal diseases and their history. This year the team consists of

Karlee McFarland, Cole Kleinline, Carlie Krile, and Allie Poston.

This team will compete in the State Preliminary contest on March 25th. Good luck to the A-C FFA members participating in this contest!
Nature Interpretation CDE

: This CDE tests participants on iding equipment, mammal pelts, skulls, reptiles, amphibians, songbirds, and non-wood plants in the form of a written test, pictures, and actual items. There is also two practicums that the participants have to do as well. The team this year consists of

Katey Camechis, Bronowyn Cummings, Blair Farmer, Ruth Mcknight, Michael Montoney

and

Billy L'Huillier.

This team will compete in the State contest on March 25th. Good luck Nature Int. Team!
Poultry CDE

: For this contest members are tested on their understanding of the poultry industry. This contest consists of a test, candling eggs, identification of meat cuts, judging live birds, judging processed patties, and judging carcasses. This team consists of

Nate Arni, Colton Cope, Owen Dunlap, Mason Lindsey, and Killian Lott.

The State contest will be held on March 25th. Good luck to the participating members!

Wildlife Management CDE

: In this contest, members will have to be able to identify game birds, fish, plants, equipment, mammal pelts, and skulls. This team consists of

Jesse Schooley, Trevor Spence, Jake Shamblin, Bryson L'Huillier and Jordan Meade.

The Wildlife Management team will compete at the State contest on March 25th. Good luck to the team at they take on State!
State Ag Mechanics CDE:

This contest has three members demonstrating multiple mechanical tasks that pertain to welding, brazing, and wiring. A runoff will be held to determine which three members are best qualified for this contest.
State Ag Sales CDE

: This CDE consist of four members who have ten minutes to prepare to sell a product to a judge and also have to participate in a practicum. The team includes

Garrett Drake, Emma Dearth, Lexie Kougher, and Carlie Krile.
State Agronomy CDE

: Testing your knowledge and understanding of the crop industry members have to be able to ID crops and weeds by their seeds, leaves, or whole plant, ID insect pests, and take a multiple choice test. This year's team consists of:

Austin J. Smith, Emmalee McGee, Garrett Dearth, Alison Eveland, Tanner Bennett, Riley McClure and Kristian Lobo.

State Outdoor Power CDE

: This contest has members identifying various items pertaining to outdoor power tools and machines. This team has not been determined yet.
State Public Speaking CDE

: Consists of Creed Speaking, Beginning Prepared, Extemporaneous Speaking, and Prepared Public Speaking. This team consists of

Emma Dearth, Jaylnn Fausnaugh, Allie Poston, Ellie Sahr, and Aaron Sharp.
Past Happenings
Ag Breakfast: The February Ag. Breakfast took place on Friday, February 10th at 6:15 A.M. at Frisch's. All members were welcomed to attend to receive extra credit and food.
Ag Breakfast: The March Ag. Breakfast took place on Thursday, March 2nd at 6:15 A.M. at Frisch's. All members were welcomed to attend to receive extra credit and food.
Greenhand Quiz CDE: Freshmen members take an online test that questions members on their knowledge of the history of FFA and parliamentary procedure. The team consisted of: Alison Eveland, Emmalee McGee, and Jake Shamblin. Unfortunately, we did not have a complete team this year as the top 4 scores are used for the team ranking. However, these individuals did well, with Jake placing 35th, Alison placing 104th and Emmalee placing 289th out of OVER 1900 INDIVIDUALS. This is the BIGGEST contest in the FFA.
FFA Meeting: The most recent FFA meeting took place on Tuesday, February 21st at 7:00 P.M. in the Ag Center. During this meeting, officer elections were held and a new officer team was elected;, the team includes; Noah Smith as President, Emma Dearth as Vice-President, Ellie Sahr as Secretary, Bryson L'Huillier as Treasurer, Cole Kleinline as Reporter, Garrett Drake as Sentinel, and Riley McClure as Student Advisor. The officer team, shortly after, chose assistants to help them carry out the specific tasks they need to complete throughout their team as an officer. The assistants are: Aaron Sharp as assistant At-Large, Emmalee McGee as assistant Vice-President, Trevor Spence as assistant Secretary, Peyton Euliss as assistant Treasurer, Allie Poston as assistant Reporter, Tanner Bennett as assistant Sentinel, and Paige Hinton as assistant Student Advisor. The A-C FFA Chapter is very eager to see where the new officer team takes the chapter!
Top Fall Fund Raiser's Trip: Members who sold 25 or more boxes of fruit were able to go to Louisville, Kentucky to go to the National Farm Machinery Show. The trip started on February 17th and ended on the 19th. On the 17th members left for Louisville making two stops on the way. The first stop was at the Newport Aquarium where members were able to look at an assortment of fish and were able to go across a rope bridge that went across one of the aquariums tanks. The next stop was at Louisville Mega Cavern where members took an underground jeep tour of a cavern that was man made, houses many different companies and vehicles, and used to be an old fallout shelter. After the tour and making it to the hotel, members were able to see a movie. On the 18th members spent half the day at the Farm and Machinery Show where they were able to look at various different farm equipment, tools, supplies, and even watch the tractor pulls. After eating dinner everyone went back to the hotel where they spent the night swimming in the pool, playing cards, and talking to friends. Lastly on the 19th the day was spent traveling back home but there was one more stop. It was at Jungle Jim's where members looked and bought various food items from around the world. By the time everyone got home, they were beat but they had a memorable and exciting weekend. Thank you to all the members who sold fruit to help of the financial costs of the fun activities we do! Our chapter would also like to that the chaperones who attended the trip with the members. Thank you to Linda Krile, Auggie Smith, Tom McClure, Matt Kleinline, Julie Wymer, Bill Wymer, Beth Poling and Joy Sharp.
212º Leadership Conference: On February 24th and 25th, members enjoyed an overnighter at Union Local High School, interacting in six sessions learning how to become a better leader by improving our characteristics and managing our time well, during these sessions the school provided lunch and dinner. After the sessions, Union Local FFA Alumni held a square dance, provided pizza, and even helped the members learn how to square dance. Then all the members joined in the gym to watch a hypnotist hypnotize over 20 members from several different FFA chapters. Finally they brought in laser tag and bubble soccer and provided ice cream as well. Many friendships and memories were created. This leadership conference was a great learning experience for all members that attended.
State FFA Degree Recipients: The State FFA Degree is given to the top members of a State FFA Association, to receive a State FFA Degree members must meet the requirements listed in the Official FFA Manual. The State FFA Degree is the highest degree that a State can bestow on it's FFA members. This year our FFA Chapter will have six members who will be earning their State FFA Degree at the State FFA Convention in May; these members include: Nelson Craycraft, Sarah Doner, Cole Kleinline, Carlie Krile, Desirae Logsdon, and Kayla Luft. Congratulations to these members for all their time, hard work and dedication they put in to earn this degree!
American FFA Degree Recipients: The American FFA Degree is awarded to members who have demonstrated the highest level of commitment to FFA and made significant accomplishments in their supervised agricultural experiences (SAEs). The American FFA Degree is awarded at the National FFA Convention & Expo each year to less than 1% of FFA members making it one of the organization's highest honors. This year our chapter had four members whose applications will be forwarded to the national level: these members include: Nelson Craycraft, Desirae Logsdon, Devon Mullen, and Adrian Wymer. They should be earning their degrees at the National FFA Convention this coming Fall. Congratulations to these members that will be receiving this degree. This is the highest degree that you can be awarded in the National FFA Organization!
Mulch Sale Changes: The A-C FFA Chapter's annual mulch sale will be starting this month. There will be a BIG change this year. This year, the chapter will be selling 2 cubic foot bags, not 3 cubic foot bags. There are multiple reasons for this.
It is becoming harder for the chapter to get the five types of mulch we have been offering in the 3 cubic foot bags. The industry is shifting to smaller bags.

The chapter has been fielding more and more concerns, and a few complaints, about the weight of the larger bags. Smaller bags should help with those concerns.

Price. This year, the price per cubic foot of mulch is actually cheaper for 3 of the 5 types of mulch when comparing the 2 cubic foot bags versus the 3 cubic foot bags. In the past, the 3 cubic foot bags were the "better deal" but that has changed this year. The chapter always strives to provide a quality product for a quality prices.
In addition to the mulch bag size change, we will be selling black mulch 'fines' that should be ground up finer than the standard black mulch (not hardwood, but dyed black). This is also per request of various customers.
Finally, we are transitioning totally to Ohio Mulch as our supplier. We have been selling some of their products for the past few years but this year, they have the best prices of the suppliers we contacted, so again, the chapter is trying to offer our customers the most mulch for the price.
So, be on the lookout for FFA members selling mulch the next few weeks! If there are ever concerns about mulch, please contact an FFA advisor and we'll try to help you.