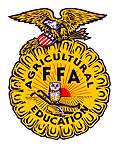 Amanda-Clearcreek FFA News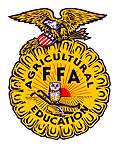 May of 2017
by Cole Kleinline, Reporter
A-C FFA Awards Banquet
The annual Amanda-Clearcreek FFA Awards Banquet will be held on Saturday, May 13th at 4:00 P.M. in the high school cafeteria. Members will be recognized for their many accomplishments throughout the 2016-2017 school year. ALL MEMBERS ARE EXPECTED TO ATTEND THE BANQUET. The chapter will provide table service, rolls, chicken and ham for this potluck affair. Freshmen, Sophomores, and Juniors are asked to bring a side dish while Seniors are asked to bring a dessert item. This is a family event, so we would like to see all members bring their families with them to share in the successes of the past school year and enjoy good food, good company and community spirit with the Amanda-Clearcreek FFA!
Next FFA Meeting
The last FFA meeting of this school year will take place on Tuesday, May 16th at 7:00 P.M. in the Ag Center. This will be our final meeting and we will have a cookout after the meeting. The meeting is on Tuesday and not Monday as to avoid the Band Banquet on 5/15.
Upcoming Events
State FFA Convention: The State FFA Convention will be held on May 4th and 5th. At the convention, our chapter will be recognized as a Gold Chapter this year! Nelson Craycraft, Sarah Doner, Cole Kleinline, Carlie Krile, Desirae Logsdon, and Kayla Luft will all be receiving their State FFA Degrees. Sarah Doner will be recognized for placing in the Top 4 in the proficiency award area of Organic Agriculture. We will have a few CDE teams get recognized for winning the state competition: this includes Nature Interpretation, Wildlife Management, and Environmental & Natural Resources. Jesse Schooley will be individually recognized for placing first in state in Wildlife Management. Mallory Seitz will be recognized for having a gold-rated Secretary's book. Lexie Kougher will be find out if she has made the ballot as a State FFA Officer candidate. Lastly, Josie Montoney will be retiring as a State Secretary. For those nearly 50 members attending, remember to get your school assignments in advance and to make sure you have your school fees all paid so you can attend! It should be an exciting and busy convention!
Ag Breakfast: The May Ag. Breakfast will take place on Friday, May 5th at 6:15 A.M. at Frisch's. This will be the last Ag Breakfast of the school year but we will continue to have Ag Breakfast every month throughout the summer. The dates and locations will be decided at the May FFA meeting.
Last Day: Friday, May 19th is the last day for students. Finish this last month off strong and continue your hard dedication.
Saying Goodbye to our Seniors: We wish you well and thank you for being a special part of A-C FFA family! Special thanks to all our senior parents/guardians/friends that supported our seniors over the last several years. Without your support, we could not be as successful as we are today. Here are all the seniors in FFA; Nate Arni, Keaton Baldwin, Christopher Bickel, Christopher Conrad, Jessica Hall, Cheyenne Reid, Cole Connell, Blair Farmer, Mack Smith, Layne Hartley, Luke Harmon, Joey Drake, Mitch Cassley, Cassie Whaley, Autumn Fiend, Kristin Ross, Chance Decker, Cordelia Lumbard, Makenzie Bowersock, Tierra Tooill, Rachel Hizey, Lilly Seifert, Kristin Ross, Julia Davenport, Elizabeth Barnes, Jesse Schooley, Dylan Warga, Bronowyn Cummings, Kylie Friesner, Autumn Gartin, Cameron Gremillion, Nathan Hawkes, Lexie Kougher, Carlie Krile, Billy L'Huillier, Noah Lafferty, Killian Lott, RJ Martin, Nicholas Minnard, Alec Newcomb, Joce Palombo, Katie Roark, Mallory Seitz, Austin H Smith, Austin J Smith, Garret Smith, Madison Stewart, Sarah Streets, Alexia Thompson, and Darnell Brown
"As we mingle with others, let us be diligent in labor, just in our dealings, courteous to everyone, and above all, honest and fair in the game of life. "
Friends of the FFA: Our chapter is very grateful to the following individuals who have dedicated their time, effort and even finances for the benefit of our members. We would not be able to accomplish all that we do without their generosity. Here is a list of people and businesses who have helped our chapter this year: Rod Francis, Crystal Groves, Bachman Orchard, Lonnie Green, Jeff McCorkle, Beth Poling, Tommy Springer, Tricia Haughn, Tony Zirkle, Tom McClure, Kirk Hines, Barb, Green, John McCormick, State Representative Ron Hood, Lori Travis, Brittany Tilley, Dwayne Vannoy, Brent Elam, Clearcreek Construction, Bill Wymer, Julie Wymer, Jeff Sweeney, Kimberly Radulovich, Marshall Grain, Matt Kleinline, Aubrey Kleinline, Gail Ellinger, Amy McCormick, Sharp Butchering, JD Equipment, Tonya Forsythe, Mr. Morgan, Aaron Miller, Derrick Cooper, Christian Hoffman, Dusty Hines, United Landmark, Auggie Smith, Carlie Snider, Fairfield County OSU Extension, Scioto Valley Bee Keepers, State Senator Troy Balderson, Katerina Sharp, Bays Food Market, Andy Montoney, Anne Boucher, Linda Krile, Sarita Fenn, Adam Sharp, Sierra Jepsen, Pickaway OSU Extension, Bob McClure, Jessica Parker, Amie Hall, Ohio Farm Bureau, and Central Ohio Beekeepers.
Past Happenings
Ag Breakfast: The April Ag. Breakfast took place on Friday, April 7th at 6:15 A.M. at Frisch's. All members were welcome to attend and enjoyed good fellowship and a good meal. A total of 35 people attended the breakfast.
Mulch and Flower Bulb Sale: The spring mulch and flower bulb sale has ended for the chapter. All members who sold mulch need to get see Mr. Tilley and Mr. Sharp to pick up the bags that they had sold. The top 15 mulch sellers and top 2 flower bulb sellers (if minimum is met) are eligible to go on the Top Spring Fundraiser's Trip May 23rd through the 25th. This year's trip will be to the Red River Gorge area of Kentucky where members will rock climb and camp among other outdoor adventures.
Working Together in Community: Mr. Sharp and some senior students have been working with our track program. The seniors have made a new pole vault pit pan for the track program and are working on a few other projects. The FFA also had members help with the Alumni Basketball Tournament games and assist with the PTO Carnival.
Past Contests
State Veterinary Science CDE:

Sarah Doner

qualified for the State Veterinary Science CDE. She competed at the Ohio Expo Center on April 12th and placed 35th indivdually in this very challenging CDE.
State Animal Management CDE:

Billy L'Huillier, Bryson L'Huillier

and

Bailey Knox

are the members who qualified for the State Animal Management CDE. Though it takes 4 members to comprise a team score, they went to the State contest on April 12th and compete for individual rankings.

Laurie Travis

, A-C FFA Alumni member, has been working with this team. The team placed 14th at state with

Billy L'Huillier

placing

2nd at state

. Congratulations Billy for this top 5 individual placing!
Environmental & Natural Resources CDE:

With our top teams placing in both Wildlife Management and Nature Interpretation, our chapter was eligible to participate in this invitation-only CDE. The team consists of

Bronowyn Cummings, Billy L'Huillier, Michael Montoney,

and

Jesse Schooley

. The State CDE was on April 21st.

The team placed 1st at state

! Congratulations to these team members on a job well done. This is the first time in state history that one chapter has won this CDE, the Wildife Management CDE and the Nature Interpretation CDE in the same year! Quite an accomplishment!! This team will advance to the national competition this coming Fall.
Meats CDE:

Allie Poston, Paige Hinton, Isaiah McQuade, Garrett Drake, Trent Palombo

and

Sarah Doner

comprise this year's Meats CDE team. This is the first year we have had a team in many years. They competed at OSU on April 29th.

Mr. Rod Francis

is serving as this year's coach and worked diligently with this young team. Results should be available in early May.
Agricultural Issues Forum:

This CDE is one the chapter has had much success in over the years. Essentially, the team members take an agriculturally relevant topic and debate the pros and cons of the issue. They compete at the state level on April 29th at OSU. This year's team consists of:

Noah Smith, Jullian Scott, Emma Dearth, Paige Hinton, Billy L'Huillier

and

Aaron Sharp

. Mr. Sharp is worked very hard with this team. The team's topic was over Colony Collapse Disorder in honeybees. This is a phenomenon where the majority of worker bees in a colony will disappear and leave behind the queen, plenty of food, and nurse bees to take care of the immature bees. It has posed a long term threat to bees for a bit of time but has declined substantially over the last five years. The team competed on April 29th and results should be available in early May.
Envirothon:

The Envirothon is not an FFA specific competition but rather is open to high school Agriculture and Science course members from around Ohio. Teams consist of 5 individuals who work as a team on identification and evaluation of various wildlife and environmental issues. The area competition was held on April 25th and we are proud to say that one of our teams will be moving on the state competition this summer. This is the third year in a row we have competed at the state level. The advancing team consisted of Billy L'Hullier, Bronowyn Cummings, Michael Montoney, Austin J Smith and Jesse Schooley; they placed 2nd in Area 5 competition and are looking forward to the state competition in June. Our second competing team consisted of: Trevor Spence, Bryson L'Hullier, Jake Shamblin, Cade L'Hullier and Garret Drake; this young team placed in the in the top 20% against many seasoned competitors.
Please put the Amanda-Clearcreek FFA Awards Banquet on your calendar! We hope to see you on May 13th at 4 PM to help us celebrate our 80th year as a FFA Chapter!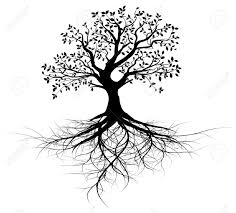 "Our Roots Run Deep"