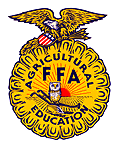 Amanda-Clearcreek FFA News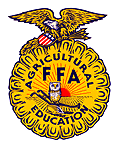 September of 2017
by Cole Kleinline, Reporter
Next FFA Meeting
The next FFA meeting of this school year will take place on Monday, September 18th at 7:00 P.M. in the Ag Center. This will be our second meeting of the year and all are required to attend. If you can not make it, make sure to give a note to your Ag teacher the day after the meeting. Also, after every Ag meeting, there is a challenge between grade levels; 1st place receives four points, 2nd place receives three points, 3rd place receives two points, and 4th place receives one point. At the end of the year, whoever has the most points will be awarded with a steak and ice cream dinner. The Ag Challenge for this meeting will be Straw Bale Toss.
Upcoming Events
Ag Breakfast: The October Ag. Breakfast will take place on Friday, October 6th at 6:00 A.M. The place will be determined at the September Ag meeting.
Farm Science Review: Each year, there is a three day expo held for agricultural equipment and products near London, OH at OSU's Molly Caren Center. This year, our chapter will be attending on September 20th. At this expo, members have the opportunity to learn about the newest agricultural technology that are used in the agricultural industry. Members who will be attending this will meet at the school at 6:45 A.M and will not get back to school till 5:00 P.M. unless in sports or in band; those members will return by 2:45 P.M.
Forestry CDE: The Forestry CDE gives members the chance to learn how to identify different kinds of trees, forestry tools, how many board feet of lumber can be cut and used from a tree, how to use a compass, and how to identify the type of wood used in everyday products. This Career Development Event also consists of bark and leaf ID and an online test that takes place on September 20th. There has already been a County Forestry CDE contest, September 21st is their District 7 contest, and September 30th is their State contest at Hocking College.
National FFA Convention: The National FFA Convention this year takes place on October 25th-28th. For past members, to register they need to turn the online form in by September 15th. After September 20th, the new members can log on and fill out the for to get the chance to go to the National FFA Convention.
Past Happenings
Ag Breakfast: The June Ag. Breakfast took place on Friday, June 2nd at the Laurelville Diner. The July Ag. Breakfast took place on Friday, July 7th at Goodwins in Circleville. The August Ag. Breakfast took place on Friday, August 4th at Bob Evans in Lancaster. These were good opportunities for members to meet, eat and socialize over the summer.
Ice Cream Social: On September 6th, the Amanda-Clearcreek FFA Chapter held its annual Ice Cream Social. It began at 6:30 P.M. for all new freshmen and sophomores, and at 7 P.M. for all the returning members. In the first half hour, all new members and their parents are learned more about the FFA program. The new members attended seven sessions led by the officer team, where they learned about the new and exciting trips and activities they can attend through the FFA, while their parents met with Mr. Tilley and Mr. Sharp to get more information on the different activities their children may be participating in as the year progresses. The returning members who came later on in the night, and were joined by the new members as they finish their sessions, enjoyed a night of socializing, making new friends, and eating some delicious ice cream!
A-C Alumni Banquet: Members were encouraged to help set up for the A-C Alumni Association Banquet on Friday, June 2nd at 9:30 A.M. The banquet was held on June 3rd. There were two shifts of helpers that night - one from 5:00 PM until 7:00 PM to collect food from attendees and help serve; the other shift helped to essentially clean-up from 7:00 PM until around 9:30 PM. This was a great community service activity for an organization that gives so much back to the students. We had many seniors who were in Ag receiving scholarships from the A-C Alumni this year.
A-C Alumni Thad Davis 5K Run/Walk: This event was held at the Amanda-Clearcreek High School on Saturday, June 17th in the morning. Members helped set up tables, chairs, and other items to prepare for the run that day. This activity was set-up by the A-C Alumni Association and helping at this counted as an community service opportunity.
Canoe Trip: Our summer canoe trip was held on Friday, July 7th after Ag Breakfast at Hocking River. There were 13 members who attended this annual summer activity, including some of our new freshmen members. A good time was had by all.
OLC: Ohio Leadership Camp was held at Camp Muskingum on June 23rd-26th. Members who attended were able to learn how to lead their chapter. Games and other activities were held there as well. Those members that attended were: Allie Poston, Emma Dearth, Noah Smith and Jullian Scott.
Officer Retreat: The A-C FFA Leadership retreat was held on June 27th-29th where our officers and their assistants went to Ohio FFA Camp Muskingum. There they took part in a multitude of leadership based team building activities to help our team grow and bond as a group. During this trip, they participated in several tours that educated them on our State's heritage or learning about agriculture. They also participated in a high ropes initiative course and other team building activities. The main focus of the retreat was to plan next year's activities, so if you still have any ideas or suggestions, tell an officer! According to Mr. Tilley, this is the first time all officers and all assistant officers have attended the annual Officer Retreat.
FFA Camp: Summer camp was held on July 10th-14th where members engaged in activities with other FFA members. Members had a week to spend time with friends, participate in daily competitions, meet new friends, and try new activities. This camp is for people who like to play paintball, shoot guns, use a bow, swim, canoe, hike, dance, talk, or meet new people. Camp is probably one of the funnest activities the FFA does. There were 42 of our members, ranging from recent senior graduates to incoming freshmen, who attended the 5th session. Our chapter had more attendees than any other chapter at that session.
WLC: To go on the Washington Leadership Conference, a member had to sign-up and pay the fee or apply for the Memorial Award where you had to go through a special interview to qualify to go on this trip. This year Emma Dearth, Noah Smith and Ellie Sahr all qualified to go on this trip. On this trip they were all able to learn how they could better lead our chapter and learn about our great nation. This trip was held on July 25th-30th in Washington DC.
Pelotonia: Here members were able to enjoy a good meal and then help clean up the tables and chairs from that meal and then help set up bike racks for the bike race the next day. It was held on Friday, August 4th. This is a good community service activity. The Pelotonia raises money for researching the cure for cancer. The chapter has been helping with the Pelotonia since its inception. For the first 3 years, the bike ride came through Amanda, but since then, organizers changed the bike route to not go through Fairfield County. Our chapter decided to continue to help with this worthy activity.
Cross Mound Clean-Up: On Friday, August 4th members were asked to help out at Cross Mound to clean up the park. Members helped with general clean-up of the trails and picnic areas. The chapter has been helping with this particular Fairfield County Park for over 20 years.