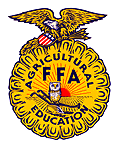 Amanda-Clearcreek FFA News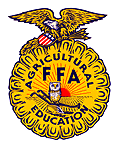 May - August of 2017
by Cole Kleinline, Reporter
Next FFA Meeting
The first FFA meeting of this school year will take place on Monday, August 21st at 7:00 P.M. in the Ag Center. This will be our first meeting of the year and all are required to attend. If you can not make it make sure to give a note to your Ag teacher the day after the meeting.
Upcoming Events
June
Ag Breakfast: The June Ag. Breakfast will take place on Friday, June 2nd at 8:00 A.M. at Laurelville Diner. This is the restaurant just across from the gas station as you enter Laurelville.
A-C Alumni Banquet: Any members are strongly encourage to help set up for the A-C Alumni Association Banquet on Friday, June 2nd at 9:30 A.M. Helping at this will count for some of your summer hours for your Ag Ed grade. The banquet will be held on June 3rd. We have two shifts of helpers that night - one from 5:00 PM PM until 7:0 PM PM to collect food from attendees and help serve; the other shift is essentially clean-up from 7:00 PM until around 9:30 PM. This is a great community service activity for an organization that gives so much back to the students. We have many seniors who were in Ag receiving scholarships from the A-C Alumni this year.
A-C Thad Davis 5K Run/Walk: This event is held at the Amanda-Clearcreek High School on Saturday, June 17th in the morning. Members will help set up tables, chairs, and other items to prepare for the run that day. Helping at this will count for some of your summer hours for Ag and is another community service opportunity.
OLC: Ohio Leadership Camp is held at Camp Muskingum on June 23rd-26th. Members who would like to attend will be able to learn how to lead their chapter. Games and other activities will be held there as well. Food will be provided for but bring enough clothes and hygiene products for the weekend. This camp is recommended for members who what to lead their chapter or are afraid of going to FFA camp and want something on a smaller scale. Going to this will count towards all of your summer hours for your 2017-2018 Ag Ed grade.
Officer Retreat: The A-C FFA Leadership retreat will be held on June 27th-29th where our officers and their assistants will be going to Ohio FFA Camp Muskingum. There they will take part in a multitude of leadership based team building activities to help our team grow and bond as a group. During this trip, they will be participating in several tours that will educate them on our State's heritage or learning about agriculture. They will also be participating in a high ropes initiative course and other team building activities. The main focus of the retreat will be to plan next year's activities, so if you have any ideas or suggestions, tell an officer!
July
Ag Breakfast: The July Ag. Breakfast will take place on Friday, July 7th at 8:00 A.M. at Goodwins in Circleville. Goodwins is located across from Big Lots on US 22 on the east side of town.
Canoe Trip: Our summer canoe trip will be held on Friday, July 7th after Ag Breakfast at Hocking River. The canoe trip will count for your summer hours for Ag Ed. We will be meeting at the school at 9:30 AM.
FFA Camp: Camp is held on July 10th-14th where members will engage in activities with kids their age. Members have a week to spend time with friends, participate in daily competitions, meet new friends, and try new activities. If you like to play paintball, shoot guns, use a bow, swim, canoe, hike, dance, talk, or meet new people then camp is definitely for you. Going to this will count towards all of your summer hours for Ag. Forms were due at the end of the school year but there is a good chance Mr. Tilley can still get you registered, so contact him if you're still interested in camp. Camp is probably one of the funnest activities the FFA does and will take care of all of your summer hours.
WLC: To go on the Washington Leadership Conference, a member can sign-up and pay the fee or apply for the Memorial Award where you had to go through a special interview to qualify to go on this trip. This year Emma Dearth, Noah Smith and Ellie Sahr all qualified to go on this trip. On this trip they will both learn on how they can better lead our chapter and learn about our great nation. This trip is held on July 25th-30th in Washington DC.
The Memorial Award is given annually to two members, in memory of Rusty Bowers and Becky Strickler, both past members who were lost to us while FFA members. This year, due to generous donations by former member Dylan Wamsley, we were able to send a third member to this conference.
August
Ag Breakfast: The August Ag. Breakfast will take place on Friday, August 4th at 8:00 A.M. at Bob Evans.
Pelotonia: Here members will be able to enjoy a good meal and then help clean up the tables and chairs from that meal and then help set up bike racks for the bike race the next day. It will be held on Friday, August 4th. This will count towards your summer hours for Ag. This is a good community service activity. The Pelotonia raises money for researching the cure for cancer.
Cross Mound Clean-Up: On Friday, August 4th members will be asked to help out at Cross Mound to clean up the park. This will be held in the morning at 10 AM and will require a lot of help. For members who help out with this will be able to count it towards their summer hours for your Ag Ed grade.
Fairfield County Antique Tractor Show: This will be held on August 18th - 20th and members will be needed to help setup and teardown for this event. They will need lots of help for this event, anyone who does help will be able to count this towards their summer hours for Ag. More details will be sent out closer to the time.
Past Happenings
Ag Breakfast: The May Ag. Breakfast took place on Friday, May 5th at 6:15 A.M. at Frisch's. All members were welcome to attend and enjoyed good fellowship and a good meal. A total of 30 people attended the breakfast.
Mulch and Flower Bulb Sale: The spring mulch and flower bulb sale has ended for the chapter. All members who sold mulch need to get see Mr. Tilley and Mr. Sharp to pick up the bags that they had sold. These bags need to be delivered as soon as possible!!! The top 15 mulch sellers and top 2 flower bulb sellers (if minimum is met) are eligible to go on the Top Spring Fundraiser's Trip May 23rd through the 25th. This year's trip will be to the Red River Gorge area of Kentucky where members will rock climb and camp among other outdoor adventures. If you need mulch, the chapter may have extra - contact Mr. Tilley if interested.
State FFA Convention: The State FFA Convention was held on May 4th and 5th. At the convention, our chapter was recognized as a Gold Rated Chapter this year! Nelson Craycraft, Sarah Doner, Cole Kleinline, Carlie Krile, Desirae Logsdon, and Kayla Luft received their State FFA Degrees. Sarah Doner was recognized for placing in the Top 4 in the proficiency award area of Organic Agriculture. We had a FOUR CDE teams get recognized for winning the state competition: this includes Nature Interpretation, Wildlife Management, Agricultural Issues Forum and Environmental & Natural Resources. Jesse Schooley was individually recognized for placing first in state in Wildlife Management. Mallory Seitz was recognized for having a gold-rated Secretary's book. Lastly, Josie Montoney retired as State Secretary. Josie had a great year serving as a state officer and did an outstanding job helping run the State FFA Convention.
A-C FFA Awards Banquet: The annual Amanda-Clearcreek FFA Awards Banquet was held on Saturday, May 13th at 4:00 P.M. in the high school cafeteria. Members were recognized for their many accomplishments throughout the 2016-2017 school year.
Here are a few of the highlights of the banquet:
Star Greenhand -

Paige Hinton, Allie Poston, Jullian Scott

Outstanding Sophomore -

Noah Smith

Outstanding Junior -

Emma Dearth

Outstanding Seniors:

Austin J. Smith, Carlie Krile, Lexie Kougher

Start Chapter Award:

Mallory Seitz, Billy L'Huillier

CDE Hall of Fame Award:

Billy L'Huillier

Dekalb Leadership Award:

Lexie Kougher

Leadership Camp Awards:

Allie Poston, Jullian Scott

Leadership Conference Award:

Kyle Hicks, Garrett Drake

Memorial Awards:

Emma Dearth, Noah Smith

WLC Award:

Ellie Sahr

Top Fund Raiser Award:

Austin J. Smith

Top Fall Fruit Seller:

Tanner Bennett

Top Spring Mulch Seller:

Austin J. Smith

(new record)
Friends of the FFA: Our chapter is very grateful to the following individuals who have dedicated their time, effort and even finances for the benefit of our members. We would not be able to accomplish all that we do without their generosity. Here is a list of people and businesses who have helped our chapter this year: Rod Francis, Crystal Groves, Bachman Orchard, Lonnie Green, Jeff McCorkle, Beth Poling, Tommy Springer, Tricia Haughn, Tony Zirkle, Tom McClure, Kirk Hines, Barb, Green, John McCormick, State Representative Ron Hood, Lori Travis, Brittany Tilley, Dwayne Vannoy, Brent Elam, Clearcreek Construction, Bill Wymer, Julie Wymer, Jeff Sweeney, Kimberly Radulovich, Marshall Grain, Matt Kleinline, Aubrey Kleinline, Gail Ellinger, Amy McCormick, Sharp Butchering, JD Equipment, Tonya Forsythe, Mr. Morgan, Aaron Miller, Derrick Cooper, Christian Hoffman, Dusty Hines, United Landmark, Auggie Smith, Carlie Snider, Fairfield County OSU Extension, Scioto Valley Bee Keepers, State Senator Troy Balderson, Katerina Sharp, Bays Food Market, Andy Montoney, Anne Boucher, Linda Krile, Sarita Fenn, Adam Sharp, Sierra Jepsen, Pickaway OSU Extension, Bob McClure, Jessica Parker, Amie Hall, Ohio Farm Bureau, and Central Ohio Beekeepers.