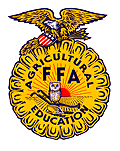 Amanda-Clearcreek FFA News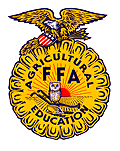 May of 2018
by Allie Poston, Reporter
A-C FFA Awards Banquet
The annual Amanda-Clearcreek FFA Awards Banquet will be held on Saturday, May 12th at 4:00 P.M. in the high school cafeteria. Members will be recognized for their many accomplishments throughout the 2017-2018 school year. ALL MEMBERS ARE EXPECTED TO ATTEND THE BANQUET. The chapter will provide table service, rolls, chicken and ham for this potluck affair. Freshmen, Sophomores, and Juniors are asked to bring a covered dish while Seniors are asked to bring a dessert item. This is a family event, so we would like to see all members bring their families with them to share in the successes of the past school year and enjoy good food, good company and community spirit with the Amanda-Clearcreek FFA!
Next FFA Meeting
The last FFA meeting of this school year will take place on Monday, May 21st at 7:00 P.M. in the Ag Center. This will be our final meeting and we will have a cookout after the meeting.
Upcoming Events
State FFA Convention: The State FFA Convention will be held on May 3rd and 4th. At the convention, our chapter will be recognized as a Gold Chapter this year! Cassie Brewer, Emma Dearth, Noah Smith and Mikayla Hicks will all be receiving their State FFA Degrees. We will have the Ag Communications team recognized for winning the state contest. Morgan Anderson and Allie Poston will be individually recognized for placing first in their respective public speaking categories. Ellie Sahr will be recognized for having a gold-rated Secretary's book. Bryson L'Huillier will be recognized for his gold-rated Treasurer's book and Cole Kleinline will be recognized for his gold-rated Reporter's scrapbook. Emma Dearth will be find out if she has made the ballot as a State FFA Officer candidate. For those nearly 50 members attending, remember to get your school assignments in advance and to make sure you have your school fees all paid so you can attend! It should be an exciting and busy convention.
Last Day: Tuesday, May 22nd is the last day for students. Continue to work hard and finish this last month strong!
Ag Breakfast: The May Ag Breakfast will take place on Friday, May 4th at 6:15 A.M. at Frisch's. This will be the last Ag Breakfast of the school year but we will continue to have Ag Breakfast every month throughout the summer. The dates and locations will be decided at the May FFA meeting.
Summer FFA Camp: Probably the funnest and most anticipated summer FFA activity is Summer FFA Camp. Again this year, our chapter will be attending the 5th and final session of summer FFA Camp. The dates are from July 9th through July 13th. Forms will be available in class next week. This is a great way to for our members to meet FFA members from other chapters around the state. There are tons of activities at camp, including but not limited to: canoeing, motor boating, shotgun range, basketball, rifle range, horseshoes, two dances, archery range, adventure valley, sand volleyball, and the ever famous talent show. Camp is simply a great experience!
The unofficial record for a chapter sending students to one session is held by our chapter, when, in 2009, we had 60 members attend (each session has a maximum of 280 FFA members from around the state who can attend). Let's try to beat that record!
"As we mingle with others, let us be diligent in labor, just in our dealings, courteous to everyone, and above all, honest and fair in the game of life. "
Friends of the FFA: Our chapter is very grateful to the following individuals who have dedicated their time, effort and even finances for the benefit of our members. We would not be able to accomplish all that we do without their generosity. Here is a list of people and businesses who have helped our chapter this year: State Senator Troy Balderson, Becca Bentz, Mary Beuhler, Jennifer Blosser, Whittney Bowers, Ohio Farm Bureau, Jim Bussert, Sharp Butchering, Aimee Cochran, Derrick Cooper, Morgan Williams, Mrs. Daughtery, Tony Davis, Phil Davis, Ralph & Delille Oxygen, Brent Elam, Gail Ellinger, JD Equipment, Pickaway Cty OSU Extension, Fairfield Cty OSU Extension, Bob Brown and Central Ohio Fabrication, Julie Feliciano, Sarita Fenn, David Ford, Tonya Forsythe, Dr. Forsythe, Rod Francis, Barb Green, Lonnie Green, Marshall Grain, Crystal Groves, Amelia Harris, Tricia Haughn, Dave Heidell, Kirk Hines, Dusty Hines, Christian Hoffman, State Representative Ron Hood Aubrey Kleinline, Matt Kleinline, Lexie Kougher, Carlie Krile, Jason Lindsey, Miranda at Holmes Lumber, Bob McClure, Tom McClure, Amy McCormick, Granville Milling Co., Josie Montoney, Cindy Montoney, Justin Morgan, Bays Market & Packing, Jessica Parker, Beth Poling, Milan Pozderac, Cassie Ranier, Colby Saunders, Nate Saum, Katerina Sharp, Adam Sharp, Joy Sharp, Stan Smith, Connie Smith, Auggie Smith, Carle,y Snider, Teresa Strickler, Kevin Strickler, Leah Strope, Jeff Sweeny, Laurie Travis, Scott Weaver, Julie Wymer, Bill Wymer, James Smith, Trey Miller, and Samantha Young.
Saying Goodbye to our Seniors: We wish you well and thank you for being a special part of A-C FFA family! Special thanks to all our senior parents/guardians/friends that supported our seniors over the last several years. Without your support, we could not be as successful as we are today. Here are all the seniors in FFA: Kaleb Arnett, Ty Burrell, Katelyn Camechis, Brett Corns, Dalton Covell, Dylan Doss, Joseph Hartley, Darren Harvey, Logan Johnson, Devon Justice, Max Knox, Riley McClure, Michael Montoney, Kaci Morin, Kane Parks, Zach Ray, Adam Sites, Hunter Teagardner, Jason Terry, Chris Tooill, Jordan Hinerman, Jasmyn Browder, Demi Covell, Jordan Crist, Emma Dearth, Sarah Doner, Abigail Farley, Ryley Foster, MattieGrace Hamilton, Mikayla Hicks, Mason Knox, Lara Peters, Harrison Poor, Audra Reid, Hamza Shultz, Levi Smith, Katelyn Vickroy, Ashlynne Wells, Rebecca Woida, Dominick Zuck, Cassie Brewer, Lexi Bussert, Hailey Clark, Chasity Fisher, Trinity Hallas, Trent Holbrook, Cole Kleinline, Michael Likens, Gracie Morehead, Hanna Morehead, Kris Ryan, Vance Sharp, Brittany Shaw, Erin Thaxton, and Alexis Welch.
Past Happenings
Ag Breakfast: The April Ag. Breakfast took place on Friday, April 6th at 6:15 A.M. at Frisch's. All members were welcome to attend and enjoy good fellowship and a good meal.
Mulch and Flower Bulb Sale: The spring mulch and flower bulb sale has ended for the chapter. All members who sold mulch need to get see Mr. Tilley and Mr. Sharp to pick up the bags that they had sold. The top 15 mulch sellers and top 2 flower bulb sellers (if minimum is met) are eligible to go on the Top Spring Fundraiser's Trip May 23rd through the 25th. This year's trip will be wild caving in Organ Cave in West Virginia.
This year's top sellers for Spring Flower Bulbs were: Courtney Metzon - 1st and Cierra Andrews - 2nd. The top Mulch sellers were: Forrest Doersam - 1st, Morgan Anderson - 2nd, Cort Kleinline - 3rd & Drew Evans - 4th. If you didn't get asked to buy mulch and still want some or need more, please contact an FFA member or call the school and leave a voicemail for Mr. Tilley. Due to the nature of how much is ordered, the chapter may have some extra mulch to sell.
Working Together in the Community: Mr. Sharp and some senior students have been working with Paul Saum to make sleds for the Saum Family Tree Farm. The seniors made 17 sleds total. The FFA also had members help with the Alumni Basketball Tournament games, the Lancaster Home Builders Home and Garden Show, the Clearcreek Township Fire Department Consignment Auction, and assist with the A-C PTO Carnival.
Past Contests
State Veterinary Science CDE:

Cierra Andrews and Mikayla Hicks

qualified for the State Veterinary Science CDE. They competed at the Ohio Expo Center on April 18th. Cierra placed 22nd individually and Mikayla placed 73rd individually in the state in this very challenging CDE! Congratulations on a job well done, girls!
State Animal Management CDE:

Bryson L'Huillier Emily Woida and Tanner Bennett

are the members who qualified for the State Animal Management CDE. Though it takes 4 members to comprise a team score, they went to the State contest on April 18th and competed for individual rankings.

Laurie Travis

, A-C FFA Alumni member, has been working with this team. Congrats to

Bryson

for placing 36th,

Emily

for placing 116th, and

Tanner

for placing 121st individually in the state!
Agricultural Issues Forum:

This CDE is one the chapter has had much success in over the years. Essentially, the team members take an agriculturally relevant topic and debate the pros and cons of the issue. This year's team consists of:

Kyle Hicks, Allie Poston, Kaylee Sharp, Jay Sahr, and Ellie Sahr.

Mr. Sharp has worked very hard with this team. The team's topic was the Veterinary Feed Directive (VFD) and its impact on the livestock industry as a whole. A VFD is a written statement that must be issued by a veterinarian before a producer may use medically important antibiotics in the production of their livestock. The VFD is critically important in ensuring that antibiotics are used judiciously in livestock production and ultimately this ruling should decrease the antibiotic resistance we are seeing in livestock due to overuse and misuse of antibiotics. The team competed on April 28th at OSU and

placed 2nd in the State

!
Environmental & Natural Resources CDE:

With our teams placing 5th in both Forestry and Nature Interpretation this year, our chapter was eligible to participate in this invitation-only CDE. The team consisted of

Cade L'Huillier, Trevor Spence, Jules White,

and

Timothy Smith

. The State CDE was on April 13th. The team placed 12th at State.
Please put the Amanda-Clearcreek FFA Awards Banquet on your calendar! We hope to see you on May 12th at 4 PM to help us celebrate our 81st year as a FFA Chapter!