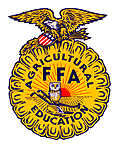 Amanda-Clearcreek FFA News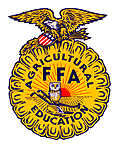 January of 2018
by Cole Kleinline, Reporter
Next FFA Meeting
The next A-C FFA meeting for this school year will take place on Tuesday, January 16th at 7:00 P.M. in the Cafetorium. If you can not make this meeting, make sure to give a note to your Ag teacher the day after the meeting. The Ag Challenge for this meeting will be the Marshmallow Stuffing. One male and one female member from each class will be asked to stuff large marshmallows in each other's mouth going for the most amount as a pair. No swallowing or chewing will be allowed! A class must have a representative of both genders or they will be judged as not participating.
Upcoming Events
Ag Breakfast: The January Ag. Breakfast will take place on Friday, January 5th at 6:15 A.M. at Frisch's in Lancaster.
CDE's
Ag Communications: Ag Comm. CDE that prepares students for careers in journalism, radio and television broadcast, web design, marketing, and more. This CDE excites and inspires students to develop basic skills relevant to the agricultural communications industry. It equips students with strong communication skills and develop the ability to work collaboratively to effectively communicate and advocate for the agriculture industry. This year our team consists of Paige Hinton, Jullian Scott, Aaron Sharp, and Noah Smith.
Ag Mechanics Engineering: In this CDE students will perform mechanical skills necessary to pursue career opportunities in the agricultural industry. They will learn and apply technical knowledge and skills related to electrical and hydraulic systems and metallurgy in relation to hot and cold metals. Additionally, students will apply skill components of metal fabrication applicable to the agricultural industry. Throughout the competition, students will learn critical site and personal safety as well as communication and leadership skills. Our team this year consists of Devon Justice, Riley McClure, and Hunter Teagardner. If they are picked they will go to state against various other chapter teams and will be building a fire pit for this years competition.
Past Happenings
Ag Breakfast: The December Ag. Breakfast took place on Friday, December 1st at 6:15 A.M. at Frisch's in Lancaster.
Zoolight Trip: On December 21st, the A-C FFA Chapter went to the Columbus Zoo to look at all the Christmas lights. To go on this trip, a member needed to have sold 10 boxes of fruit/snacks. The members who accomplish this left right after school that day and enjoyed a fun filled adventure at the zoo!
Christmas Break: This year students had December 22nd - January 2nd off for Christmas. Hope everyone has nice break!
Fruit/Snack Sale: With the conclusion of the 2017 Fall Fruit/Snack Sale, the chapter would like to thank all who purchased items. This was one of our better sales and we hope all customers enjoy the products they purchased.
CDE's
Public Speaking: This year Morgan Anderson will be representing our chapter in speaking the FFA Creed. For Advanced Creed Speaking, Lara Peters will be representing our chapter. Allie Poston will be representing our chapter in Beginning Prepared. For Senior Prepared, Emma Dearth will be representing our chapter. In Extemporaneous Speaking, Aaron Sharp will be speaking for our chapter. Each speaker has their own set of rules for their individual competition. Every one of the these competitions has their own set of difficulties to face but all of them gives each student participating better speaking skills.
Ag Issues Forum: Researching the pros and cons of an agricultural issue, a team of individuals will present their findings and theories to a panel of judges. This CDE provides an opportunity to expose a wide variety of students to the selection, research, planning and presentation of an agricultural issue. It also allows students to become knowledgeable of, and familiar with a variety of local, state, national and international issues facing agriculture. With it, it furthers the awareness of agricultural issues in the local community. This year our Ag Issues Forum CDE team will be comprised of: Ellie Sahr, Allie Poston, Kaylee Sharp, Jay Sahr, and Kyle Hicks.
Job Interview: Congratulations to Emma Dearth who competed in the State Job Interview, Senior Division, CDE on Saturday, December 2nd and placed second in the State! A BIG thanks to A-C FFA Alumni member Crystal Groves for coaching the Job Interview CDE participants this year.