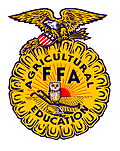 Amanda-Clearcreek FFA News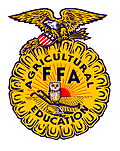 May - August of 2018
by Allie Poston, Reporter
Next FFA Meeting
The first FFA meeting of this school year will take place on Monday, August 20th at 7:00 P.M. in the Ag Center. This will be our first meeting of the year and all are required to attend. If you can not make it make sure to give a note to your Ag teacher the day after the meeting.
Upcoming Events
June
Ag Breakfast: The June Ag. Breakfast will take place on Friday, June 1st at 8:00 A.M. at Bob Evans in Lancaster.
A-C Alumni Banquet: Any members are strongly encouraged to help set up for the A-C Alumni Association Banquet on Friday, June 1st at 9:30 A.M. Helping at this will count for some of your summer hours for your Ag Ed grade. The banquet will be held on June 2nd. We have two shifts of helpers that night - one from 5:00 PM until 7:00 PM to collect food from attendees and help serve; the other shift is essentially clean-up from 7:00 PM until around 9:30 PM. This is a great community service activity for an organization that gives so much back to the students. We have many seniors who were in Ag receiving scholarships from the A-C Alumni this year.
A-C Thad Davis 5K Run/Walk: This event is held at the Amanda-Clearcreek High School on Saturday, June 16th in the morning. The first shift will begin at 6:45 A.M. and the second shift will begin at 9:45 A.M. Members will help set up tables, chairs, and other items to prepare for the run that day. Helping at this will count for some of your summer hours for Ag and is another community service opportunity.
Great Ohio Bike Adventure Lunch Stop: This event is held on June 20th at Paige's Produce (10130 Winchester-Southern Rd, Stoutsville). The first shift will be from 8 A.M. - 11:30 A.M. and the second shift will be from 11:30 A.M. to 2 P.M. Students will help with serving food, moving tables/chairs, emptying trash, etc. Again, another community service opportunity.
OLC: Ohio Leadership Camp is held at Camp Muskingum on June 22nd-25th. Members who would like to attend will be able to learn how to lead their chapter. Games and other activities will be held there as well. Food will be provided but bring enough clothes and hygiene products for the weekend. This camp is recommended for members who want to lead their chapter or are afraid of going to FFA camp and want something on a smaller scale. Students attending are: Kyle Hicks, Emmalee McGee, Kaylee Sharp and Stephanie Bowers.
Officer Retreat: The A-C FFA Leadership retreat will be held on July 17th-19th where our officers and their assistants will be going to West Virginia (pending approval). There they will take in a backpacking trip in the Dolly Sods Wilderness and work on chapter planning. The main focus of the retreat will be to plan next year's activities, so if you have any ideas or suggestions, tell an officer!
July
FFA Camp: Camp is held on July 9th-13th where members will engage in activities with kids their age. Members have a week to spend time with friends, participate in daily competitions, meet new friends, and try new activities. If you like to play paintball, shoot guns, use a bow, swim, canoe, hike, dance, talk, or meet new people then camp is definitely for you. Going to this will count towards all of your summer hours for Ag. Forms were due at the end of the school year but there is a good chance Mr. Tilley can still get you registered, so contact him if you're still interested in camp. Camp is probably one of the best activities the FFA does and will take care of all of your summer hours.
WLC: To go on the Washington Leadership Conference, a member can sign-up and pay the fee or apply for the Memorial Award where you had to go through a special interview to qualify to go on this trip. This year Paige Hinton, Garrett Drake and Morgan Anderson all qualified to go on this trip. On this trip they will both learn on how they can better lead our chapter and learn about our great nation. This trip is held on July 24th-29th in Washington DC.
The Memorial Award is given annually to two members, in memory of Rusty Bowers and Becky Strickler, both past members who were lost to us while FFA members. This year, due to generous donations by community members in memory of Mary Bowers, we were able to send a third member to this conference. Mary was a long time supporter of the A-C FFA and will be truly missed.
Summer Trap Shoot: The Summer Trap Shoot will be held on July 16th from 5:00 P.M. to 8:00 P.M. It will be held at Mr. Sharp's house at 9480 Thomas Hill Rd. All members are invited to sign up and attend, there is a $5 cost. Pop, chips, hot dogs, and a good time with friends will be provided.
Canoe Trip: Our summer canoe trip will be held on Friday, July 6th after Ag Breakfast. We will be on the Hocking River this year. The canoe trip will count for your summer hours for Ag Ed. We will be meeting at the school at 9:30 AM.
Ag Breakfast: The July Ag. Breakfast will take place on Friday, July 6th at 8:00 A.M. at the Laurelville Diner.
August
Ag Breakfast: The August Ag. Breakfast will take place on Friday, August 3rd at 8:00 A.M. at Goodwins in Circleville.
Pelotonia: Here members will be able to enjoy a good meal and then help clean up the tables and chairs from that meal and then help set up bike racks for the bike race the next day. It will be held on Friday, August 3rd, likely meeting at school at 6:00 P.M.. This will count towards your summer hours for Ag. This is a good community service activity. The Pelotonia raises money for researching the cure for cancer.
Cross Mound Clean-Up: On Friday, August 3rd members will be asked to help out at Cross Mound to clean up the park. This will be held in the morning at 10:30 AM and will require a lot of help. For members who help out with this will be able to count it towards their summer hours for your Ag Ed grade.
Fairfield County Antique Tractor Show: This will be held on August 16th and members will be needed to help setup and teardown for this event. They will need lots of help for this event, anyone who does help will be able to count this towards their summer hours for Ag. More details will be sent out closer to the time.
Color Mile Fun Run: This event will be held at the Fairfield County Fairgrounds on August 4 from 10:30 A.M. to 12:30 A.M. Members will help the operation by throwing powder on the runners and cleaning up after the event. This event is by the Fairfield Medical Center and is a great community service project.
Past Happenings
Ag Breakfast: The May Ag. Breakfast took place on Friday, May 4th at 6:15 A.M. at Frisch's. All members were welcome to attend and enjoyed good fellowship and a good meal. Just about 30 people attended the breakfast.
Mulch and Flower Bulb Sale: The spring mulch and flower bulb sale has ended for the chapter. All members who sold mulch need to get see Mr. Tilley and Mr. Sharp to pick up the bags that they had sold. These bags need to be delivered as soon as possible!!! The top 15 mulch sellers and top 2 flower bulb sellers (if minimum is met) are eligible to go on the Top Spring Fundraiser's Trip May 23rd through the 25th. This year's trip will be to the Organ Cave in West Virginia where members will go wild caving. If you need mulch, the chapter may have extra - contact Mr. Tilley if interested.
State FFA Convention: The State FFA Convention was held on May 3th and 4th. At the convention, our chapter was recognized as a Gold Rated Chapter this year! Emma Dearth, Noah Smith, Cassie Brewer and Mikayla Hicks earned the State FFA Degree. We had one CDE team get recognized for winning the state competition: the Agricultural Communications CDE team consisting of Noah Smith, Emma Dearth, Paige Hinton and Aaron Sharp. Morgan Anderson was individually recognized for placing first in state in Creed Speaking, Allie Poston was also recognized for winning the state Beginning Prepared Public Speaking Contest. Ellie Sahr, Cole Kleinline and Bryson L'Huillier were recognized for their gold rated officer books. As a result of winning the state contest, Morgan Anderson also got to recite the creed in front of the 8,000 people who attended State Convention.
State Officer: On May 4th at the State FFA Convention Emma Dearth was chosen to represent the state of Ohio this next year as one the 11 Ohio FFA State Officers. There are over 26,000 FFA members in the state of Ohio and it is a huge honor for Emma to not only represent our chapter, but the entire state with this very prestigious honor. Congratulations Emma on this huge accomplishment.
A-C FFA Awards Banquet: The annual Amanda-Clearcreek FFA Awards Banquet was held on Saturday, May 12th at 4:00 P.M. in the high school cafeteria. Members were recognized for their many accomplishments throughout the 2017-2018 school year.
Here are a few of the highlights of the banquet:
Star Greenhand -

Stephanie Bowers, Jay Sahr, Kaylee Sharp

Outstanding Sophomore -

Allie Poston

Outstanding Junior -

Noah Smith

Outstanding Senior:

Emma Dearth

CDE Hall of Fame Award:

Emma Dearth

Dekalb Leadership Award:

Emma Dearth

Leadership Camp Awards:

Stephanie Bowers, Kaylee Sharp, Emmalee McGee, Kyle Hicks

Leadership Conference Award:

Cole Bryan, Courtney Metzon

Memorial Awards:

Paige Hinton, Garrett Drake, Morgan Anderson

Top Fund Raiser Award:

Forrest Doersam

Top Fall Fruit Seller:

Cierra Andrews

Top Spring Mulch Seller:

Forrest Doersam