Amanda-Clearcreek FFA Newsletter

Inspirational Quote: "Agriculture is our wisest pursuit, because it will in the end contribute most to real wealth, good morals & happiness." ~Thomas Jefferson
By: Autumn Parry, A-C FFA Reporter
Recap of the Month of March:
A-C/Cardington FFA Leadership Night: A-C/Cardington FFA Leadership Night was held on the 3rd at Cardington High School. Members attended and learned about leadership and met fellow FFA members. The workshop was led by the State FFA President and State FFA Vice-President, our very own Morgan Anderson.
Ag Breakfast: March 4th, A-C FFA members gathered at Frishes for Ag breakfast. Members engaged in fellowship and eating good food.
District 7 Officer Training: On March 9th, the A-C officer team and assistant officers attended the District 7 Officer training at Fairfield Union. They learned about leadership and how they can better their chapters.
Monthly FFA Meeting: On March 21st, the monthly FFA meeting was held. Students discuss relevant topics and participate in the tug-a-war ag challenge where the junior class won.
Clearcreek Township Consignment Auction: On March 26th, students volunteered to help work the consignment auction. They held up items for the auctioneers and also ran the items to the buyers.
CDE Results:
Marysville Invitational: On March 5th multiple teams including: General Livestock, Agronomy, Nature Interpretation and the Meats, participated in the Marysville invitational where they ran through a practice CDE to prepare for their state competitions. Invitational CDEs are equivalent to scrimmages in sports.
State Public Speaking: On March 5th Hannah Saum and Sara Sharp competed in the State Public Speaking competitions. Saum placed 1st in the extemporaneous speaking category and will be competing at National Convention in Indianapolis, Indiana in the Fall. Sharp placed 5th overall in the senior prepared competition. Great work!
Ashland Invitational: On March 19th the Meats and Nature Interpretation teams went to the Ashland invitational in preparation for their state competitions. The Nature Interpretation CDE won the Ashland contest so we have high hopes for this team at the state competition.
State Preliminary General Livestock: On March 26th, State Preliminary Livestock Judging was held. The team consisted of: Braeleigh Blosser, Maddox Cupp, Rylyn Foster, Averie Hutchison, Thomas Pontius and Colton Westoven. The team placed 51st in the state competition. This is a respectable showing for this first year team as there were almost 125 complete teams competing with over 950 individuals competing.
State Animal Management Online Exam: On March 28th, the Animal Management team of Drew Dossman, Caidyn Garee, Carly Claypool, Morgan Cowdrey, and Peter Smith took the online exam. The team placed 25th in the state preliminary competition.
Upcoming Events in:
Ag Breakfast: On April 1st, the monthly ag breakfast will be held at Friches in Lancaster.
Monthly FFA Meeting: The next monthly FFA meeting will be held on April 12th in the cafetorium.
A-C PTO Carnival: On March 29th, the A-C PTO is putting on a carnival where FFA students can volunteer and earn community service hours.
Upcoming CDE's:
State Nature Interpretation: The State Nature Interpretation contest will be held on April 2nd. This team consists of Mercedes Draper, AJ Dossman, Riley McKeska, Zach Julian, Josie Speakman and Travis Spence.
District 7 Outdoor Power: The District 7 Outdoor Power contest will be held on April 7th. This team consists of Logan Craycraft, AJ Dossman and Jacob McGee.
State Agricultural Issues Forum: The State Agricultural Issues Forum contest will be held on April 30th. This team consists of Emily Buckely, Morgan Cowdrey, Autumn Parry, Karlee Parry, Josie Speakman and Hannah Saum.
State Meats Evaluation and Technology: The State Meats Evaluation and Technology contest will be held on April 20th. This team consists of Maddie Cordle, Lily Dennis, Hayley Robinson, Jonathan Weaver and Alex Williams.
The Mulch Sale has started!
The mulch sale has started. Look on the back of the second page for information and prices. Contact any member to make a purchase.
Final Thoughts:
First, good luck to everyone competing in contests this month. Your hard work and dedication is why you are able to compete. Do your best and make your chapter proud. Second, our chapter is selling mulch as our spring fundraiser. This is our 30th year selling mulch and it has a huge impact on the amount of events we are able to do or participate in. So help your chapter out and continue to sell! Lastly, our chapter wants to congratulate our very own President, Hannah Saum, and wish her luck on her endeavors, as she is running for state office. This is a huge accomplishment as our chapter has had state officers for the past four consecutive years, with a total of 13 overall officers.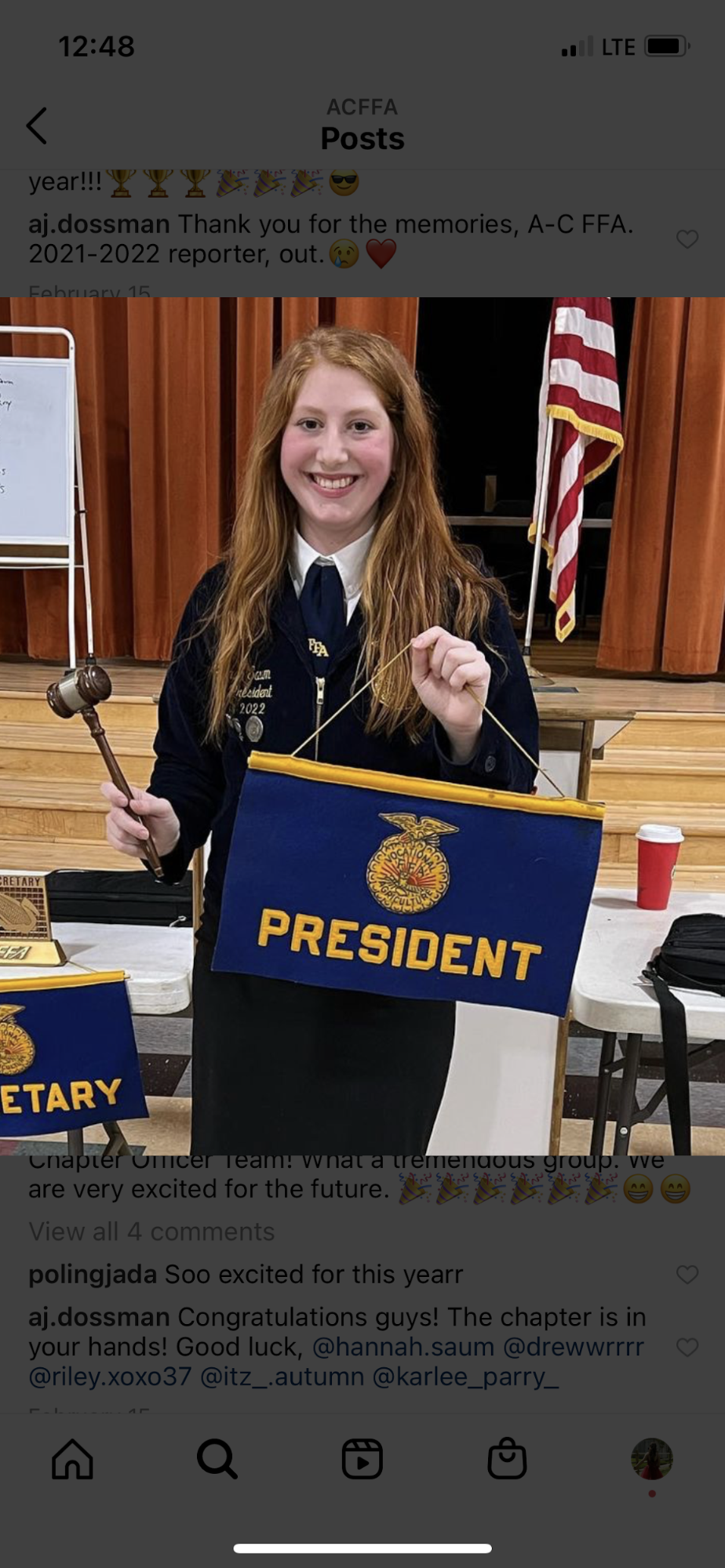 A-C FFA President and state officer
candidate, Hannah Saum!
A-C FFA Members participating in leadership
activities at the A-C/Cardington Leadership
Night.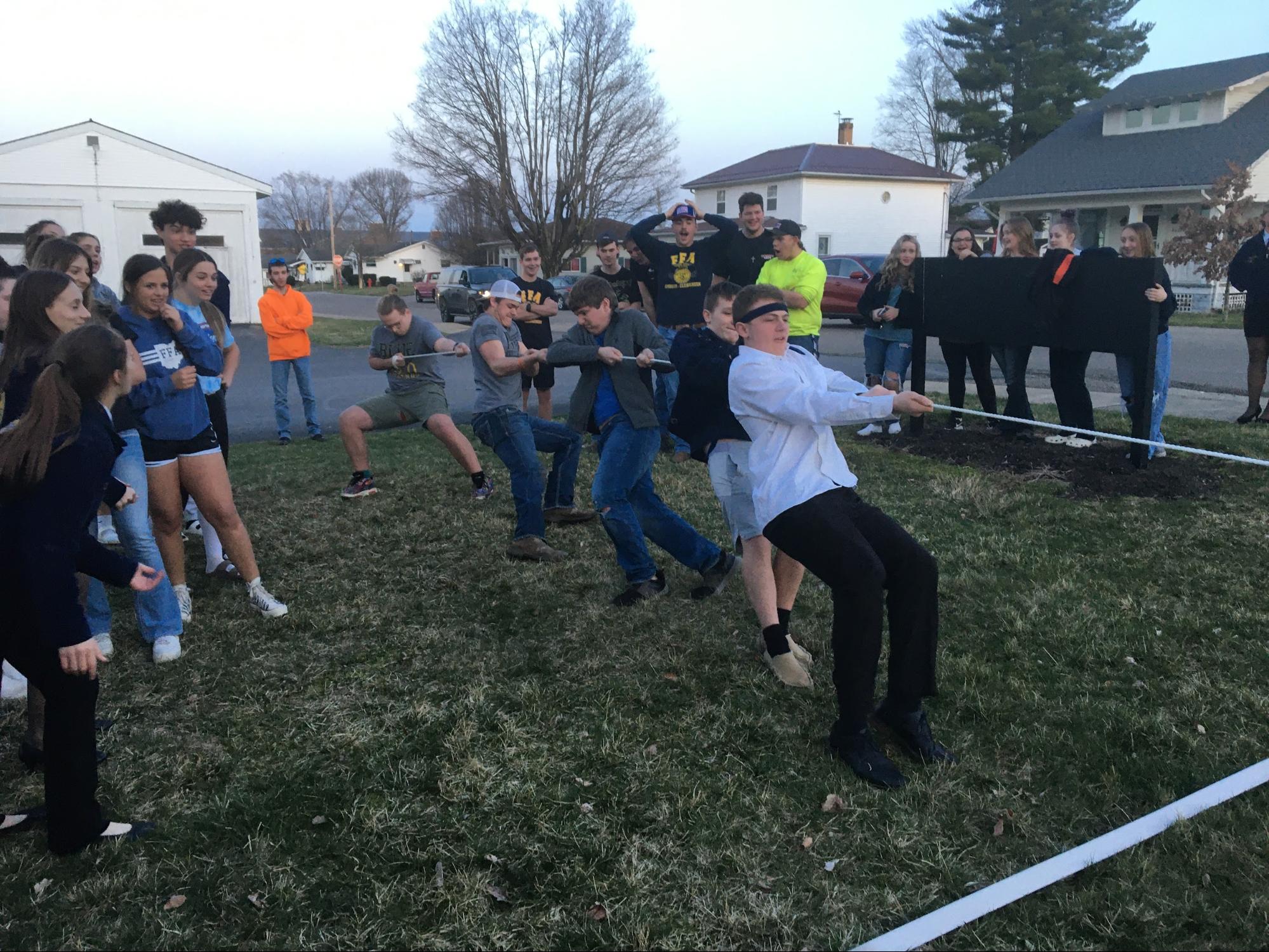 A-C FFA Junior class participating in
tug-a-war, for ag challenge, at the monthly
meeting.