Amanda-Clearcreek FFA Newsletter

Inspirational Quote: "There is nothing impossible to they who will try" ~Alexander the Great
By: Autumn Parry, A-C FFA Reporter
Recap of the Month of November
Hog Roast: The annual hog roast was held on November 9th from 6:00 pm to 8:00 pm in the cafetorium. Students and families gathered to enjoy great food and live music from Trevor Young. A great time was had by all! We hope to have an even better turnout next year!
State FFA Officer Leadership Night: The annual State FFA Officer Leadership Night was held on November 17th from 6:00 pm to 8:00 pm in the Cafetorium. This was a great opportunity for students to meet the state officers and go through leadership workshops. Students also got to mingle with members from other chapters. There were over 300 FFA Members present from 14 schools around central Ohio. We have been hosting this great activity here at A-C for almost 20 years now.
Monthly Meeting: The monthly FFA meeting was held on November 22nd in the Ag Center. We voted this year to attend the Stutsville Chrosmas Parade on Decemebr 17th. We would like as many FFA members as possible to come to the parade and have a good time riding on our float. The Ag Challenge this month was the peanut butter face where peanut butter is placed on a member's face and marshmallows are then thrown at it. The freshman won this ag challenge.
Holiday Food Drive: The bag drop off for the annual Holiday Food Drive for Amanda was November 22nd starting at 2 pm. Bag pick-up for Amanda was on November 29th during the school day. The Stoutsville drop off was Thursday December 1st after school. The pickup was Tuesday December 6th after school. This was a great opportunity for members to help out in their community and collect donations for the food pantry in Amanda. All of the food collected stays in our community.
Ag Breakfast: The Monthly Ag Breakfast was held on November 4th at 6 am at Friches. All members were encouraged to attend and bring their families to enjoy good food before going to work hard at school. We would like to thank Frishes as always for allowing us to come and have a great time every month.
CDE Results
District 7 and State Preliminary Job Interview CDEs: The District 7 Job Interview Career Development Event was held on November 2nd at Northridge High School. Jillian Bennett represented the A-C FFA Chapter in the first year Junior/Senior category, Madelyn Anderson competed in the Junior category, and Hayden Dunn represented the A-C FFA chapter in the Freshman category. All three of our members had to advance from the county contest to compete at the district level CDE. Jill and Hayden both placed first in their respective categories and competed in the state preliminary round on November 19th. Hayden placed 6th in the state of Ohio and Jill placed first in state, winning her category. Jill will now move on to compete at the state finals at the Ohio State University on December 3rd. This final round will determine an overall winner and also the national qualifier for the State of Ohio. The winner of this round will compete at the NAtional CDE in Indianapolis Indiana next fall at the National FFA Convention.
State Animal Management CDE: On November 8th Carly Claypool, Drew Dossman and Peter Smith competed in the State Animal Management competition finals at the Ohio State Fairgrounds in Columbus. These three individuals had previously qualified for the state finals by placing in the top 150 individuals in the state on the online exam. Our FFA Members placed 13th as a team out of 27 teams in Ohio. Good job everyone!
Upcoming events
Ag Breakfast: The monthly ag breakfast will be held on December 2nd at 6am at Friches. This is a great opportunity for students and their families to gather for good food before going off to the work day. We hope to see everyone there!
PTO Secret Santa: The PTO has asked for volunteers for their annual secret santa. The secret santa activity will be held on December 3rd from 9 am to 2 pm in the 77 gym. We have had a great turnout in the past with volunteers from our FFA Chapter and hope to see everyone doing their part for their community this year as well.
Monthly Ag Meeting: The monthly ag meeting will be held on December 19th at 7 pm in the ag center. Members should come ready to discuss the upcoming events for January.
Stoutsville Parade: The Stoutsville Parade will be held on December 17th at 5:30. A-C FFA members have been asked to ride on a float during the parade. This is a great opportunity for the community to see the Chapter outside of school and will be a fun event for students. Afterwards, there is a tree lighting ceremony and hot chocolate with cookies at the firehouse. Members are encouraged to bring their families and have a good time!
Upcoming CDE's
State Job Interview Finals: On December 3rd Jillian Bennett will be representing the A-C FFA Chapter at the state finals in the job interview CDE. She has previously placed first at the county, district and state preliminary rounds. This is a tremendous accomplishment and she has dedicated many hours in order for her to be as successful as she is. Good luck Jill!
Final Thoughts
With the holiday break rapidly approaching, I encourage everyone to keep their grades up and stay focused. Remember you still need AET entries for the month of December. The Chapter wants everyone to have fun and stay out of trouble. You are still an ACE even when you are not at school. Bring in the New Year on a positive note. Can't wait to see everyone in 2023!!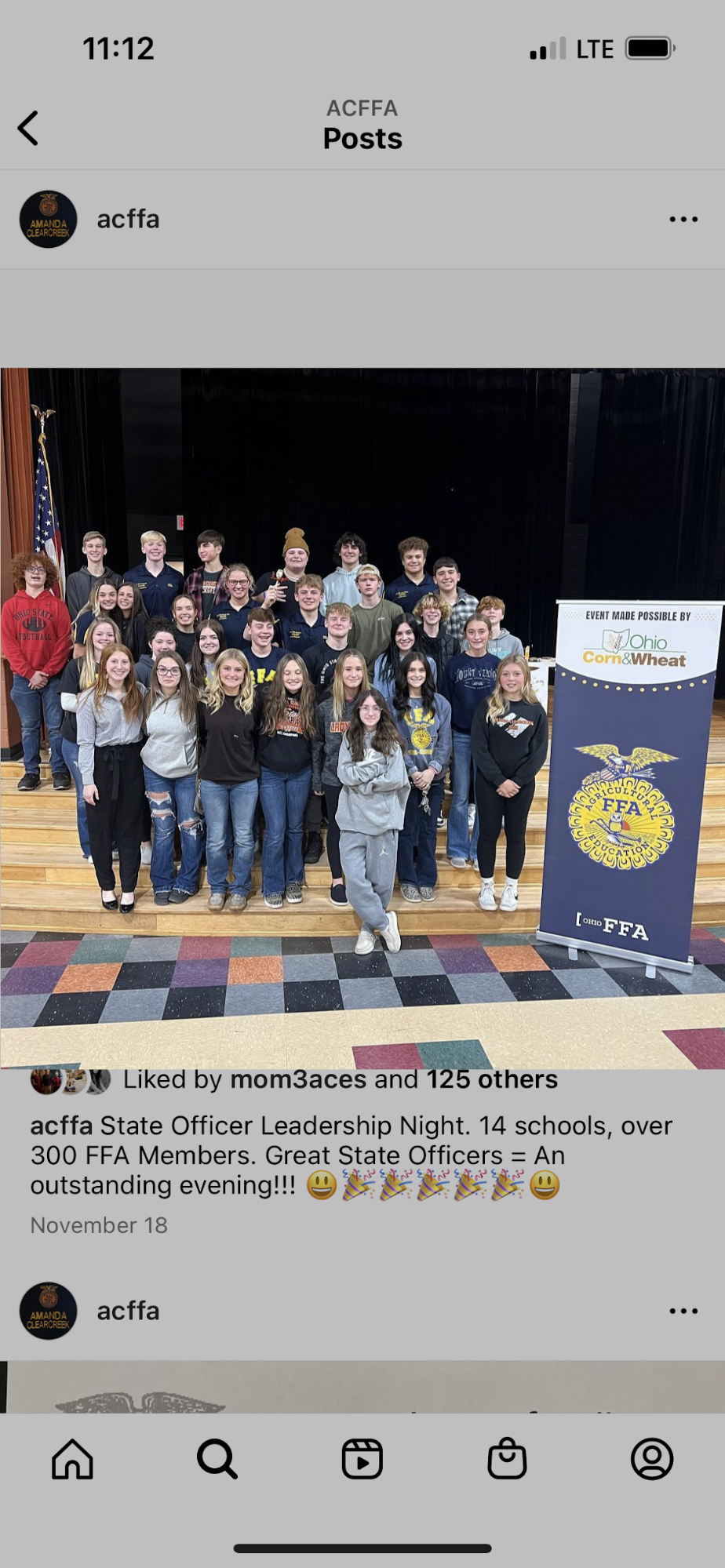 A-C FFA members at the
the State Officer Leadership night
hosted by A-C FFA.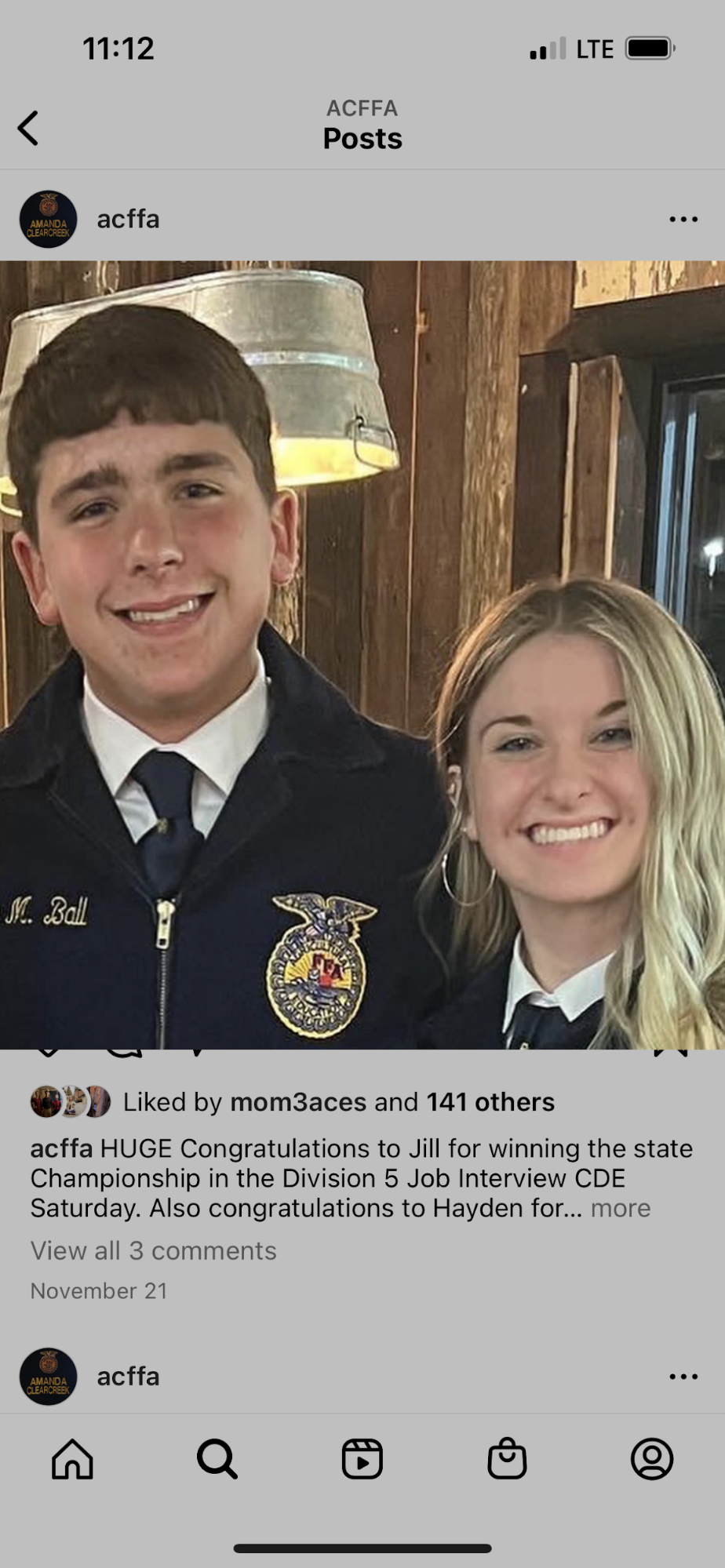 Members Hayden Dunn and
Jillian Bennett at the state Job
Interview Career Development Event.
Follow us @acffa on Instagram
Also our website - www.acffa.org