Amanda-Clearcreek FFA Newsletter

Inspirational Quote: "Nothing in nature blooms all year, be patient with yourself" ~Unknown
By: Autumn Parry, A-C FFA Reporter
Recap of the Month of February
Ag Breakfast: February 11th A-C FFA members gathered at Frishes for Ag breakfast. Members engaged in fellowship and eating good food.
New Officer Team: On the 14th, the annual officer elections were held at the high school. Members elected new officers based on their accomplishments and successes throughout high school. The new team is as follows: President- Hannah Suam, Vice President- Karlee Parry, Secretary- Riley Mckeska, Treasurer- Drew Dossman, Reporter- Autumn Parry, Sentinel- Alex Williams and Student Advisor- Lily Dennis. Congratulations to all of these individuals.
Top Fall Fundraiser Trip: On the 18th through 20th, the top fall fundraisers went on the annual Louisville trip where members watched tractor pulls, toured the Dayton Airforce Museum and explored the Farm Machinery Show.
Math/Science Night: Officers attend the elementary math/science night to promote FFA.
National FFA Week: To end the month, FFA members participated in National FFA week from the 23rd to the 25th. Members wore FFA t-shirts, official dress and dressed like their ag teachers and ended the week with the traditional Chapter Game Night on Friday.
Mr.Tilley Wins the Gold
On Friday, February 25th, our advisor, Mr. Tilley, placed top 10 in the state for the Golden Owl finalists. The Golden Owl award allows for agricultural educator to win $500 for their chapter for placing in the top 10 and possibly another $3,000 for placing first. Golden Owl finalists are nominated by their current or past students. Mr. Tilley was chosen because of his impact on students and his leadership throughout his 28 years teaching! Way to go Mr. Tilley!
CDE Results
Public Speaking: On February 9th, the county Public Speaking contest took place with Hannah Suam placing 1st in Extemporaneous, Sara Sharp placing 2nd in Senior Prepared, Haley Robinson placing 1st in Creed Speaking and Lily Dennis placing 3rd in Beginning Prepared. Members had to place either 1st or 2nd to advance to the district level. The District 7 public speaking CDE was held on February 16th where Haley placed 5th, Hannah placed 1st and Sara placed 2nd in their respective categories. Only the top 2 in each category in the district advance to the state semifinals which are to be held on March 5th, where Hannah and Sara will be competing at the state level.
Agricultural Communications: On February 12th, the Agricultural Communications team consisting of Ryan Chambers, Autumn Parry, Karlee Parry and Jonathan Weaver placed 3rd in State Competition, with Ryan placing 1st overall and Autumn placing 10th overall as individuals. Congratulations to this team for this top 5 placing!
Outdoor Power Equipment: Members also took the state outdoor power online exam CDE on February 15th to prepare for the competition in April. This team was made up of Henry Poor, Logan Craycraft, Ai Dossman, Brandt Blosser and Jacob McGee.
Greenhand Quiz: The State Greenhand Quiz online exam team consisting of Rylyn Foster, Haley Robinson, Braeleigh Blosser, Caidyn Garee, Averie Hutchison and Peter Smith placed 17th in the state out of over 150 teams! Well done freshmen!
Agricultural Sales: Finally, the District Agricultural Sales team consisting of Morgan Cowdrey, Emma Harris, Josie Speakman and Madison Shively placed 6th overall. This was the first year in this CDE for all members so we have high expectations for this team next year.
Upcoming Events in March
A-C/Cardington FFA Leadership Night: Starting off the March FFA activities, A-C/Cardington FFA Leadership Night is going to be held on the 3rd at Cardington High School. Members will attend and learn about leadership and meet fellow FFA members. This workshop will be led by the State FFA President and State FFA Vice-President, our very own Morgan Anderson.
Ag breakfast: Ag breakfast will be held the following day on the 4th at 6:00 a.m. at Frisches in Lancaster.
District 7 Officer Training: The new officer team will be sent to District 7 Officer training on the 9th to be held at Fairfield Union High School.
Next Monthly Meeting: The next monthly meeting will be held on Monday the 21st.
Upcoming CDE's
Marysville Invitational: On Saturday March 5th, members have the chance to attend the Marysville invitational where the Poultry, General Livestock, Agronomy, and Nature Interpretation teams can get practice and learn about these CDE's. Invitational CDEs are equivalent to scrimmages in sports.
Public Speaking: The state public speaking CDE will also be held on March 5th for qualifying members, Hannah and Sara.
Poultry Online Exam: The State Poultry Management CDE online Exam will be held Monday March 7th.
Ashland Invitational: The Ashland FFA Alumni Invitational will be held on March 19th for those same CDE's as was held at Marysville. These are great opportunities for these teams to prepare for the state contest.
Poultry, Livestock and Agronomy: Saturday the 26th the State Preliminary General Livestock CDE, State Preliminary Poultry CDE and State Agronomy CDE will be held.
Animal Management online exam: On the 28th the State Animal Management CDE online exam will be held.
Final Thoughts
Congratulations to the new officer team and great job on all your hard work. To everyone that competed in February CDE's, A-C FFA thanks you for your time and dedication to our chapter. None of our successes would be possible without your help. Spring CDE season is in full swing, so step outside of your comfort zone by trying a new CDE this year. Goodluck to everyone competing in March!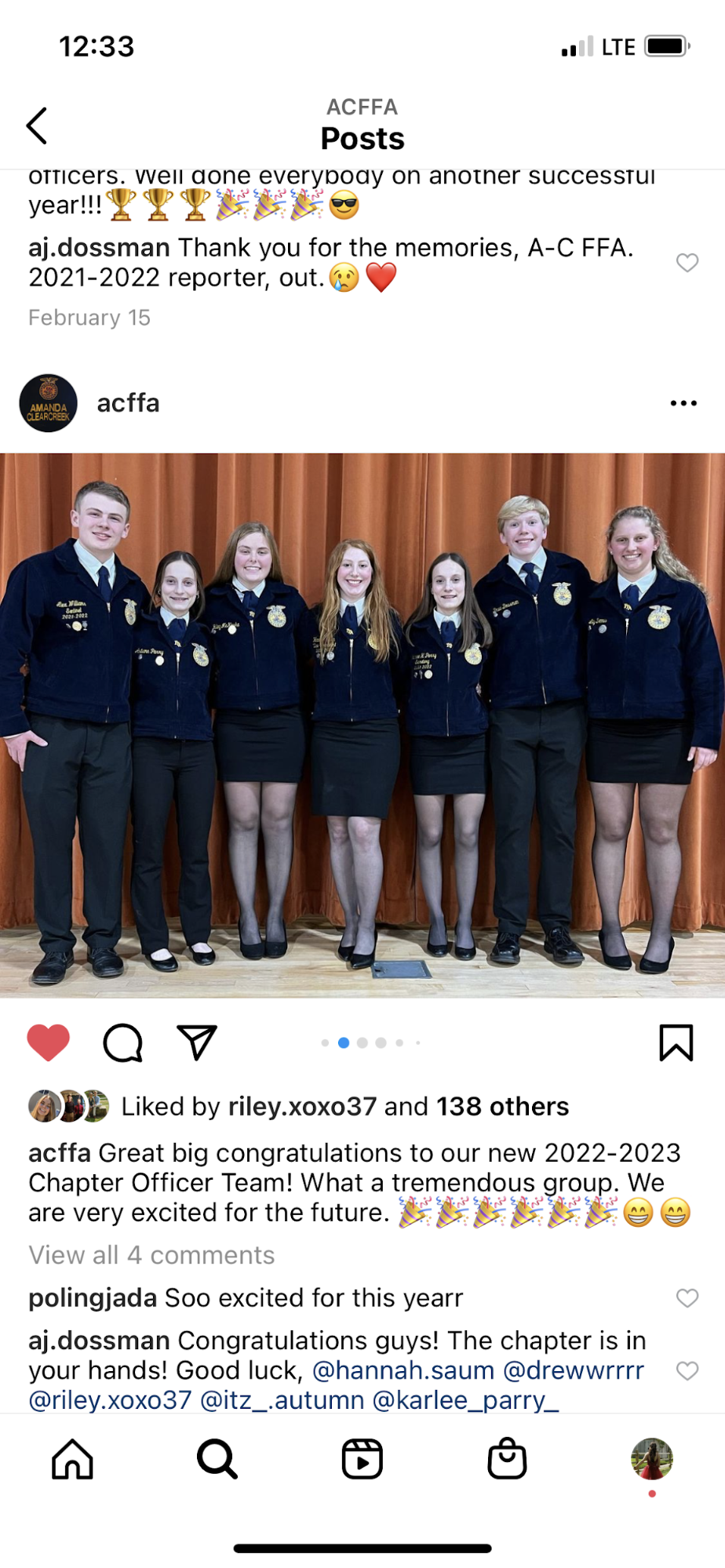 The New A-C FFA Officer Team!
Left to Right: Alex Williams,
Autumn Parry, Riley Mckeska,
Hannah Suam, Karlee Parry,
Drew Dossman and Lily Dennis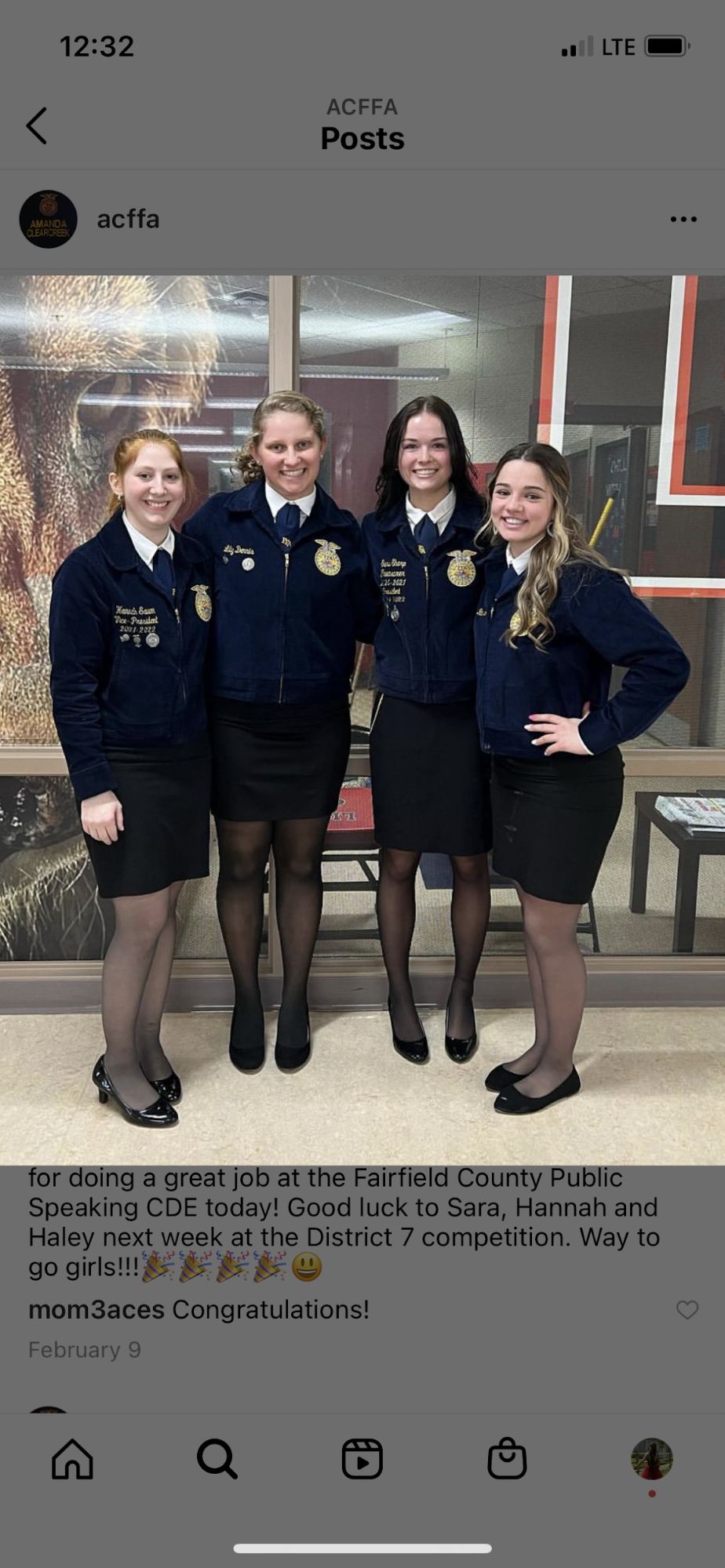 A-C FFA Public Speaking Participants!
Left to Right: Hannah Suam
Lily Dennis, Sara Sharp and
Haley Robinson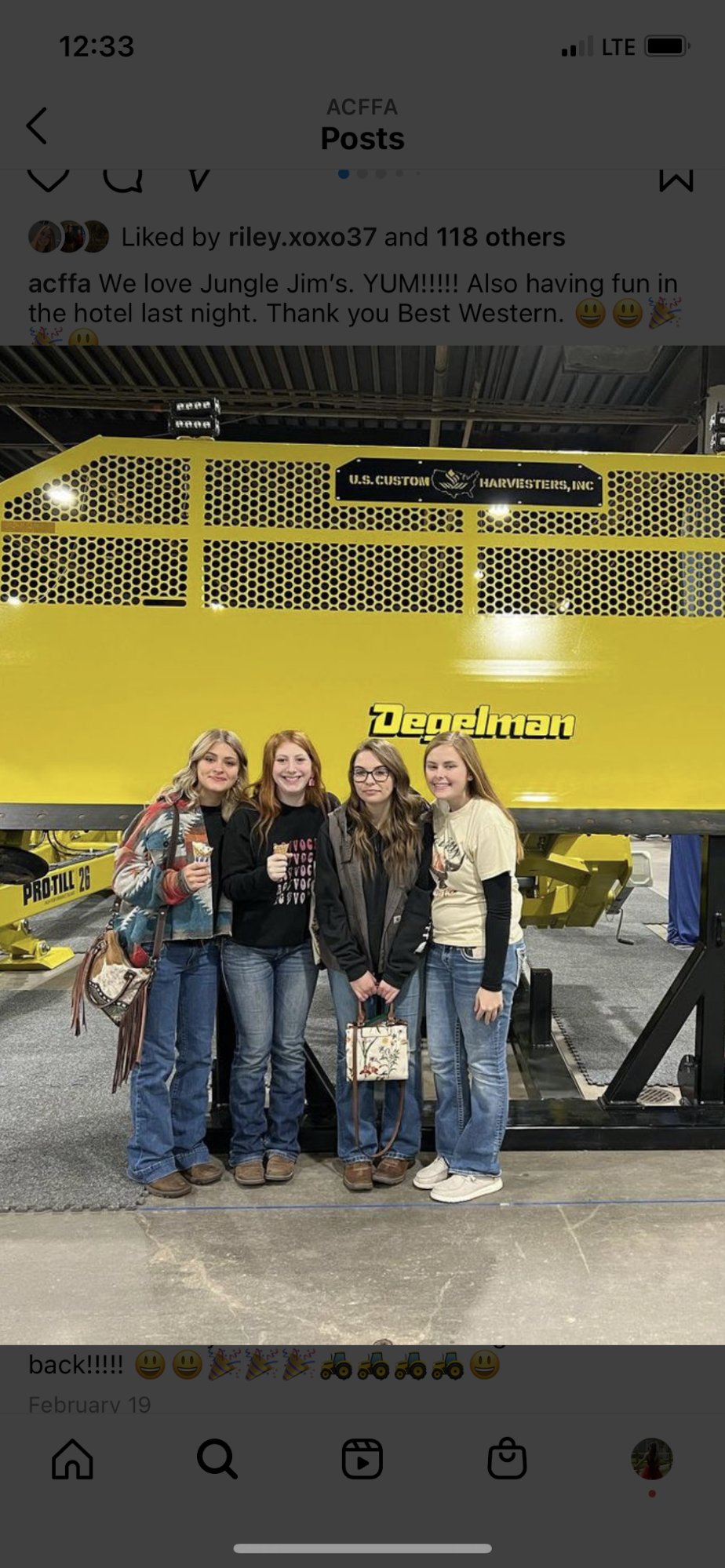 A-C FFA Members at the
Louisville Kentucky Farm Machinery Show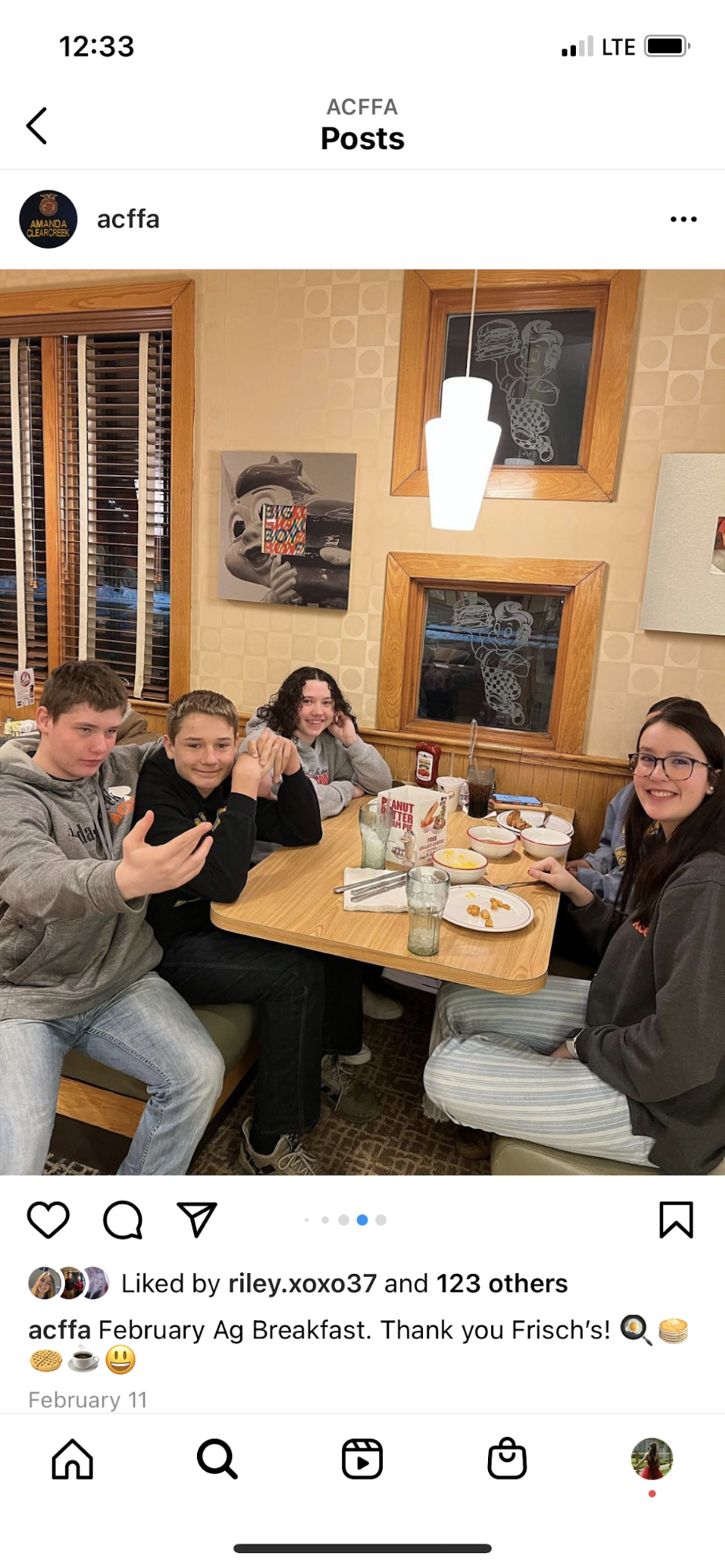 Students enjoying the monthly
Ag breakfast at Friches