Amanda-Clearcreek FFA Newsletter

Inspirational Quote: "The greatest leader is not necessarily the one who does the greatest things. He is the one that gets the people to do the greatest things." ~Ronald Regan
By: Autumn Parry, A-C FFA Reporter
Recap of the Month of April
Ag Breakfast: April 1st A-C FFA members gathered at Frishes for Ag breakfast. Members engaged in fellowship and eating good food.
Monthly FFA Meeting: On April 5th the monthly FFA meeting was held. Students discussed the upcoming events for the month of May.
A-C PTO Carnival: On April 29th FFA members helped run the A-C PTO Carnival. They hosted games and handed out food and snacks.
CDE Results
State Nature Interpretation: On April 2nd, the Nature Interpretation team WON the state contest. Congratulations to Riley Mckeska who placed 5th, Mercedes Draper who placed 6th, Travis Spence who placed 7th and Zachary Julian who placed 10th. Also, congratulations to AJ Dossman, Josie Speakmen who also competed. While competing, the team was required to take a test that consisted of 50 questions about various animals, plants and equipment. Members were also required to identify animal calls, read nature signs and understand how to interpret nature.
District 7 and State Outdoor Power Equipment: On April 7th the Outdoor Power Equipment team competed in the District 7 contest where they placed 1st. Congratulations to Logan Craycraft who placed 1st, AJ Dossman who placed 2nd, and Jacob MGee who placed 8th in the contest. The team was required to take a 20 questions general knowledge test and complete 5 stations explaining and using power equipment. The team also competed again, at the state contest, on April 26th. The team placed 2nd in the state with Logan Craycraft placing 13th, AJ Dossman placing 15th, and Jacob McGee 22nd. Congratulations on a very good placing!
State Meats Evaluation and Technology: On April 30th, the Meats team competed at the state competition. This team consisted of Maddie Cordle who placed 28th, Lily Dennis who placed 34th, Jonathan Weaver who placed 36th, and Alex Williams who placed 45th. The team placed 7th, which is very good in this CDE for this young team. They were required to identify 40 retail meat cuts. They also had to take an online exam prior to the competition.
State Agricultural Issues Forum: On April 30th, the Agricultural Issues Forum team competed at the state contest. The team consisted of Emily Buckley, Morgan Cowdrey, Autumn Parry, Karlee Parry, Hannah Saum and Josie Speakman. The team was required to give a 15 minutes presentation on an agricultural issue of their choice. They then have 7 minutes of questions. The team WON the state contest and will be competing in the fall at the NATIONAL contest at the National FFA Convention in October.
Upcoming Events in May
State FFA Convention: On May 5th and 6th the FFA students of Amanda-Clearcreek will go to the Ohio State Fairgrounds to attend the state convention. This convention will celebrate all the accomplishments of members at the state level.
Chapter Banquet: On May 14th, the Amanda-Clearcreek FFA banquet will be held. This event is to celebrate students and recognize all of their accomplishments throughout the year. There will be a potluck at 4:00 p.m with the meat, rolls and drinks being provided. This meat will be chicken fingers from Canes. Freshman and sophomores will need to bring a dinner item. Juniors will bring desserts and seniors can bring either a dinner item or a dessert item. All family and friends are encouraged to come and celebrate their students.
Monthly FFA meeting: The next monthly FFA meeting will be held on May 16th in the Ag center.
Baby Animal Farm: On May 26th, our chapter will be hosting a Baby Animal farm for the younger students at Amanda-Clearcreek to learn about and meet different animals. Students will be allowed to sign up to bring animals in.
Ag Day: On May 26th, the leadership team will put on an ag day for the third graders of Amanda-Clearcreek. This event is to teach younger students about agriculture and the importance of farming in our community.
Top Spring Fund Raiser's Trip: From May 31st to June 2nd students who sold more than 250 bags of mulch will head to West Virginia to attend the top spring fundraiser trips. The students will be camping and exploring caves.
Upcoming CDE's
State Agricultural Mechanics and Engineering: The State Agricultural Mechanics and Engineering CDE will be held on May 5th. This team consisting of Ryan Chambers, Logan Craycraft and AJ Dossman will get three hours to weld their project together. The team will then take a 50 questions test over mechanics.
Final Thoughts
As this year comes to an end, we want to thank and congratulate every member of the A-C FFA chapter for working so hard and dedicating their time to this organization. There will be plenty of summer activities for you to earn your summer points, so we encourage you to go and have fun. FFA camp will be coming up as well and this is a great activity to meet new people. Seniors, the chapter wants to thank you for all of your years of service and for everything you've added to this chapter. You have had a huge impact that will last beyond your graduation date. Have a great summer everyone!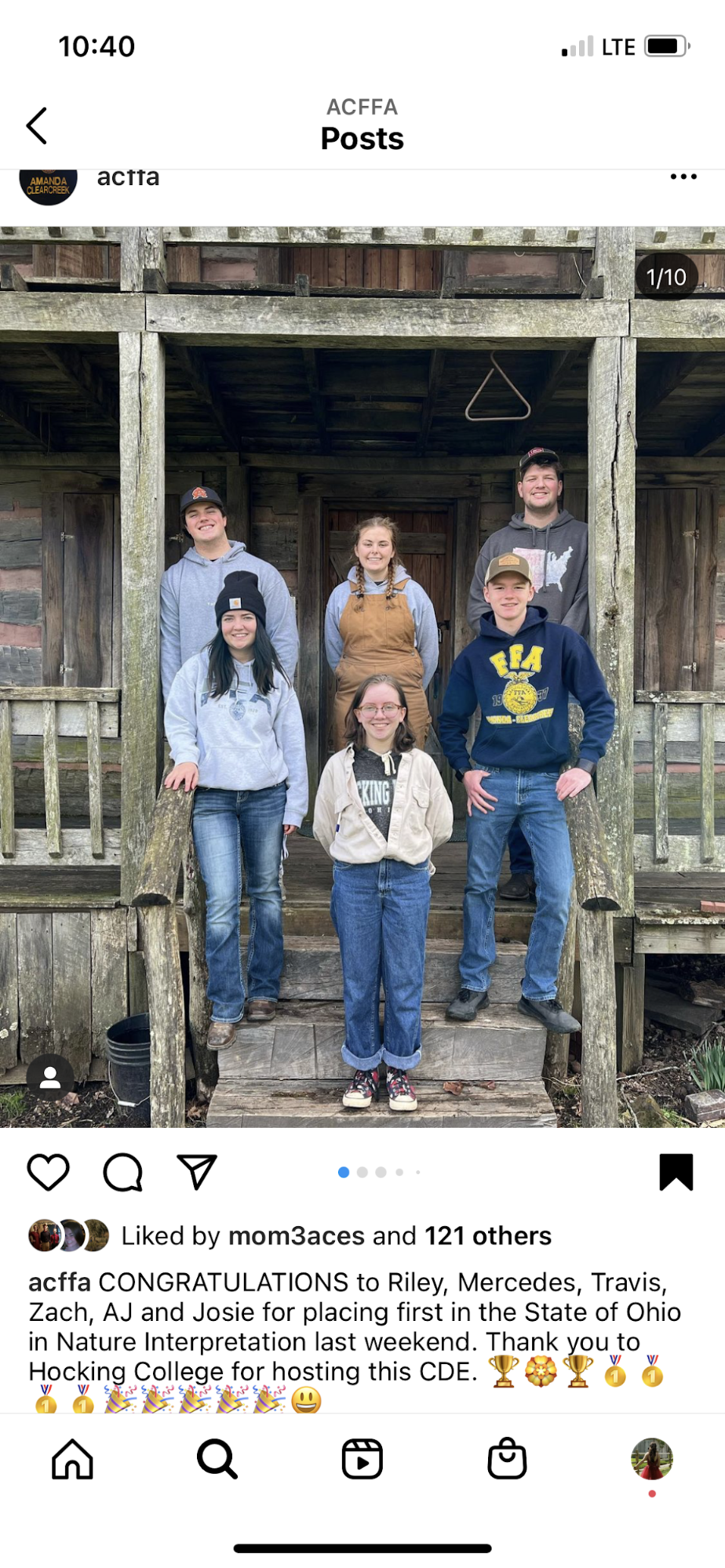 The state winning Nature Interpretation team.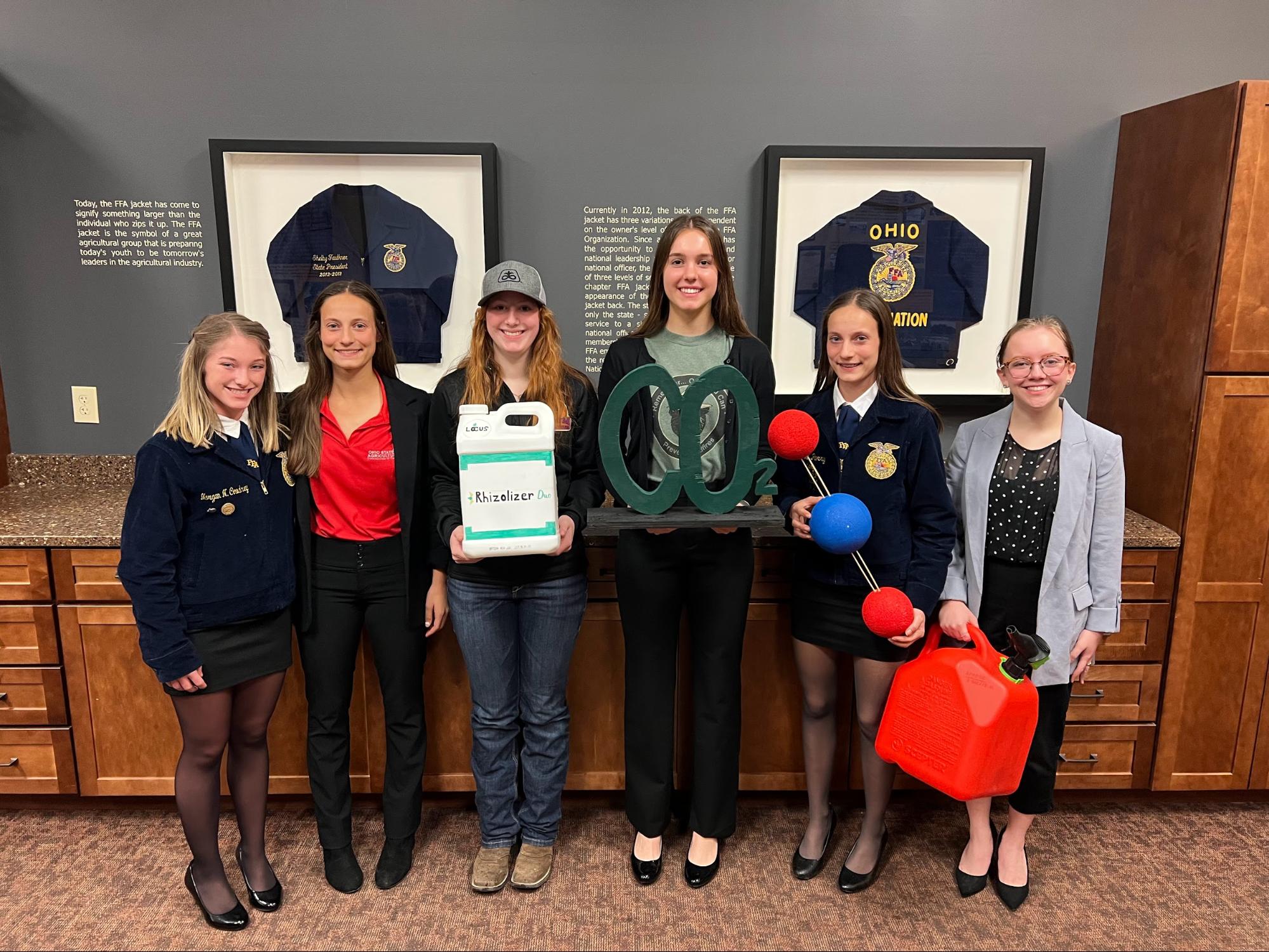 The state winning Agricultural Issues team.