Amanda-Clearcreek FFA Newsletter

Inspirational quote: The bad news is time flies. The good news is you're the pilot. ~ Michael Altshuler
By: Autumn Parry, A-C FFA Reporter
Recap of the Month of October
Ag Breakfast: The monthly ag breakfast was held at Frisches on October 7th. Around 20 students gathered for good food and fellowship.
Fairfield County Fair: The annual Fairfield County Fair was held from October 8th-16th. Students were able to enter a variety of projects to be graded. In Agricultural Collections, Riley McKeska placed 1st and Katie Farmer placed 4th. With their Small Woodworking projects Rylyn Foster placed 1st, Hannah Green placed 2nd, and Carley Claypool placed 5th. In the Agricultural Communications area, Mercedes Draper placed 4th and Megan Bosch placed 5th. Congratulations to all of our members who displayed their projects at the fair!
Monthly Meeting: The monthly meeting was held on October 17th in the Ag Center. Various upcoming events in November were discussed. At the conclusion of our meeting, we had a pizza eating contest amongst the grades. The senior class came out on top after eating a pizza complete with a spicy chipotle sauce, green olives, banana peppers, and mushrooms.
National FFA Convention: A record number of students attended the annual National FFA Convention from October 26th-29th. They attended many tours including an Apache sprayer plant, the Indiana State zoo, a Beasley's Apple Orchard, and the Indiana Children's Museum. Students got to experience new foods by trying Buca di Beppo, a family Italian style restaurant. Lastly, students watched many sessions throughout the week to hear about real-life experiences in the agricultural industry and remarks from our national officers. During the second general session the Amanda-Clearcreek FFA Chapter was recognized on stage for being a 3-Star gold chapter. This is the highest ranking a chapter can receive. The chapter also had 7 students compete in contests at the national level. The Agricultural Issues Team consisting of Emily Buckley, Morgan Cowdrey, Riley McKeska, Autumn Parry, Karlee Parry and Josie Speakman competed and received a bronze rating. Hannah Saum competed in the Extemporaneous Speaking Contest where she also received a bronze ranking.
Graduate member Stephanie Bowers received her American FFA Degree Saturday morning. This is the highest degree that a member can receive and less than 2% of members achieve this goal. Congratulations to those who competed as well as Stephanie for representing our chapter and state so well on the national level.
CDE Results
State Animal Management CDE Online Exam: The State Animal Management CDE team consisting of Carley Claypool, Drew Dossman, Peter Smith, Morgan Cowdrey, Abbied Leddingham and Catherine Buckley took the state test for this CDE. Carley, Drew & Peter qualified to go to the state finals on Tuesday, November 8th in Columbus. Good luck!
State Ag Tech and Mech Online Exam: The state Ag Tech and Mech team completed an online exam on October 18th . The team consisting of Dylan Dyer, Anthony Williams, Preston Young, Katelynn Workman, and Mason Jones placed 55th in the state.
County Job Interview: County job interview was held on October 18th. Each member was required to participate in a mock interview. Congratulations to Jillian Bennett who placed 1st and Madelyn Anderson and Hayden Dunn who placed 2nd and will be advancing to the district contest. Congratulations to Hannah Saum and Madison Cordle who placed 3rd in their respective categories.
Upcoming Events
Hog Roast: The annual hog roast will be held on November 9th from 6:00 pm to 8:00 pm in the cafetorium. Students are encouraged to attend and bring their families. The hog roast is a potluck and each grade level is asked to bring a certain dish. Hog will be provided, but each family is requested to bring their own plates and utensils.
Freshmen, Sophomores and Juniors: Dinner Items Seniors: Dessert Item
State FFA Officer Leadership Night: The annual State FFA Officer Leadership Night will be held on November 17th from 6:00 pm to 8:00 pm in the Cafetorium. This is a great opportunity for students to meet the state officers and go through a leadership workshop. Students will also be able to mingle with members from other schools. Food will be provided.
Monthly Meeting: The monthly meeting will be held on November 22nd in the Ag Center. Upcoming events for December will be discussed.
Holiday Food Drive: The bag drop off for the annual Holiday Food Drive will be November 22nd starting at 2 pm. Bag pick-up will be on November 29th also starting at 2 pm.
Ag Breakfast: Monthly Ag Breakfast will be held on December 2nd at 6 am at a location to be determined at the November meeting. All members are encouraged to attend and bring their families to enjoy good food before heading to school.
Upcoming CDE's
District 7 Job Interview: The District 7 Job Interview contest will be held on November 2nd. Jillian Bennett will be representing the A-C FFA chapter in the first year junior/senior category, Madelyn Anderson will be competing in the junior category, and Hayden Dunn will be representing the A-C FFA chapter in the freshman category. If any of them place 1st in the district contest, they will advance to the state preliminary contest in November.
State Animal Management CDE: On November 8th Carly Claypool, Drew Dossman and Peter Smith will compete in the State Animal Management competition finals. These three individuals had previously qualified to the state finals by placing in the top 150 individuals in the state on the online exam.
State Preliminary Job Interview: Members who qualify for the state job interview contest will compete in the preliminary round on November 19th.
Final Thoughts
All fruit and snack orders will be due Thursday, November 10th. Congratulations to everyone who competed in the past month, whether at the fair or national convention. Your chapter thanks you for your hard work and dedication. On that note, multiple CDEs are coming up and I entourage all of you to branch out and find something you like. Continue to get your AET entries done and attend the activities that our chapter works very hard to put on. Have a great Thanksgiving break and enjoy all that yummy food!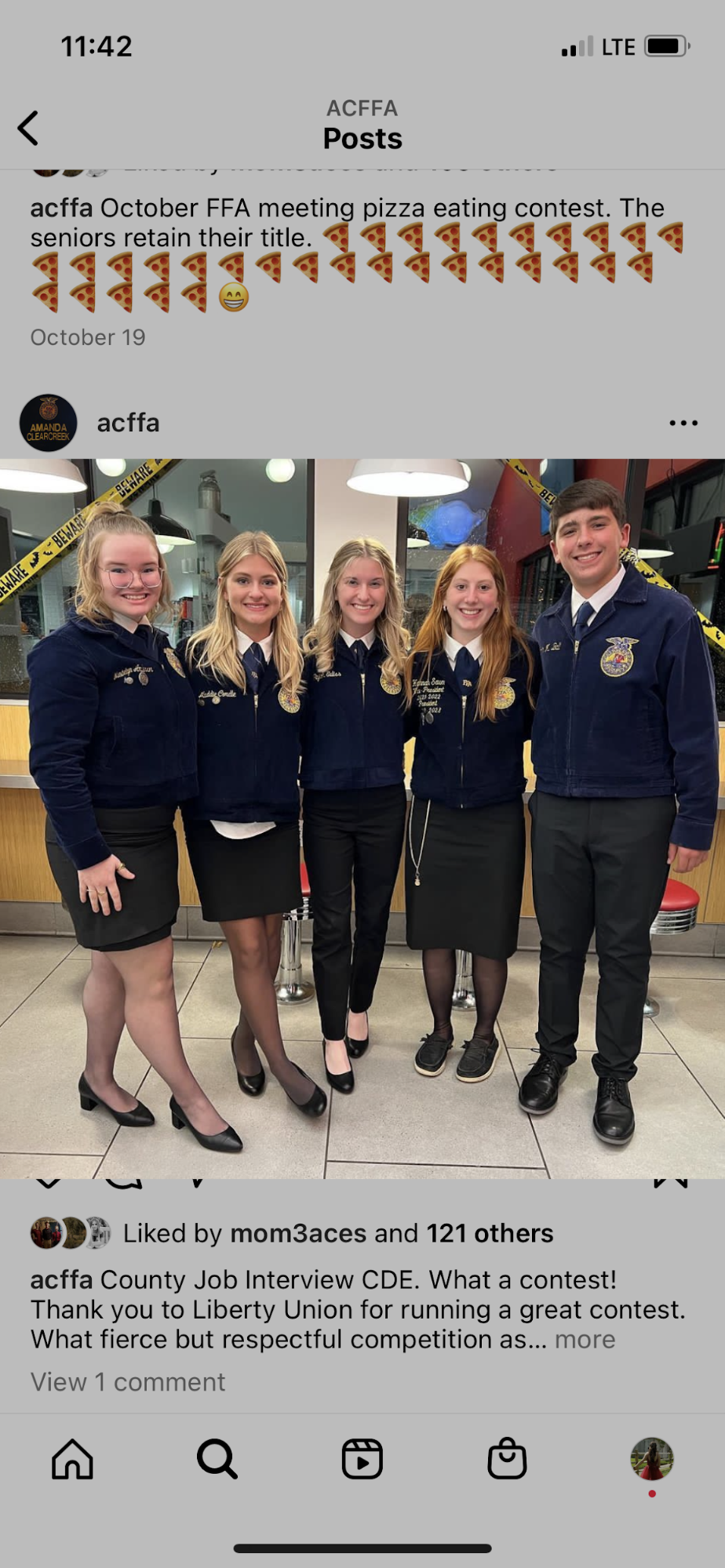 The Job Interview CDE participants at the county contest!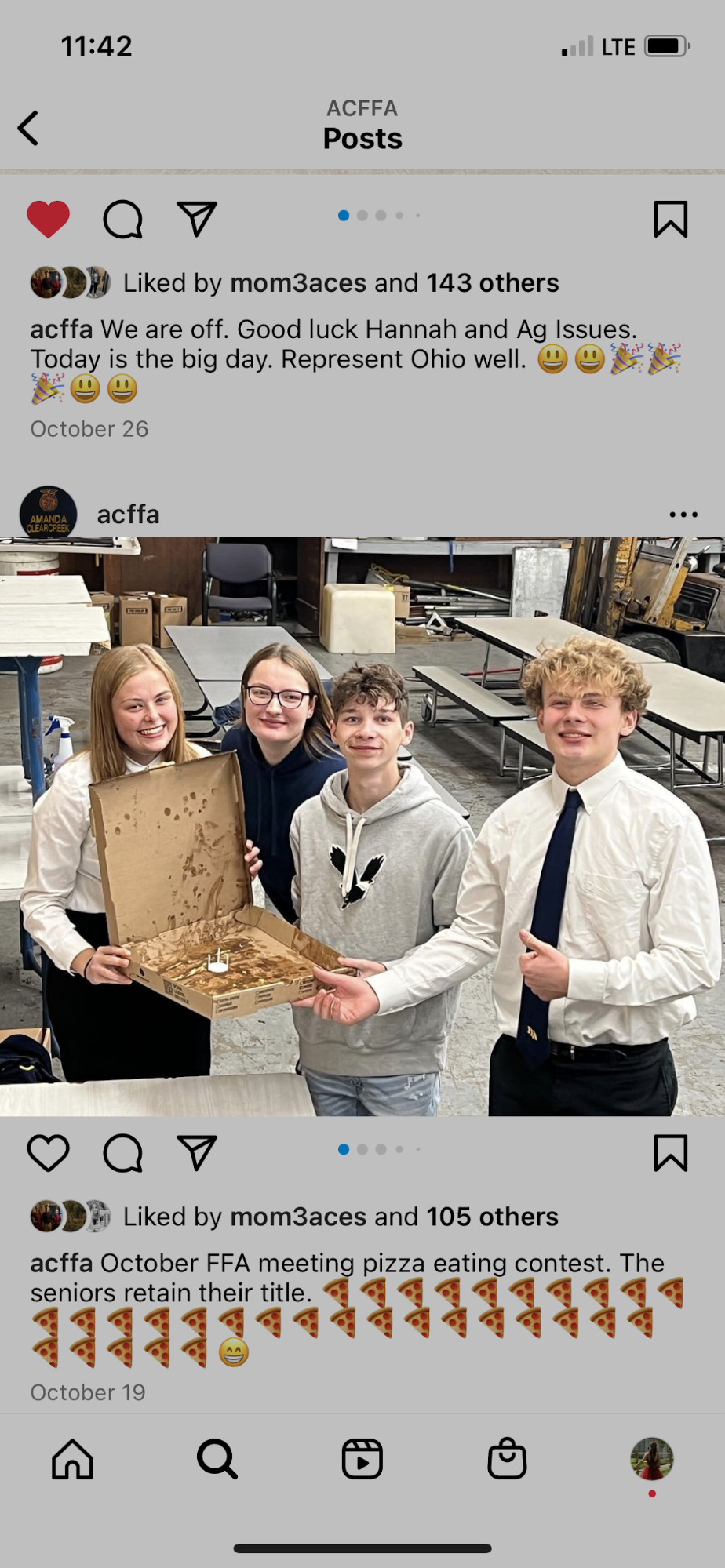 The senior class winners with
their empty pizza box!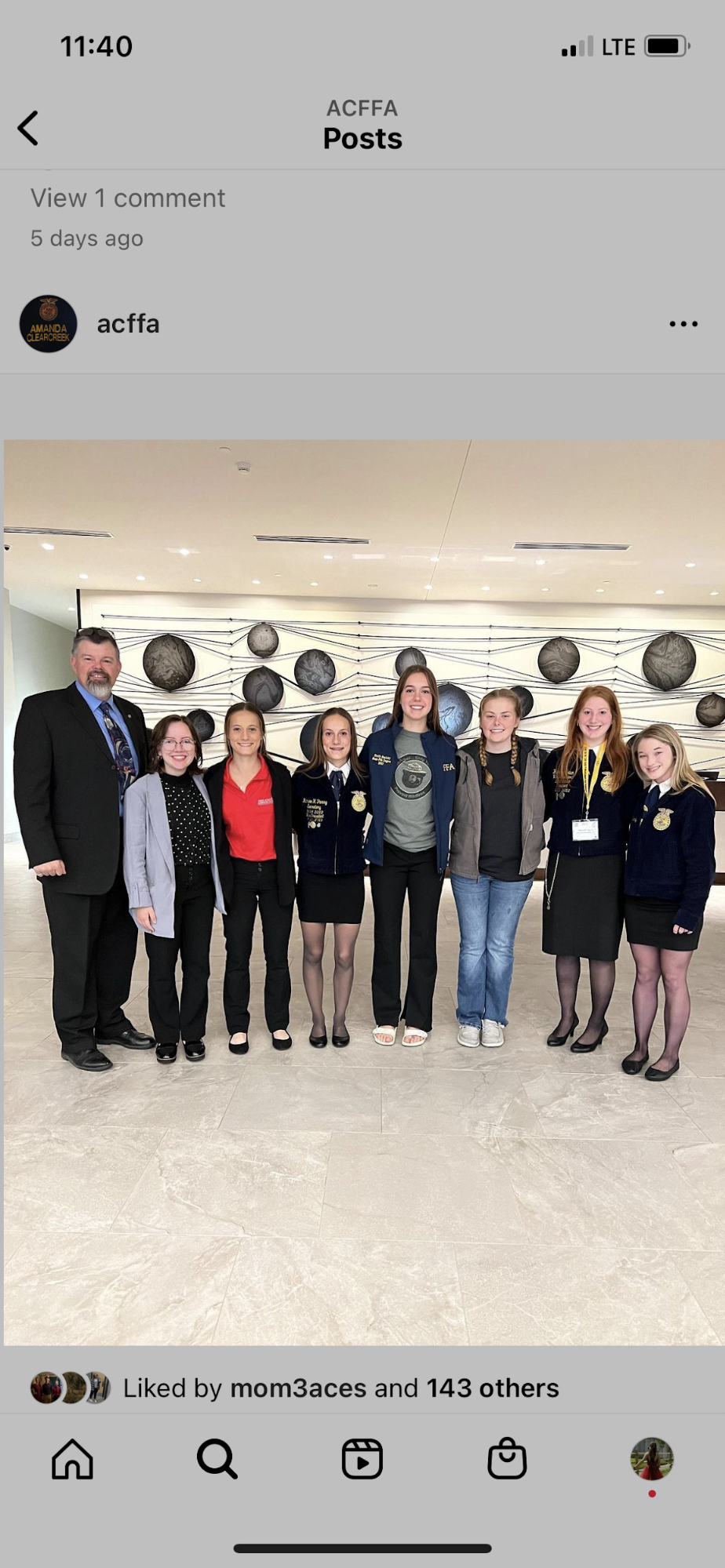 Our national competitors the morning
of their contest!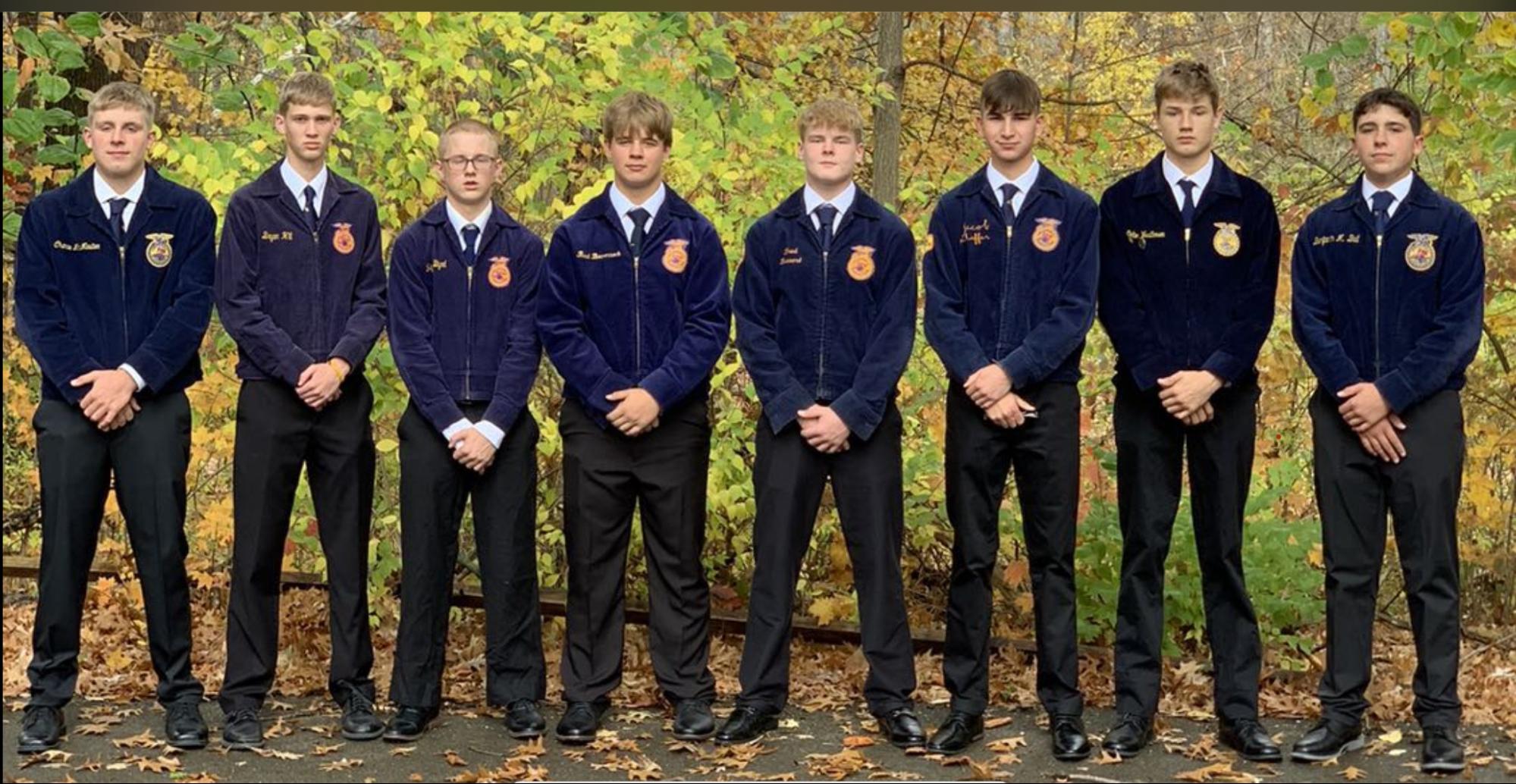 Our boys are ready to take on
the National FFA Convention!