Amanda-Clearcreek FFA Newsletter

Inspirational Quote: "What you do depends on how you view the world. To most people, dirt is just dirt. To a farmer is potential"
~Doe Zantamata
By: Autumn Parry, A-C FFA Reporter
Recap of the Month of September
Ag Breakfast: Ag breakfast was held on September 2nd at Friches, in Lancaster, Ohio. Members gathered for good food and fellowship.
Ice Cream Social: The annual ice cream social was held on September 19th. Freshman and first year students attended to learn more about their chapter and all the opportunities that FFA offers.
Monthly Meeting: The monthly meeting was held on September 19th in the Cafeteria. The officer team discussed the activities for the next month. Ag challenge was the scavenger hunt and the sophomore class won.
Farm Science Review: Farm Science Review was held on September 22nd. FFA members, advisors and members of the agricultural community from all over Ohio gathered to learn about machinery, plants/animals and even possible careers in agriculture.
CDE Results
Invitationals: The A-C FFA chapter went to the Knox County Forestry invitational on September 13th and the Fairfield County Invitational on September 15th. Both were in preparation for the state contest on September 24t. Invitationals can be compared to a scrimmage.
State Forestry Online Exam: The team consisting of Mercedes Draper, Riley McKeska, Morgan Metzger, Rylyn Foster, Caidyn Garee and Travis Spence took an online test consisting of 50 questions about tree identification, compass usage, equipment I.D and timber cruising. This test would help the team when placing at the state contest.
State Forestry: The forestry team attended the state contest where they placed 8th in the state competition. The team was required to identify 25 different types of tree specimens, 20 pieces of equipment and take part in timber cruising. They each then completed one out of the three practicums offered: Map reading, compass reading and tree products. Good Job team!
Upcoming Events in October
Ag Breakfast: The monthly ag breakfast will be held on October 7th at Frisch's in Lancaster, Ohio. Members are encouraged to attend and bring their families.
Fair Break: Fair break will be the 10th-14th. Students who entered projects into the fair will have them on display at this time. Good luck to everyone who entered a project and will be showing!
Monthly Meeting: The monthly meeting will be held on October 17th at 7:00pm in the Ag Center. Students are reminded that the meeting is a grade and required for all members to attend.
National FFA Convention: The annual national convention will be held in Indianapolis, Indiana from October 26-29. Students will need to arrive at school at 7:00 am and be ready to leave. This includes having everything they will need for the next few days. A packing list will be sent out for all students. You must have official dress to attend, so it may be a good idea to start purchasing items now. Members may borrow jackets from the school, but there is a limited supply. Check with Mr. Tilley.
Official Dress includes:
Males: A white button down shirt, black dress pants and black dress shoes.
Females: Either a black skirt with panty hose or black dress pants, a white button down shirt and either black heels or black flats.
**There are reference pictures on the A-C FFA instagram**
Upcoming CDE's
County Job Interview: On October 18th students will attend the county job interview contest. Here students will partake in a mock interview where they are asked extensive questions. Also, they will fill out a job application, write a cover letter and a follow-up letter. The freshman representative will be Hayden Dunn, the sophore representative will be Maddie Cordle, the junior representative will be Madelyn Anderson, the senior representative will be Hannah Saum and the first year representative will be Jillian Bennet. Good luck to everyone competing!
Final Thoughts
The fall fruit and snack sale will be starting after fair break. So everyone get ready to start selling! More CDE's will be happening soon and you are all encouraged to participate. Everyone have fun at the fair and enjoy your fall break!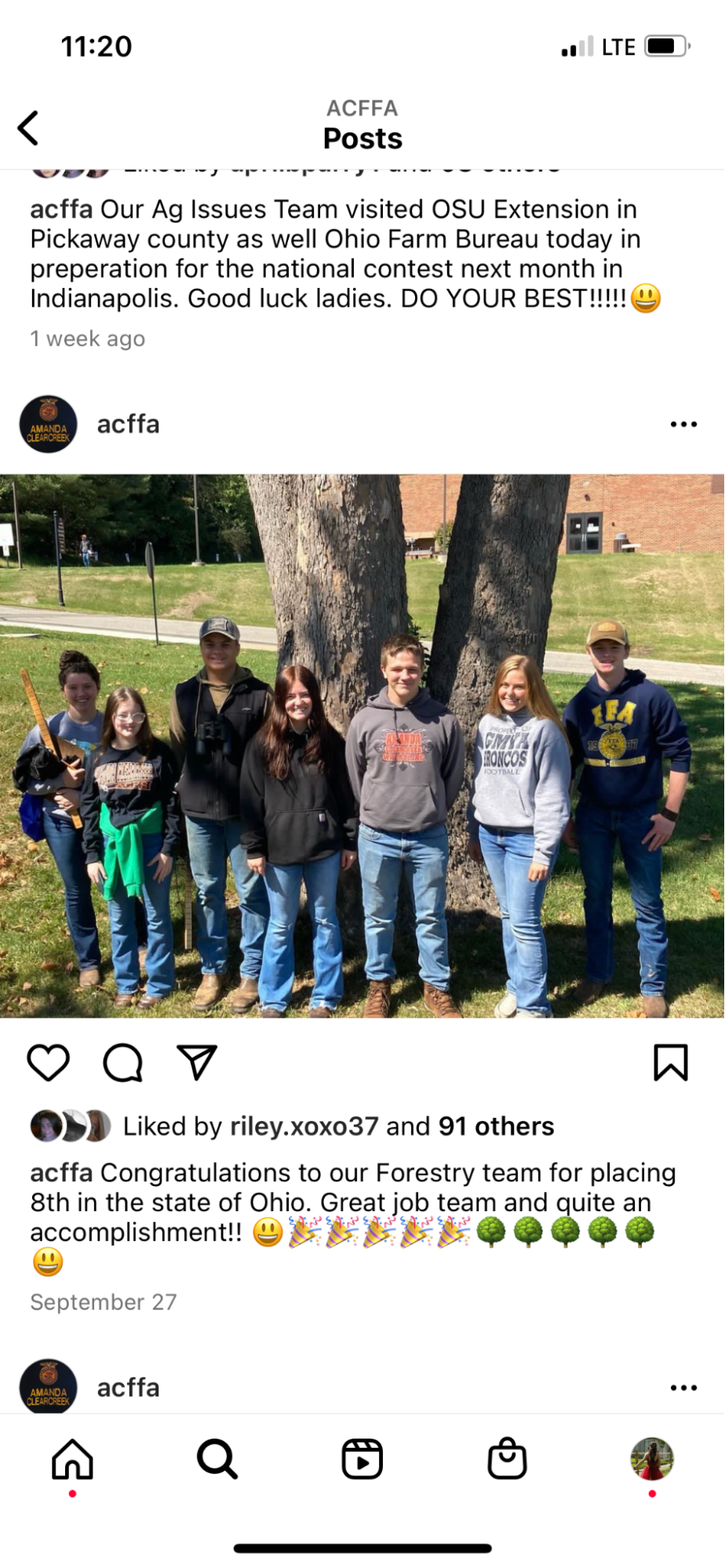 The A-C FFA forestry team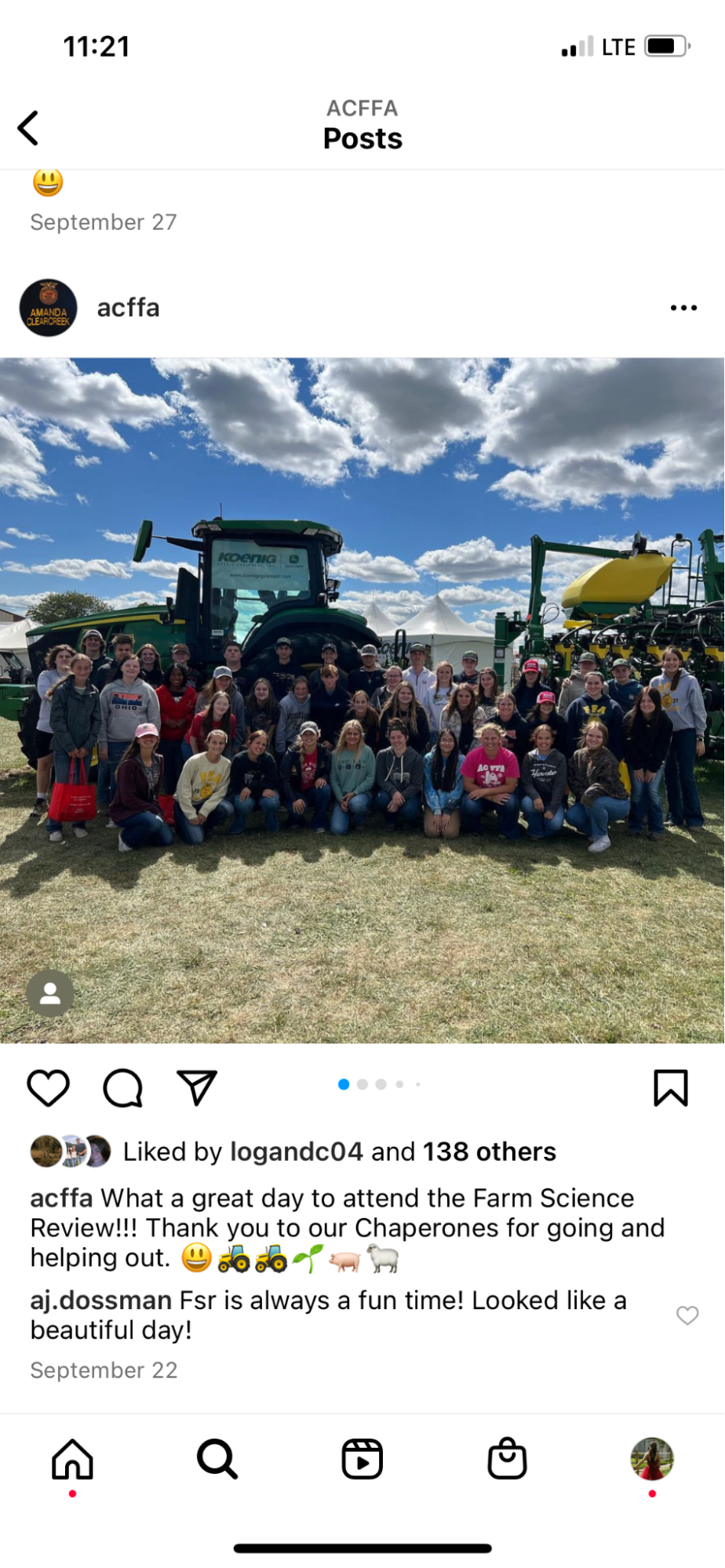 The A-C FFA chapter at the annual
farm science review.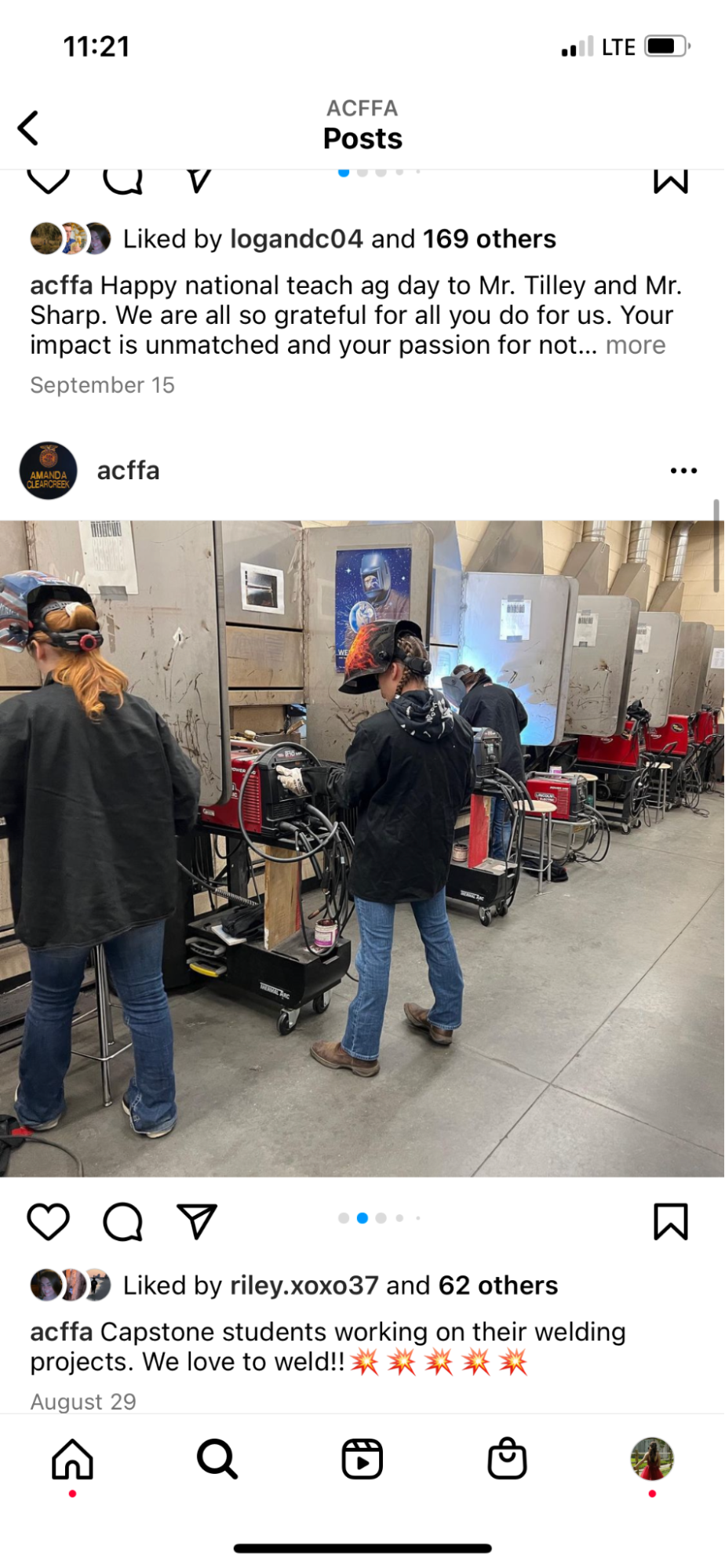 The Ag Capstone students working
on their fair projects