Amanda-Clearcreek FFA Newsletter

Inspirational Quote: " "Live life to the fullest and focus on the positive"
~Matt Cameron
By: Autumn Parry, A-C FFA Reporter
Recap of the Month of January
Ag Breakfast: The monthly ag breakfast was held on January 6th, 2023 at 6:00 am at Frisch's. As always, members gathered for good food and fellowship before heading off to school. Unfortunately, due to the lack of participation over the past few months there will be no Ag Breakfast in February. This could change in the future if members start expressing interest and actually attending. As of now, there is not an ag breakfast for February. We hope everyone sees the importance of participating in the events our chapter does and hopefully not going next month will be a much needed reminder.
Monthly Meeting: The monthly meeting was held on January 19th in the K-2 cafeteria. This meeting was especially important as members were awarded their respective degrees. The chapter is so proud of all the hard work and accomplishments from our members and we can't wait to see what the future holds. We hope everyone is encouraged to get your greenhand and chapter degrees next year!
CDE Results
Ag Communications Online Exam: The Ag Communications Online Exam was on January 10th. The team consisting of Jillian Bennett, Emily Buckley, Riley McKeska and Hannah Saum placed 1st in the state. This is a huge accomplishment and will help determine how the team places later on in the state competition. The team will now present their portfolio and participate in different practicums. Congratulations and good luck!
Drop the Mic Invitational: The Drop the Mic Invitational was held on January 23rd and 24th at Bloom Carroll High School. The invitational can be compared to a scrimmage in which it helps prepare the public speakers for the state competition. Hannah Saum, Emma Strickler and Madelyn Anderson won their respective heats and will compete on January 28th. Congratulations to and goodluck!
Upcoming Events
Young Leaders Conference: The AC FFA has been invited to the Young Leaders Conference on February 8th. This is a great opportunity for students in all grades to learn about leadership and how they can help their community. Students will participate in seminars and workshops to test their knowledge about leadership. Eighteen students are scheduled to attend this event.
Connect Leadership Conference: The A-C FFA has been invited to attend the Connect Leadership Conference on February 11th. Students will stay overnight and participate in various leadership and fun-filled activities. This event is for grades 7-10 and will help develop students into better leaders. Eight freshmen have signed-up to attend this conference. Our chapter has attended multiple times and there is always positive feedback!
Monthly Meeting: The monthly FFA meeting will be held on February 13th in the cafetorium. This meeting will consist of electing the 2023-2024 officer team, so make sure you bring your phones or chromebooks in order to vote. Good luck officer candidates.
Top Fall Fundraiser's Trip: The Top Fall Fundraiser's Trip is the 17th through the 19th of February. Members who sold 25 or more boxes of fruit and/or snacks this past fall are eligible to go to Louisville, Kentucky. Members will go to Louisville Slugger Facility, Frazier Arms History Museums, National Machinery Show, tractor pulls and Jungle Jim's. Lots to learn on this fun yet educational trip.
Upcoming CDE's
State Ag Communications: The Ag Communications team consisting of Jillian Bennet, Emily Buckley, Riley McKeska and Hannah Saum will compete at the state competition on February 4th. The team previously placed 1st on the online portion of the test. The team will have to give a 15 minutes media presentation, answer questions and complete their respective practicums.
County Public Speaking: The County Public Speaking contest will be held on February 7th. Hannah Saum will represent the A-C FFA chapter as the Senior Prepared member, Emma Strickler will represent the A-C FFA as the Creed speaker, Madelyn Anderson will represent the A-C FFA chapter as the Extemporaneous speaker and Maddie Cordle will represent the chapter as the Beginning Prepared speaker.
State Outdoor Power Online Exam: The State Outdoor Power Online Exam will be held on February 14th. The students are preparing for the state test and the top three scores will become the team at the state competition.
State Greenhand Quiz: The State Greenhand Quiz will be held on February 14th. Freshmen and first year members will answer questions regarding the history of FFA and parliamentary procedure. Many freshmen are preparing for this CDE.
District 7 Public Speaking: The District 7 Public Speaking contest will be held on February 15th. If the public speakers place in the top two at county, they will be able to advance to the district contest.
Final Thoughts
CDE's are in full swing and I encourage all of you to go try something new. There will be plenty of activities coming up, so make sure you are participating. The time has finally come for me to hand over my office and I want to thank the A-C FFA chapter for giving me the opportunity to serve as the 2022-2023 Reporter. My time in office has been extraordinary and not everyone can say they have been a part of one of the best chapters in the state, let alone lead one. It has been an honor serving as the Reporter and I can't wait to see who will be next!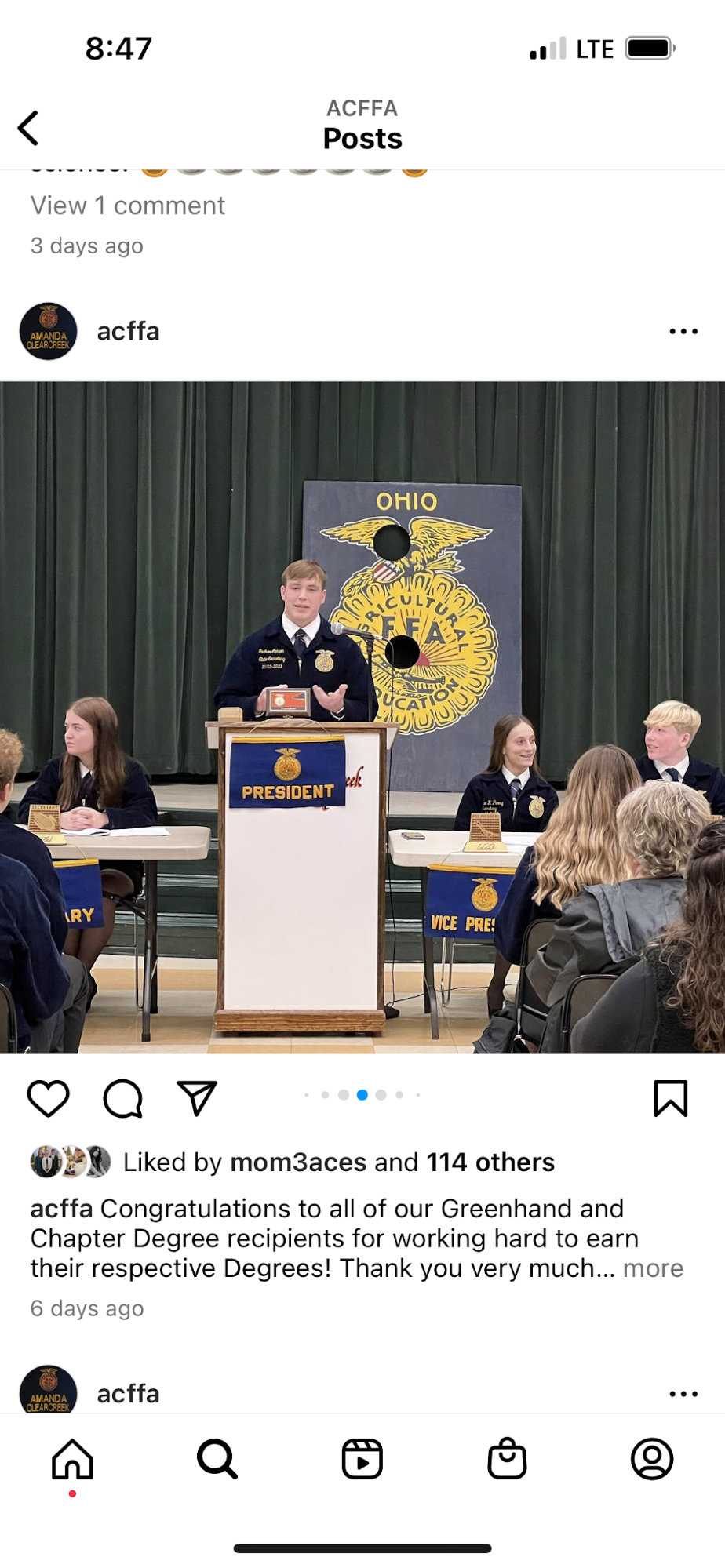 State FFA Secretary Graham
Carson speaking to members at
their awards ceremony about
personal growth and development!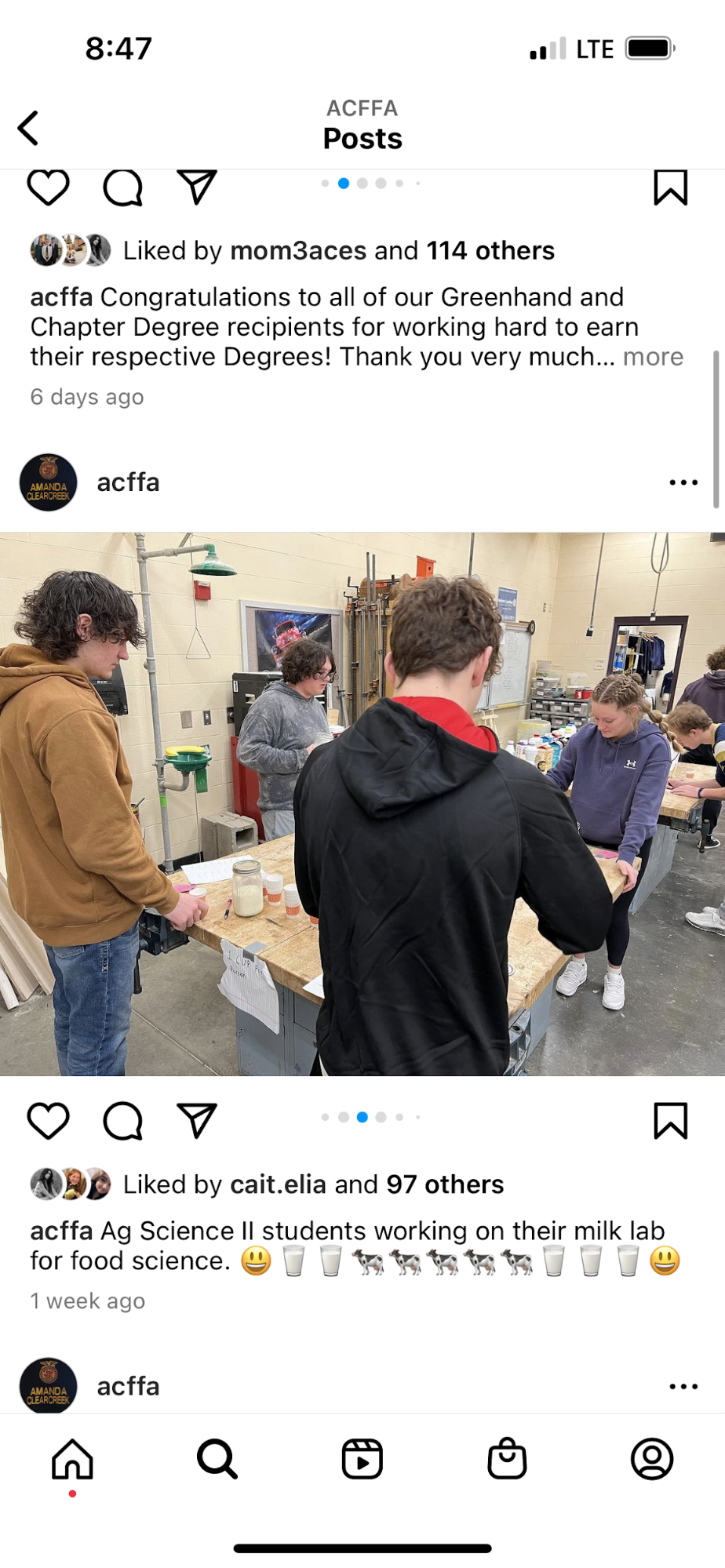 Members in the Ag
Science class working
in their milk labs.